Thursday 3rd September 2020
Finding my Feet (and Breakfast)
I woke pretty early after a slightly restless night. I'd left the air-conditioning on pretty high when I went to bed, waking in the early hours shivering with only a light sheet covering me. Unable to find a thicker quilt, I resorted to putting on shorts and a t-shirt to get back to sleep again.
Despite the interrupted sleep, I got up full of excitement for the first proper day of my trip!
I had originally planned to get straight onto exploring Milos by hiring an ATV (quad bike) today and tomorrow. However, the boat trip that I had pre-booked was rescheduled from the weekend to Friday due to it being less windy tomorrow. This really turned out to be a good thing as it gave me a free day today just to relax, so once I've found somewhere to get breakfast the only thing on my itinerary is picking a good spot on the beach to sunbathe!
I threw on some shorts, a vest and my sandals and headed off towards Adamas harbour in search of caffeine and, hopefully, Greek yoghurt and honey!
Aggeliki
Arriving in central Adamas just a few minutes later, I found a cafe right next to the harbour called Aggeliki. It promotes itself primarily as an ice-cream shop but has a good selection of breakfast options on the menu outside. It also had plenty of tables with comfortable-looking chairs, all with great views of the harbour.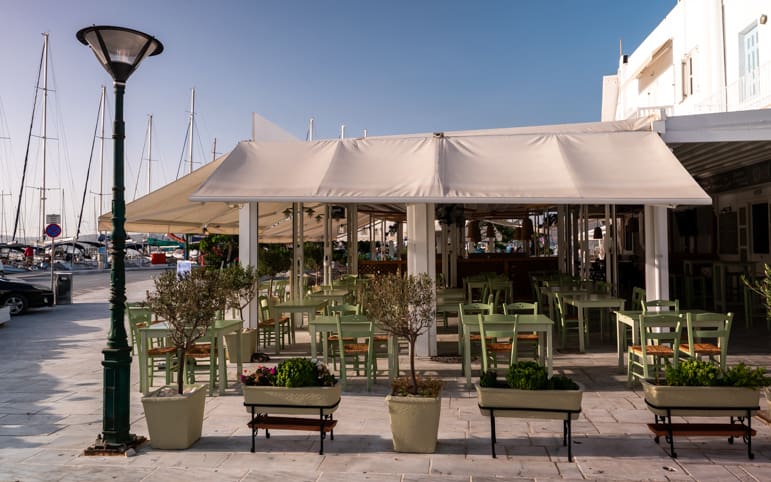 They opened at 8 and, as it was only a few minutes after, I was the only customer so I snagged a prime table right at the front. I ordered one of their set-menu breakfasts for 10€ which consisted of bread, butter, jam, fresh orange juice, coffee of my choice and Greek yoghurt with honey. Seemed like a fair price and it turned out to be delicious!
Beach Bound
Feeling pleasantly full from my substantial breakfast, I headed back to my room and lotioned up for a day at the beach. I was soon ready to set off after packing my camera gear, towel, water, swimming googles and a hat.
The closest beach to my accommodation was Papikinou, the main town beach for Adamas. It begins just a stone's throw away and continues around the bay for quite a distance.
Once I reached the sand, I ditched my shoes and strolled along the shoreline, enjoying the feeling of warm water on my feet and soft sand between my toes. I wasn't sure where the best place would be to set up camp for the day, so I just kept walking until I decided I'd found the right spot.
The right spot turned out to be in front of a taverna called Lydia, where they provide sunbeds and umbrellas for a pretty reasonable 4€, with a guy serving drinks and snacks as well.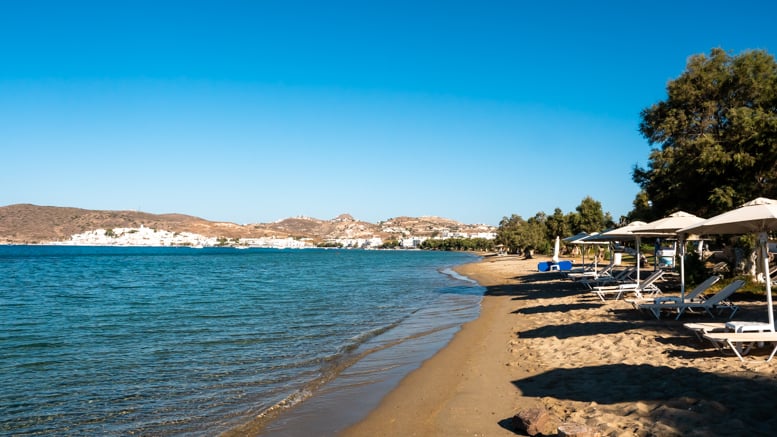 Having arrived pretty early – it was only just after 9 – I had my pick of beds and decided on an end location so I wouldn't be surrounded by people if it got busier later on. For the first hour or two, I had the place to myself, but as the morning passed it did start to fill up. The beds were nicely spaced though so it never felt crowded.
Most of the day was spent in a state of holiday bliss: sunbathing, reading my kindle and listening to my favourite music on Spotify — a perfect combination! I went for several swims whenever the sun's heat got a bit too much. The water was fantastic: the bay is quite shallow and calm and the sea temperature was cool enough to be refreshing, but much warmer than I first expected. One benefit of late summer holidays: the sea has had plenty of time to heat up.
By 4 o'clock, I'd had just about as much sun as I could manage. After one last dip to cool off for the walk back, I packed up my gear and set off towards Venus Studios. I had a nice long shower to get all the sand and lotion off, then relaxed in my room for a bit to recover from the sun, nibbling my way through several of the biscuits I'd purchased last night.
Drone Time and Dinner
Conscious of not wanting to eat dinner too early, I figured that late afternoon was a good time to get the drone out for some aerial shots of Adamas. It was a tiny bit breezy, but I've had the drone out in much worse conditions so I knew it would be fine.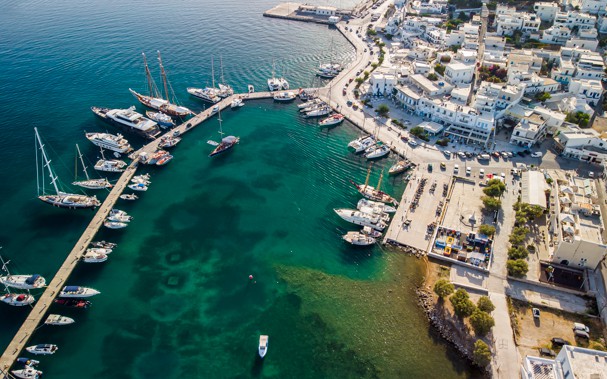 Feeling like I'd had a perfect first day already, I got changed again and strolled back into Adamas in search of a good place to have dinner. This turned out to be a pizza restaurant called Aktaion which happened to be right next door to Aggeliki where I'd had breakfast earlier in the day.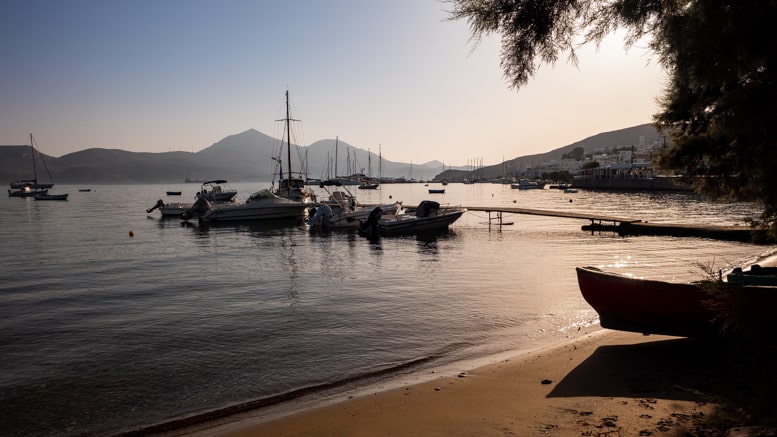 Stuffed with a very cheesy, but tasty pizza, I ambled back to my room, feeling very satisfied with my first full day of holiday and excited for the boat trip tomorrow!