Tuesday 15th September 2020
Plans for the Day
Today was my last day on Serifos. I needed to check out of the hotel by 11am, but my ferry to Syros wasn't until 5:45pm so my plan was to pack my luggage into the car and spend the day seeing the northern half of Serifos, before dropping the car back at the ferry port in time to catch my boat.
For breakfast, I went back to Gran's for more coffee and a pastry. Having woken quite early, I was back at the hotel by 8am so I decided to grab a couple more hours at the beach while I still had access to a shower. I didn't expect to need the entire day for sightseeing anyway, so catching a few extra rays of sun felt like a good choice.
Heading North
After checking out of the hotel and packing all my belongings in the car, I set out north, driving through Livadi and around the bay of Livadi beach on the way to my first stop: Psili Ammos beach.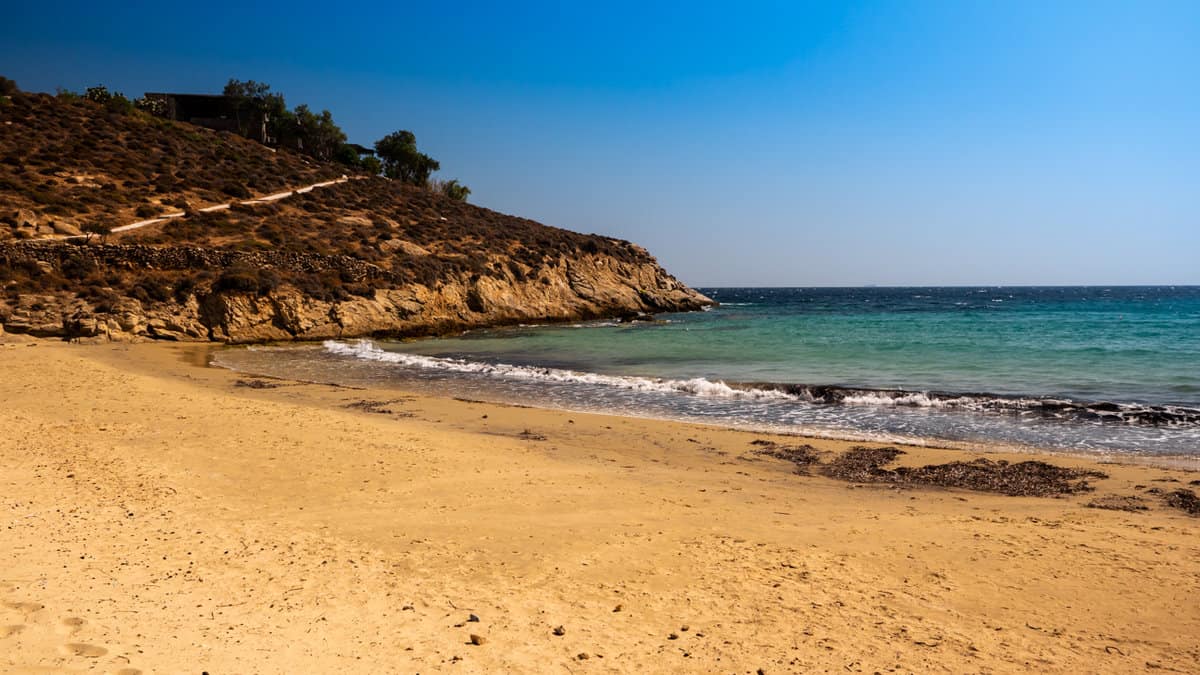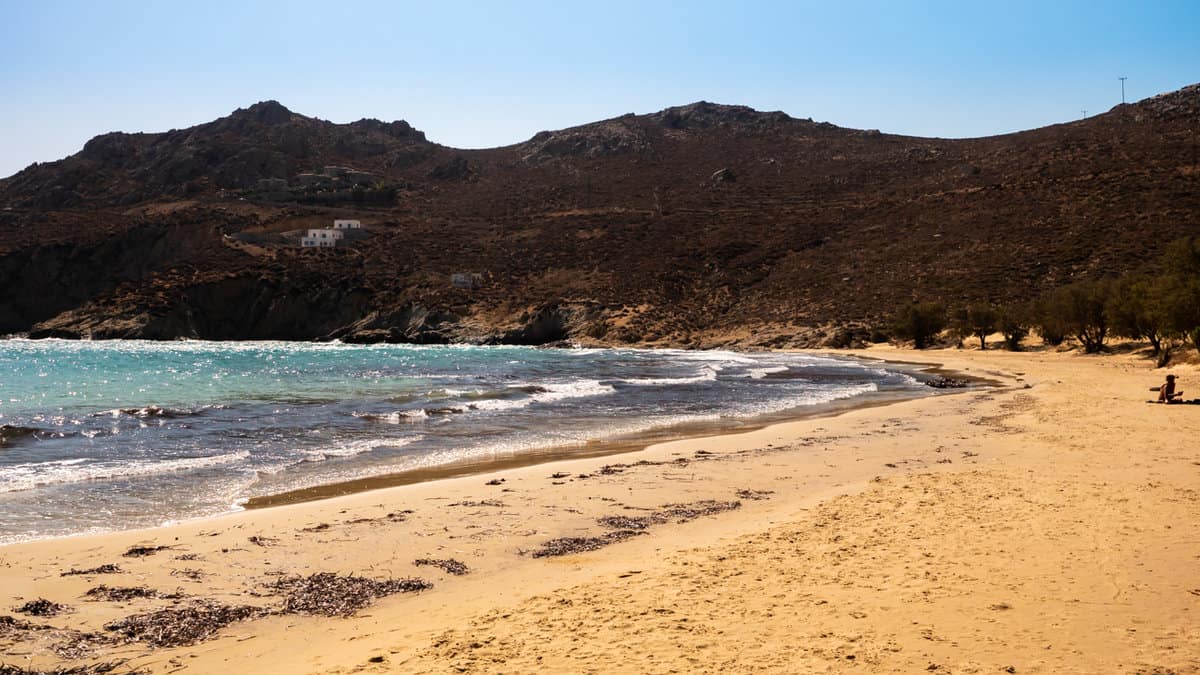 I skipped Agios Ioannis beach (slightly north of Psili Ammos), for reasons that escape me now, and continued on to the northernmost beach of the island called Platis Gialos.
Accessing the beach was a bit of an effort as it's about 3km off the main road, although most of the track is quite smooth so it can be done by car without difficulty, providing you take it slowly.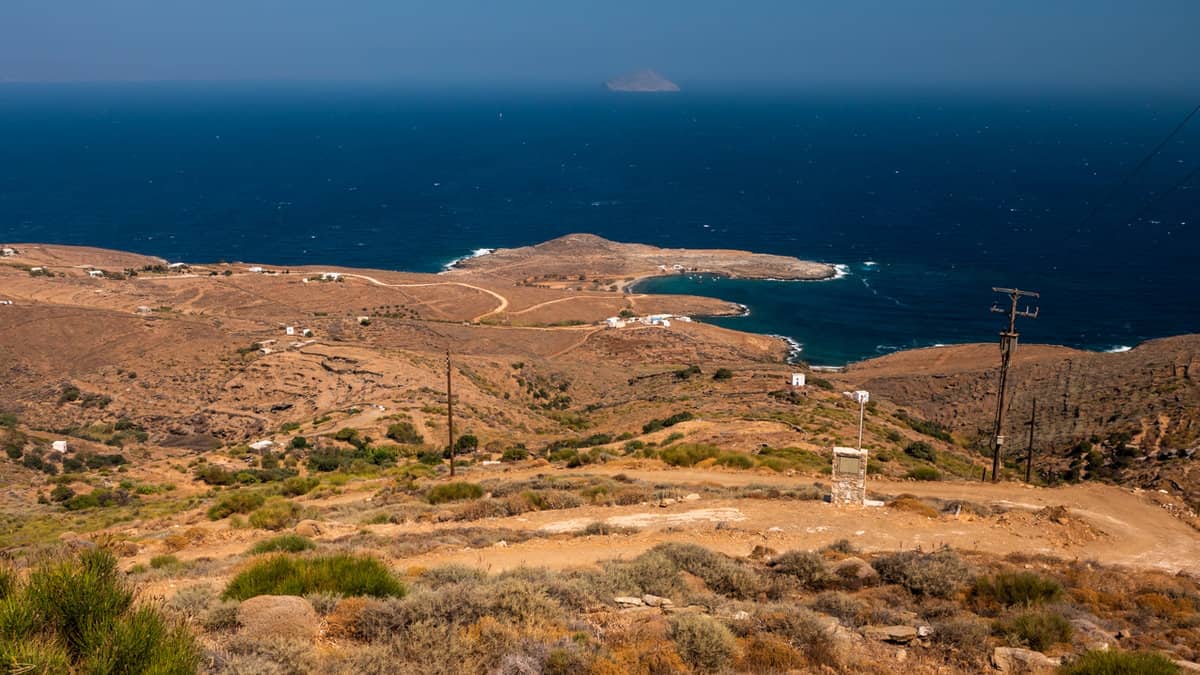 I'm not quite sure the detour was worth the effort, the beach itself is fairly small and quite rocky at the shoreline, but it is sandy and very secluded so if you want peace and quiet then it could be a good option.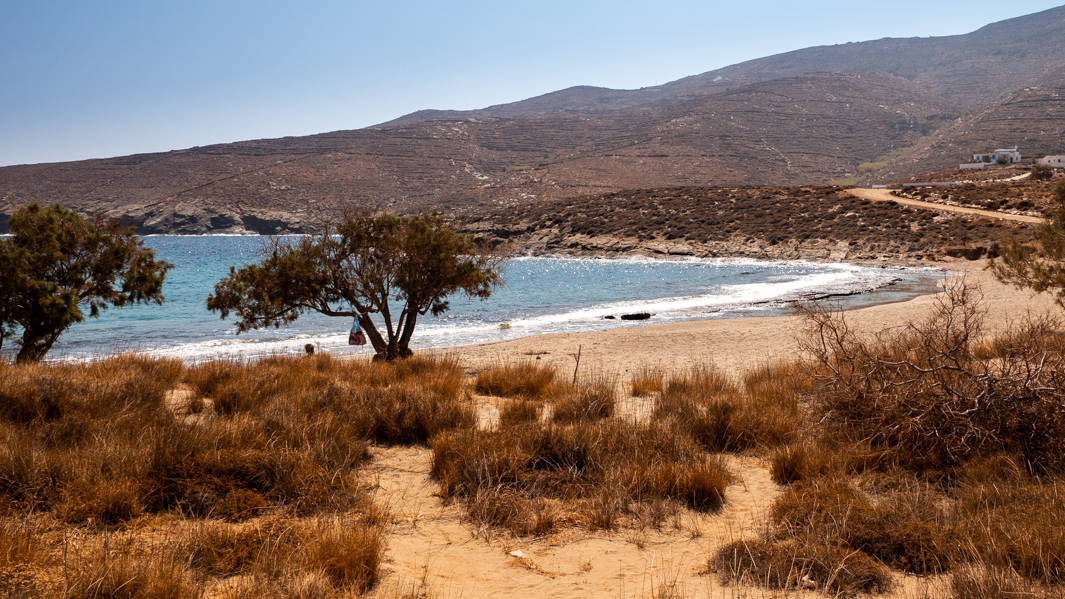 I only stayed long enough to have a stroll around, taking a few photos and video clips.
Moni Taxiarchon
Back in the car, I got on the main road again and soon reached my next stop: a rather unusual looking monastery called Moni Taxiarchon. From the outside it rather resembles a prison. Before trying to get a closer look at the monastery, I visited the little church opposite which is quite pretty and has a nice graveyard outside: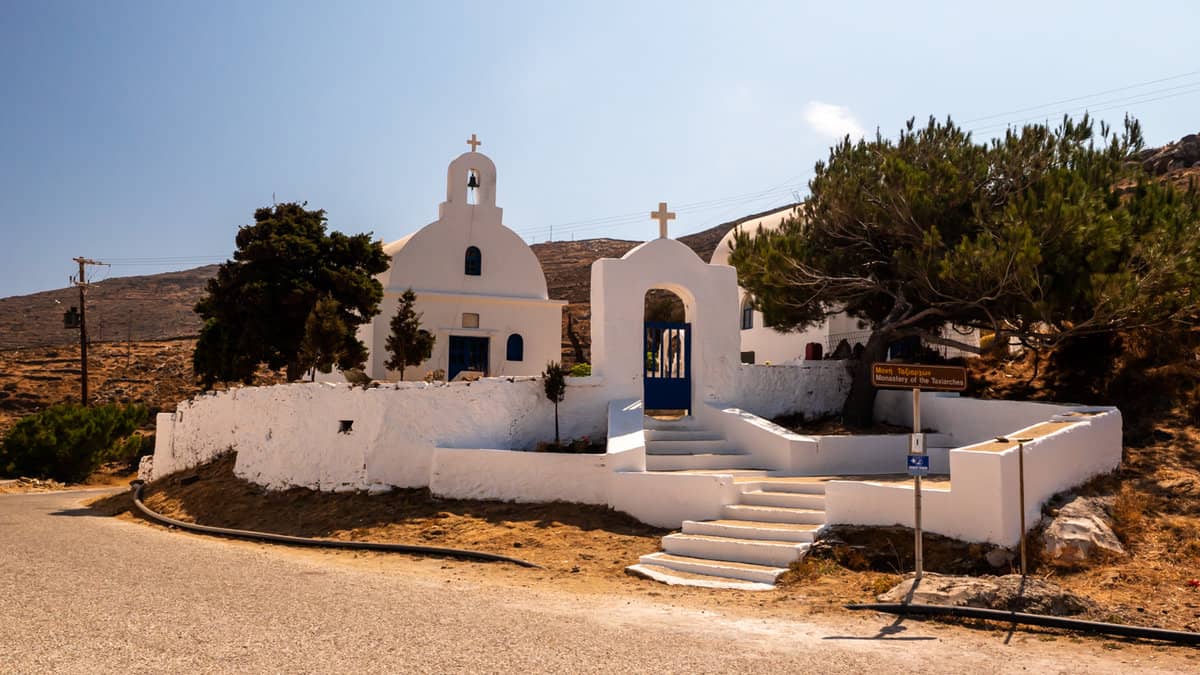 I wasn't sure whether the monastery was open to visitors, but a workman outside waved me in where I was approached by the priest. It turned out that it was closing in a few minutes, but he did allow me a quick look at the church that sits inside the outer wall. I couldn't take any photos inside as he was watching the entire time and I wasn't sure if it was considered rude so I erred on the side of caution. I did manage to take one photo of the outside of the church before the priest came over: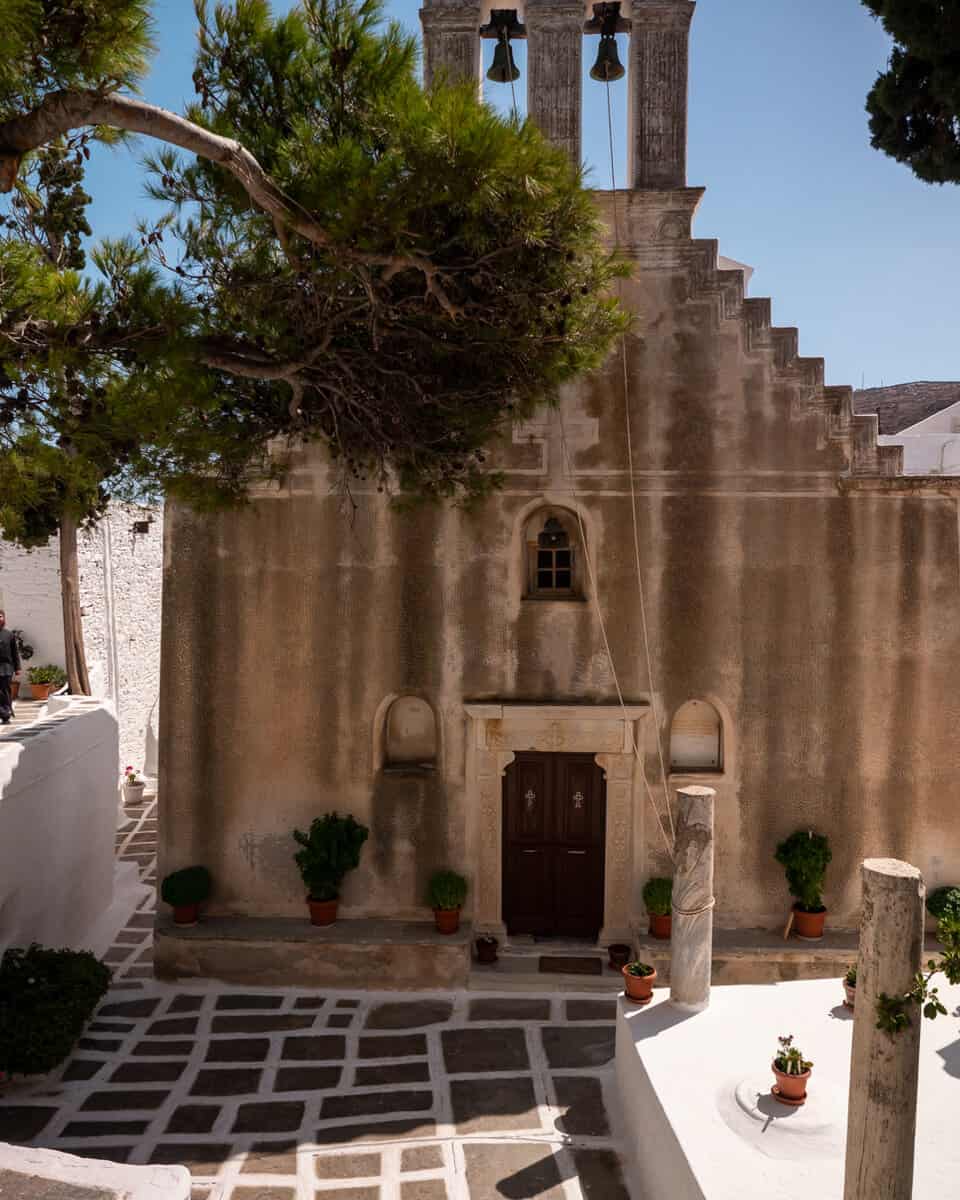 From One Beach to Another
My final stop of the day was Sikamia beach, right on the northwesternmost corner of Serifos. Accessible via a fairly long side road with some quite steep switch-backs, it took a little while to reach and was again mostly deserted when I arrived.
Despite looking quite sandy from a distance, the beach itself has quite a lot of stone/shingle so, given its remoteness, it would be hard to recommend a visit when there are nicer beaches closer to Livadi.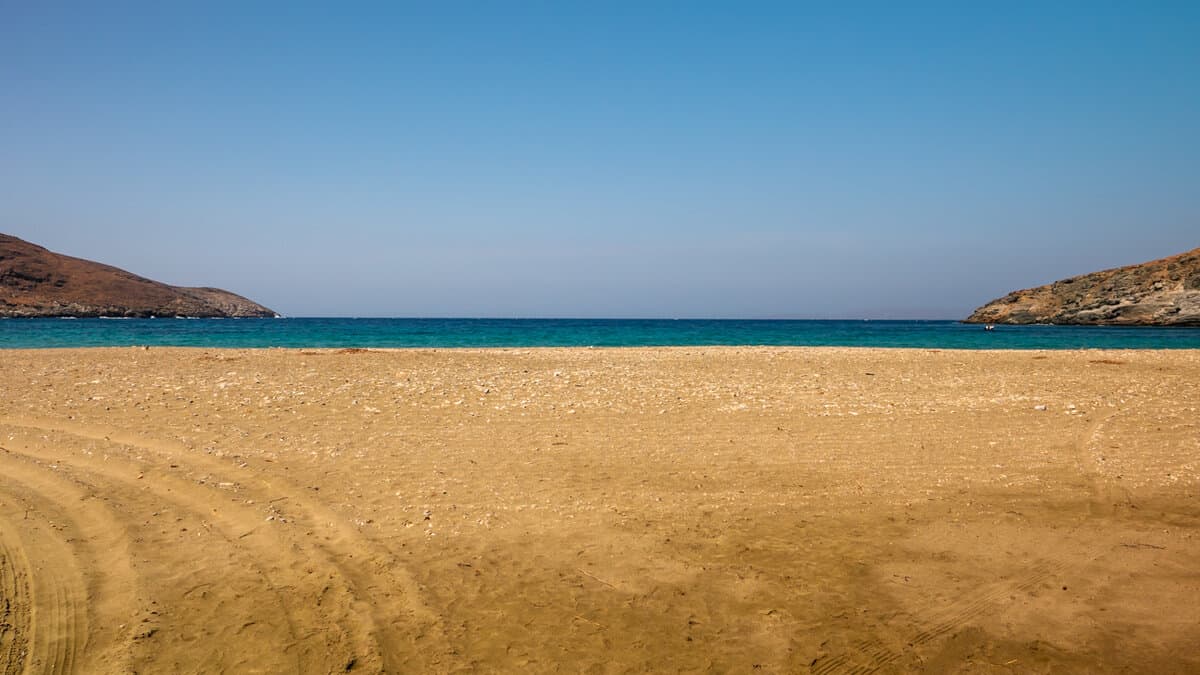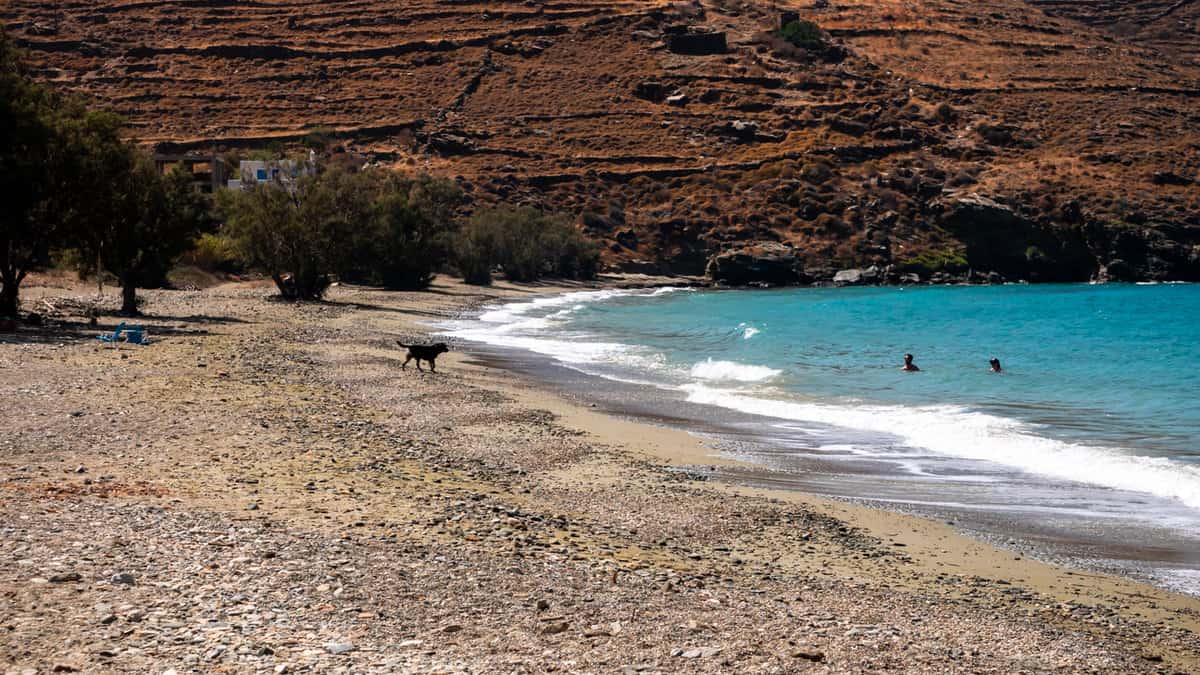 Having now visited all the main beaches on the island, I would say my favourite is probably Ganema, closely followed by Vagia. Livadakia beach near my hotel is also pretty reasonable and certainly the most accessible if you're staying near the port.
More Time to Sunbathe
I didn't fancy stopping at Sikamia, but as it was still early afternoon and I had time to spare, I headed back across the island via Chora to Livadakia beach, this time driving as close to the beach as I could get. This turned out to be a car park for Coralli Camping campsite, which was ideal as it was only metres from the sand.
I managed to spend 90 minutes or so on the beach, then decided I should probably head back to Livadi to get a late lunch/early dinner before the ferry arrives. I got changed out of my beach gear in the car (well, actually standing beside the car but there was nobody around so who cares!!) and drove back into the town centre.
Lunch/early dinner consisted of a beer and burger at Tootsie's, probably the best food I had on the island which, sadly wasn't saying much. Although I've enjoyed ticking off another Greek island from my list, I don't think I will be coming back to Serifos: it's just a little too quiet for my liking and, compared to Sifnos, the food and beaches just don't cut it.
The Slightly Less Cheap Car Hire
I took my time eating, then as 5pm arrived I drove the short distance from the restaurant back to Pegasus to drop the car back. Having been quoted (or so I thought) €13, I had decided to give him €20 as a bit of a tip due to the rental being so cheap. Well, upon handing him the €20 note he looked at me, slightly confused, and said "€10?". At first, I didn't get what he wanted, so he took me to the counter and showed me his booking sheet where he had written €30 against my rental. Ah! So I had mis-heard him after all, he meant "thirty" and not "thirteen"… doh!
Oh well, €30 was still pretty decent for almost two full days of hire, so I was happy to hand over the missing €10, thanked him for his help and wandered over to a bench opposite to wait for my ferry to arrive.
Syros-bound
My two previous ferry crossings had been quite short, both coming in under an hour. Unfortunately, the best/only route to Syros involved an indirect ferry via Paros. In total, the journey would take 3 hours 45 minutes.
The ferry was about 20-minutes late arriving too, so by the time we reached Syros it was close to 10pm. The journey had been fine but I was glad to get off at Syros harbour.
I should also mention that, although I was supposed to be meeting my friend Ed on this island, sadly due to the UK government revising its travel corridor (quarantine-exempt) islands shortly before his arrival he had to change his plans and would no longer be visiting Syros at all. Instead, I would meet him on Andros on Friday morning.
This was rather unfortunate as I didn't have an awful lot planned for Syros, expecting that Ed and I would do some hiking and not really fancying it by myself, but that's a story for tomorrow's update.
Meantime, my accommodation on Syros was Aktaion Hotel. This was supposed to be a short walk from the ferry, but it seems that boats now dock further south in Syros harbour so it was a little further than expected. It didn't take long though and I was soon checked-in and unpacking a few essentials before retiring to bed.