Saturday 5th September 2020
Early to Bed, Early to Rise
My sleep had been rather fragmented, partly due to my sore back, but also because I went to bed very early. By 4am I was wide awake, but I forced myself to doze again until nearly 7. I then spent a bit of time reviewing the photos and videos from yesterday's boat trip.
At 8am, I was back at Aggeliki for another tasty breakfast – I did consider eating elsewhere, but couldn't really find an appealing alternative. Plus, why risk a bad breakfast when you know where to find a good one!
ATV Plans
I was due to pick up my ATV at 9am from the rental shop not far from Venus Studios. My original plan was to see the western side of the island today, but as this included visiting some beaches and my back was still pretty sore from sunburn, I decided to swap things round and do the eastern side today instead.
After grabbing some supplies (water and more biscuits!) from a little supermarket, I turned up at the rental shop and a few minutes later was cruising back to my accommodation, taking it slowly to get used to riding the ATV. It's a pretty big 350cc machine, but the benefit of its size is it feels very stable on the road. It also came with a large storage box on the back, big enough to fit my camera rucksack and supplies.
Hitting the Road
My first stop after leaving the apartment was the petrol station on the main coastal road out of Adamas. When you rent vehicles in Greece they usually arrive empty and need refuelling straight away. It's a bit of a chore but at least you find out where the filling station is up-front and once the tank is full you can forget about it for a while.
From there, I tried to follow the signs to Plaka where I intended to walk to the top of the Kastro for some panoramic views of the island. However, I didn't find some of the road signs particularly easy to follow. As I had nobody with me to navigate, I managed to improvise using my wireless earbuds and Google Maps navigation on my phone. I used a single earbud so I could still hear and ride safely, but now I had my phone speaking directions to me. It didn't always work as you'll find out later, but on the whole it was a success.
Hopping off the ATV in Plaka, it wasn't much of a walk to get to the Kastro. There is only a small church at the top, but the real attraction is the view you get across the island. It's superb:
Eastern Coastline
From Plaka, I could have turned west to visit the coastal villages of Klima and Schinopi, but I had already seen them from the boat yesterday and didn't think it was worth visiting them on foot. Instead, I ventured north to Firopotamos, a quaint little fishing village with a small but sandy beach.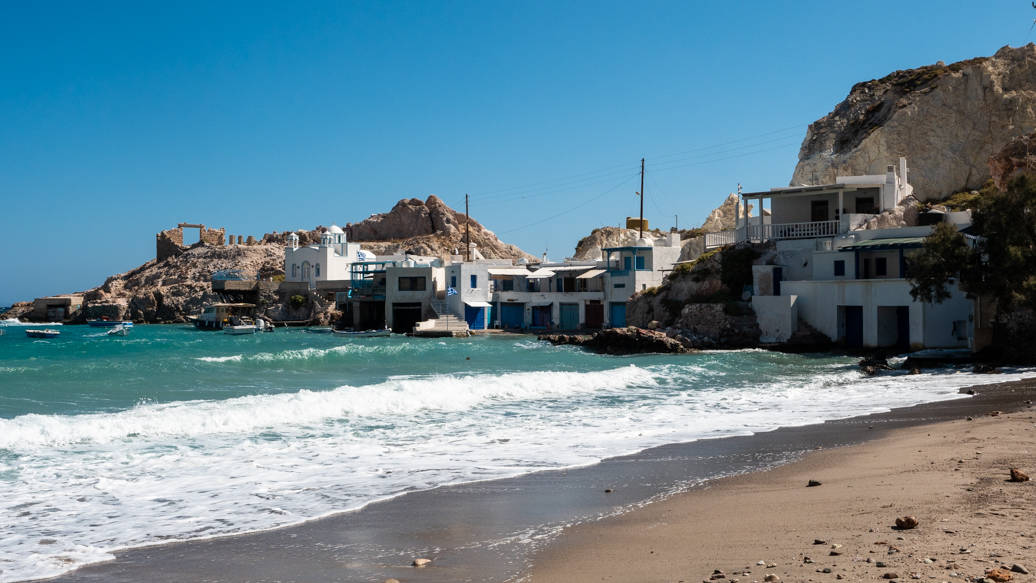 I took a few photos and video clips then hopped back on the ATV, continuing south along the coast to Mandrakia. This wasn't on my original itinerary, but the German couple I'd spoken to on the boat trip yesterday mentioned a nice taverna here called Medusa, so I figured it was worth checking out on my way to Sarakiniko.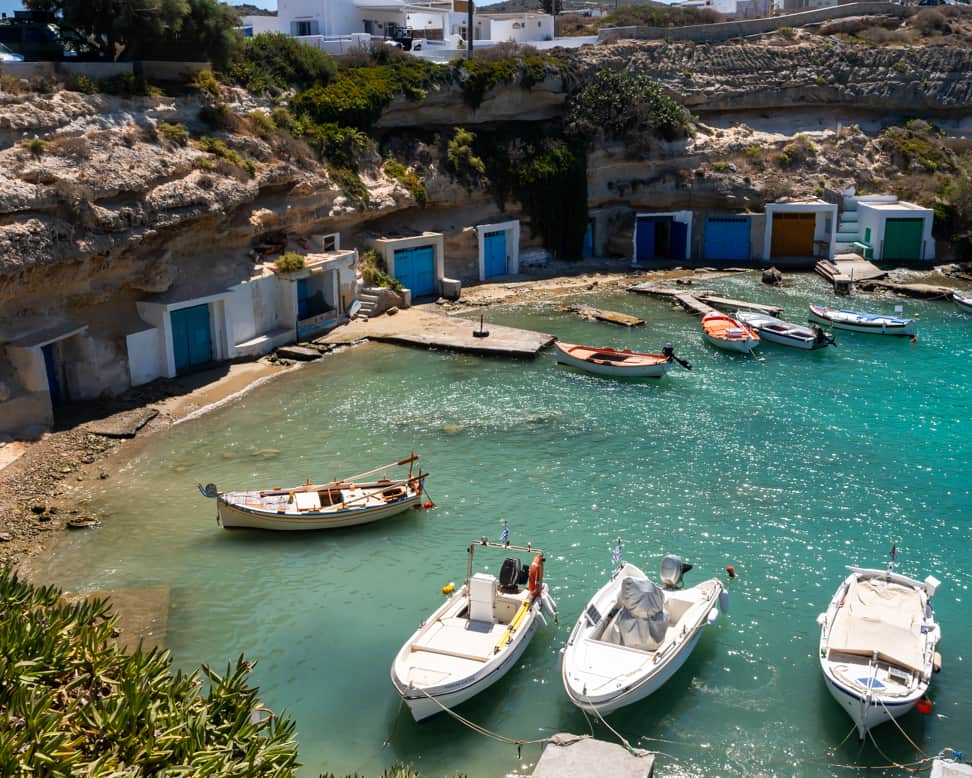 It made sense to stop here for an early lunch, so I sat down to eat and enjoy the views. The menu is very heavy on fish dishes which wasn't ideal for me, but I managed fine with a Greek salad, tzatziki and bread with a small carafe of white wine.
Sarakiniko in the wind
Next stop was the famous Sarakiniko beach, recognisable for its smooth white volcanic landscape. It does indeed feel more like you're on the moon than Earth!
Sadly, it felt even more windy here than it had further north, so there were no people swimming in the sea or diving off the rocks as you would typically see (try finding YouTube videos of Milos and it's sure to feature). Regardless, I had a good stroll around taking photos and video.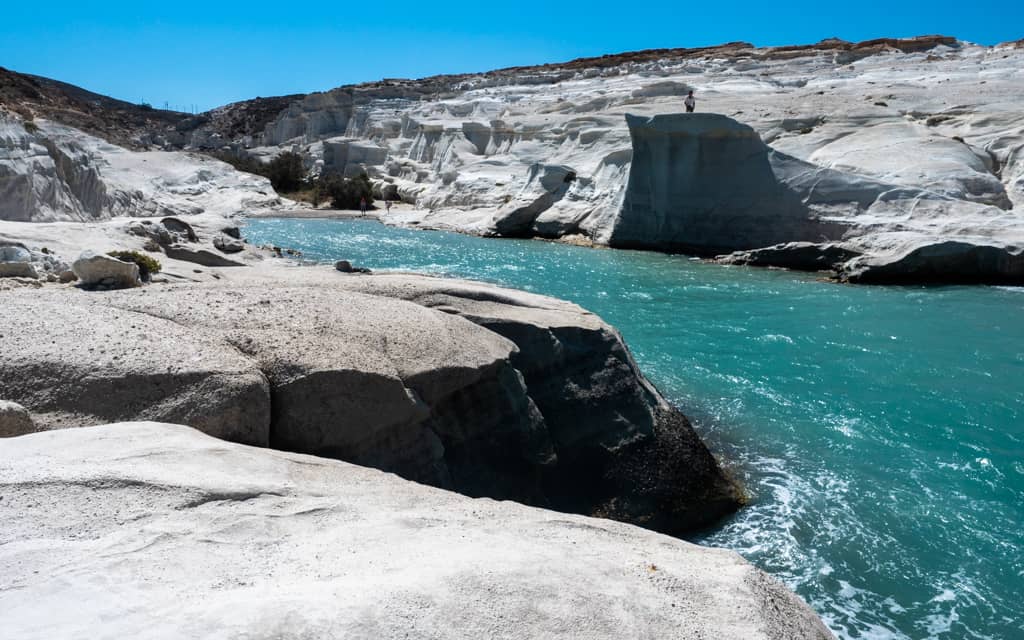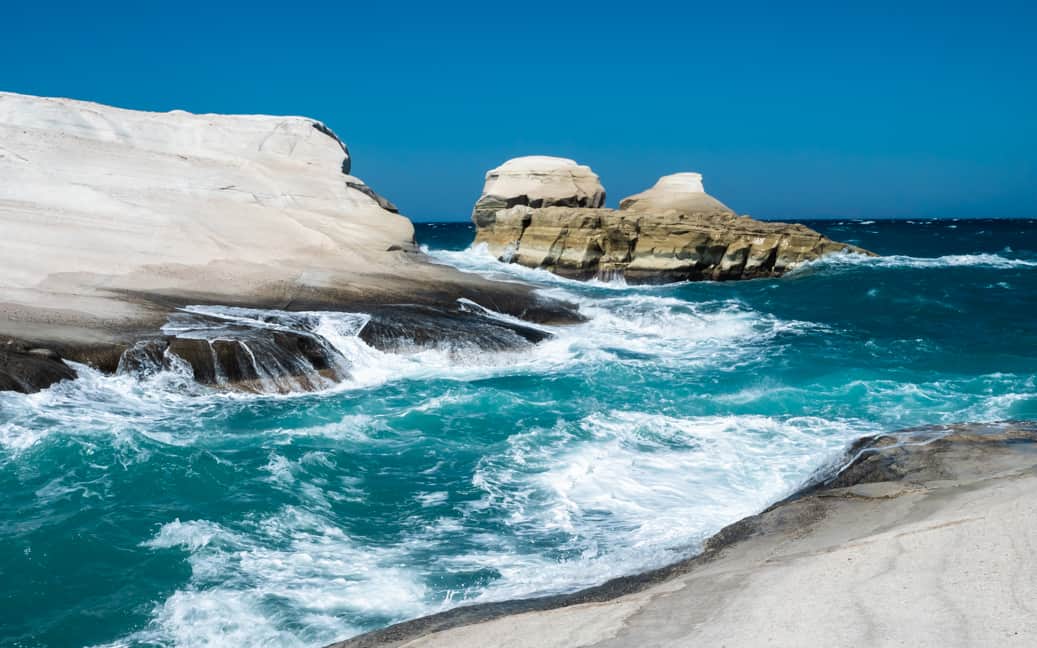 I had wanted to use my drone to get some cool aerial photos and video for my YouTube channel, but it definitely wasn't worth risking in these conditions!
Pollonia
At the northeastern most tip of Milos is Pollonia, the main tourist resort after Adamas. It was somewhere I'd considered basing myself but ultimately ruled out, mostly as I prefer being near the ferry port when island-hopping, but also it just seemed a little out of the way.
After parking the ATV in a fairly large car park behind the beach, I walked south along the sand, then through the main tourist area lined with seafront tavernas. It felt nice enough here, but in the end, I was glad I had stayed in Adamas as I think it had a nicer feel to it.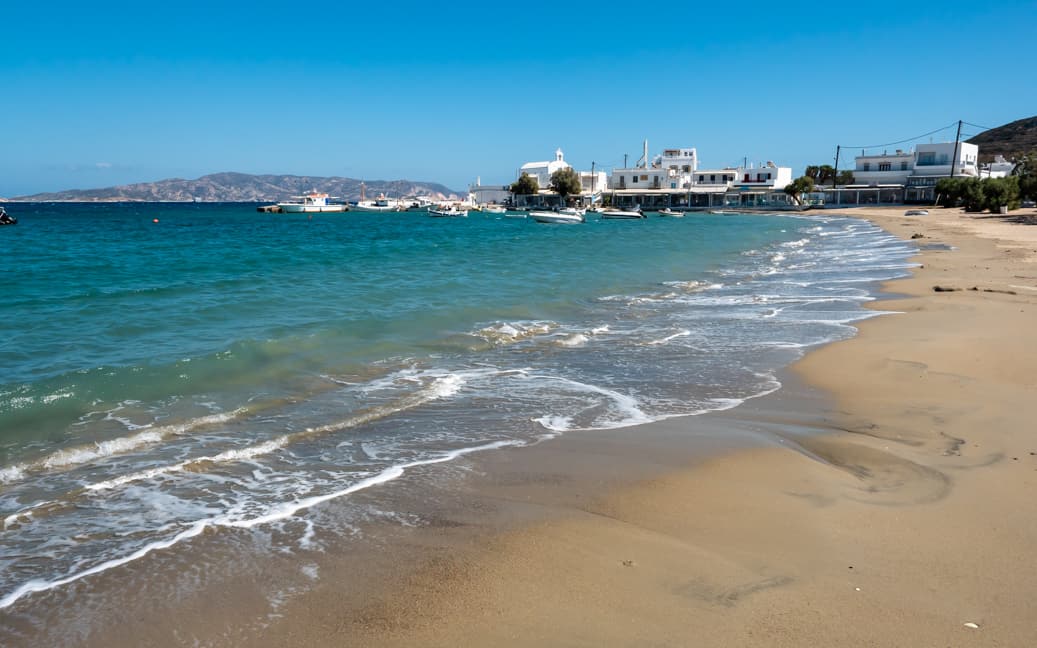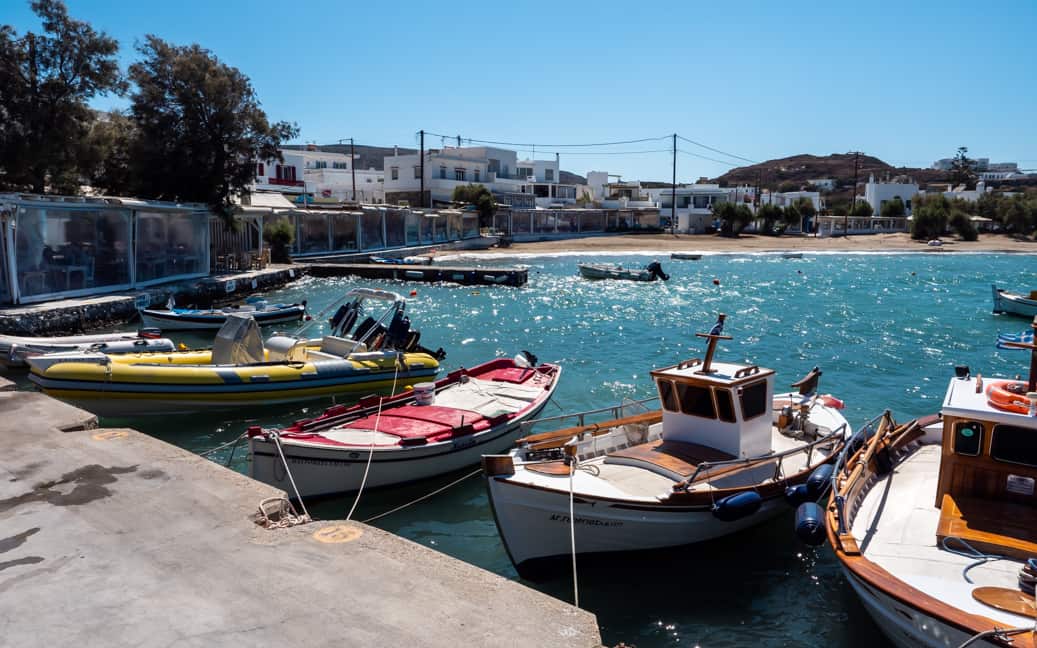 I decided to stop at one of the tavernas to relax for a little while with an iced coffee and some ice cream. It was approaching mid-afternoon and I needed to decide how much more sightseeing I could fit into today. My plan was to use the ATV to visit Tripiti for dinner and to catch the sunset so I wanted to get back to my accommodation in plenty of time.
Old Sulfur Mines
Checking the map on my phone, I decided to make my final stop at Paliorema to see the old sulfur mines. It was quite a journey on the ATV, taking about 40 minutes and much of it along bumpy dirt roads. When I arrived there was hardly anyone around and it certainly had an eerie feel to it: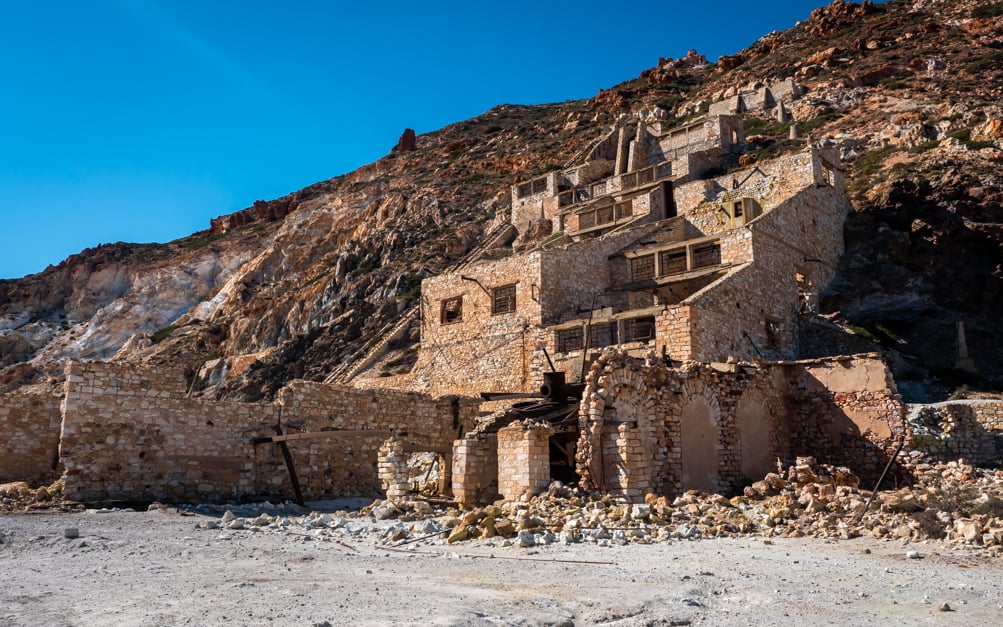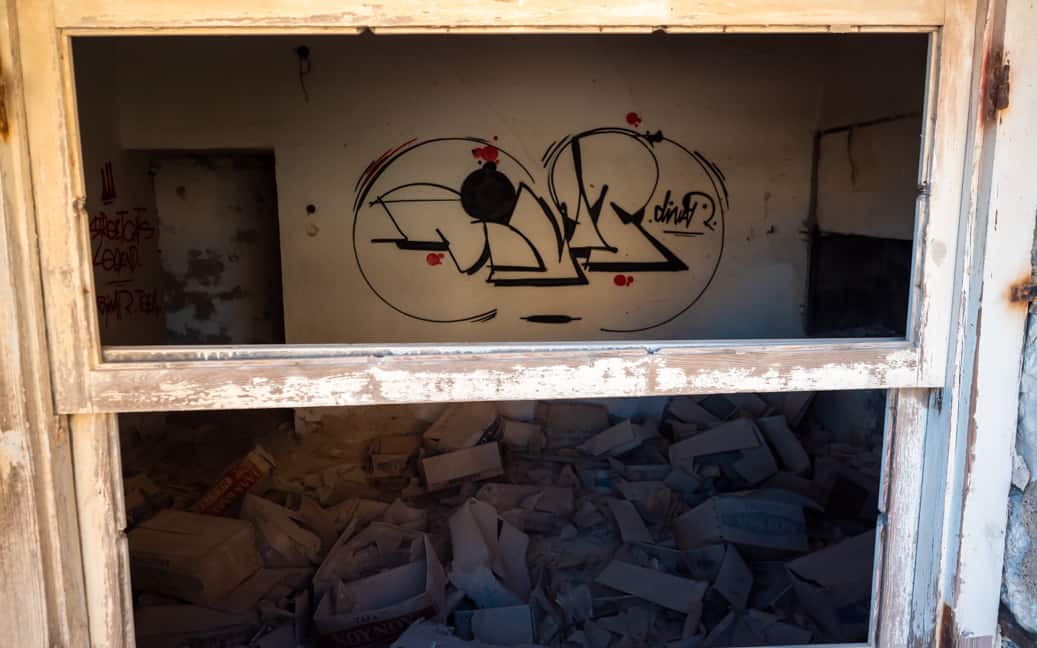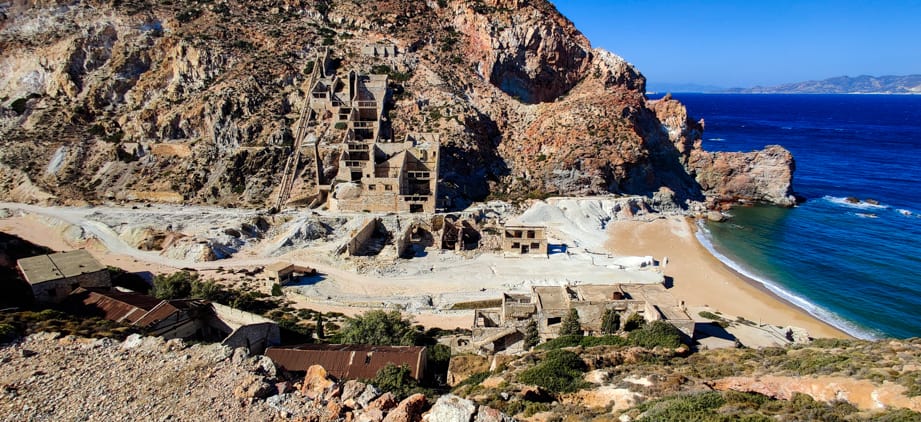 Having strolled around the site for 15 minutes or so, taking photos and video along the way, I hopped back on the quad for the journey back to my accommodation in Adamas. This took about 30 minutes and wasn't a bad journey once I got back onto proper roads.
Dinner with a view…kind of
As I mentioned earlier, I wanted to make full use of the ATV by riding up to Tripiti for dinner and, hopefully, some sunset views. I did a bit of Googling to find some restaurant options (and parking), shortlisting Glaronisia, Ergina and Barriello as highly recommended places to eat.
Unfortunately, due to Google Maps directions confusing me as to the car park location, I barely caught the sunset. I just managed to squeeze between some buildings to grab a rooftop photo with my phone: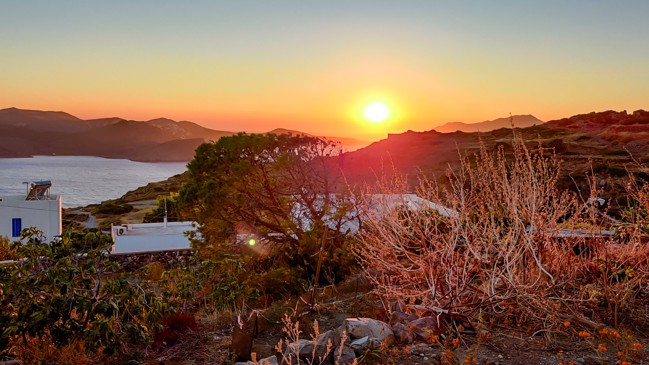 It wasn't quite the beautiful shot I'd planned but, oh well, onwards and upwards. A good dinner would soon make the evening better! I had a look at the menu at Glaronisia and wasn't sure it was the right choice, but Ergina's looked interesting and I could see a few empty tables, so I walked up and got seated straight away.
I ordered the moussaka and a glass of wine, both of which were very nice (though still not the best moussaka I've eaten).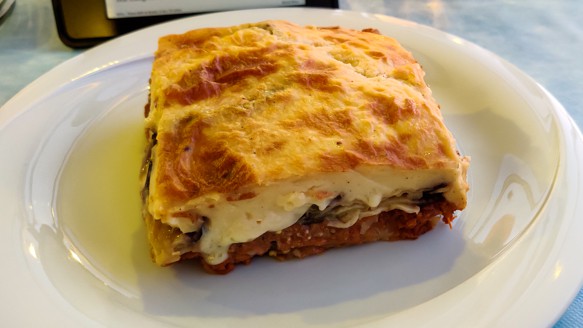 A Good Day Done
Feeling pleasantly fully and pretty tired from a busy day, I walked back to the car park and made my way down to Adamas on the ATV. One thing I had overlooked was how chilly it would be riding the quad at night with just a T-shirt! By the time I got back to my studio I was pretty cold, but soon warmed up again once I was back inside.