Thursday 10th September 2020
Another ATV Day
Today was my second and final day of the quad bike rental. Knowing I had only the south-east side of the island left to visit, I slept in a little and had breakfast slightly later at around 9 am.
Faros
My first stop of the day was at Faros Beach, located about 12km from Kamares on the opposite coastline. It took about 20 minutes on the ATV, the roads being surprisingly good. Faros itself is relatively small, but a pretty fishing village with a decent selection of accommodation and a few tavernas.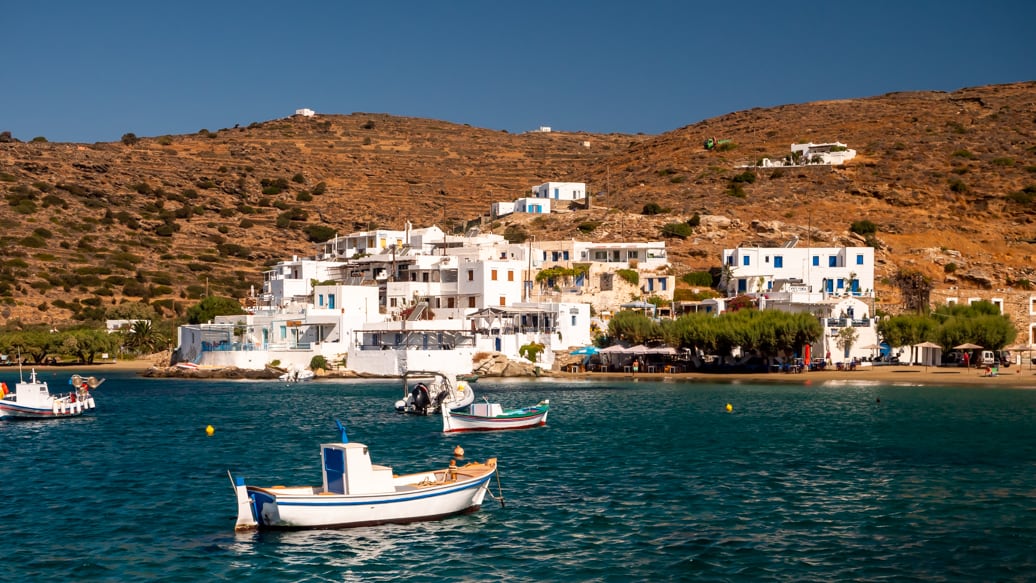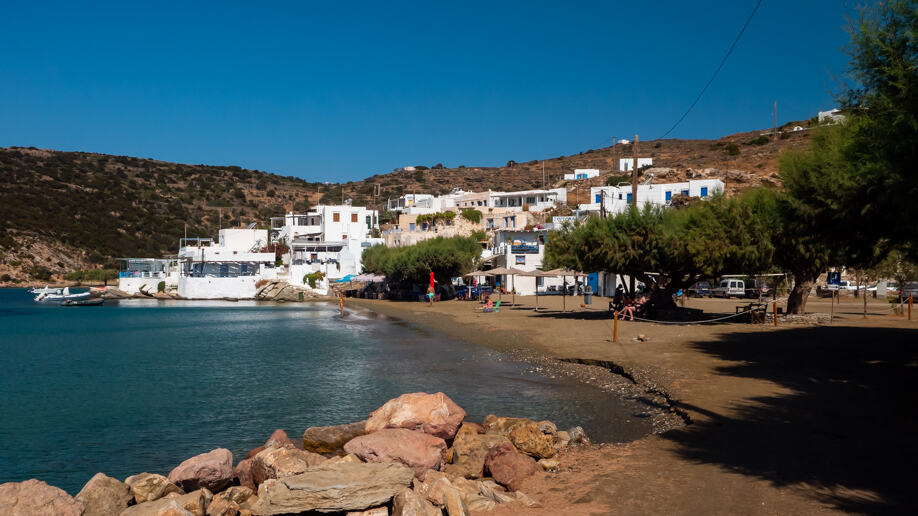 Drone Disaster (almost!)
After taking a few photos from the harbour, I noticed the wind had dropped and decided to seize the opportunity to get my drone out for its first flight on Sifnos! Feeling ambitious, I decided to see if I could fly out towards the monastery at Chrisopigi a few hundred metres south-west of the beach.
Things started out okay: the drone made it out to the monastery rather quickly and I started recording some video. Thinking it would be a good time to try out one of the 'quick shot' modes to get a 360-degree panorama of the monastery, I set it up and let it start recording. About halfway through, it complained of strong wind conditions so I cancelled the recording and started to fly back.
At this point, the signal cut out and I was faced with a blank video feed which is never a good sign. I wasn't too worried though, as the drone is programmed to return to 'home' when it loses connection. 'Home' in this case being my current location. However, when the signal returned a few (very long) moments later, I was surprised to find the drone closer to the monastery, seemingly trying to finish its quick-shot recording!
This was a bit alarming as, by now, the battery was starting to get low. Once again, I cancelled the recording and started to fly back in manual mode. Fortunately, the signal stayed connected this time. Less fortunately, I realised the wind was working against the drone, slowing it down and causing the battery to drain faster in its attempt to make it back to me.
Luckily there was a happy ending: the drone made it back to the harbour with about 3% battery to spare – a very close call! I was relieved to pack it away again and made a promise to myself not to try flying it so far away in future!!
Chrisopigi Monastery and Apokofto Beach
Back on the ATV, my route took me along the coastline and to the next stop which was the monastery I'd just nearly lost my drone at. After getting off the quad and walking towards the monastery, it became clear what I had done wrong: the wind had seemed low due to my sheltered location in Faros harbour, but out here it was blowing pretty hard! In fact, feeling the gusts first-hand, I'm amazed the drone survived at all!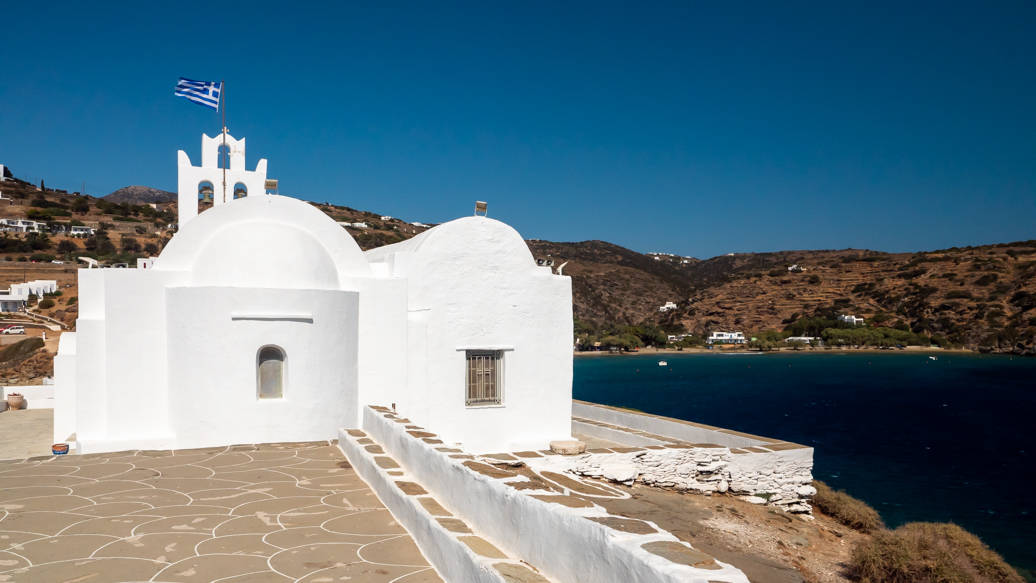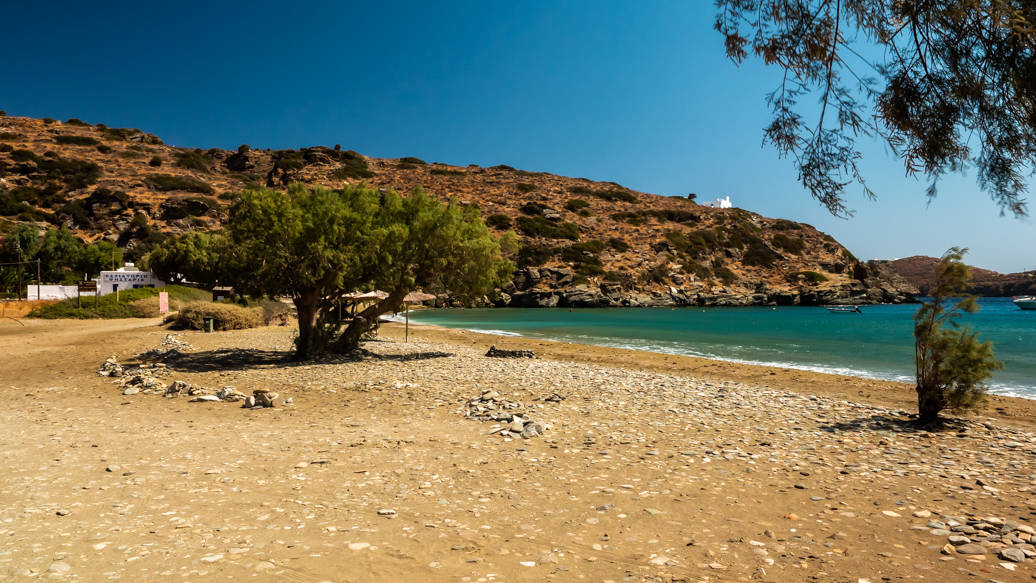 Backtracking slightly to Apokofto beach (though you have to drive almost up to the monastery to reach the beach access road), I was in need of a drink to calm my nerves after the drone incident so I popped into Chrisopigi Tavern for a small beer and some water.
Feeling refreshed, I had a stroll along the beach, taking photos and some video on the way. There were a few sunbathers at the far end, but otherwise it was almost deserted which seemed a shame as the sea looks clear and it's a nice peaceful location.
Platis Gialos
My final stop of the day was Platis Gialos, which is probably the next most popular tourist destination on Sifnos after Kamares. I had considered staying here myself on the advice of some TripAdvisor Greece forum regulars, but ultimately chose to be closer to the ferry port.
Platis Gialos is spread out over nearly a kilometre of sandy beachfront, with a main road running behind it. I wasn't sure where to park, so settled on somewhere close to the centre so I could walk down the beach in whichever direction seemed best.
My first impressions on arriving at the beach were of slight disappointment, coupled with relief that I hadn't chosen to stay here. Although the beach is long, most of it is quite narrow with just a few metres of sand between the sea and the shops/tavernas that sit behind it. This gave it a somewhat claustrophobic feeling that is in contrast to the very open beach at Kamares. The sea is also quite rocky in many places along the shoreline – so much so that several artificial jetties have been added so that you can walk out over the rocks and either dive or use a ladder to enter the water.
I started walking east to find somewhere to set up my towel and sunbathe, but couldn't find a spot that took my fancy, so I turned back and ended up close to where I had parked, just in front of Lost Bay Beach Bar. I had a quick swim – the water is nice once you get over or around the rocky patches – then settled on one of the beach bar's sunbeds for a while.
By this time it was early afternoon and I was getting hungry, so I figured the easy option was to eat at the beach bar since I was already there. This turned out to be a great decision as the food was amazing! I had my one (and only) cocktail on the island: a strawberry daiquiri, followed by some mini tacos and a pulled pork burger. The meal was quite expensive at €30, but nearly half of that was the cocktail anyway.
After lunch, I went back to the sunbed for a while longer to let my food digest, but couldn't shake the feeling that I would rather be back in Kamares so, after the usual stroll to take photos and video, I jumped back on the ATV and headed home.
Agios Simeon – Breathtaking Views
Despite arriving back in Kamares by mid-afternoon, I decided not to return to the beach as I had one last outing on the ATV planned: a trip to Agios Simeon church for sunset. The church is located on the top of a large hillside that overlooks Kamares to the north. At night you can see it lit up, appearing to float in the sky against the pitch-black of the rocky terrain.
I spent an hour or so chilling out in my room, then set out around 5 pm for the church. It takes about 20-25 minutes to get there as the road is quite indirect and fairly steep in parts. The church must be fairly popular as there were a couple of other people there when I arrived, and more came and went during my time there.
I took so many photos it's hard to choose between them, but here are some of my favourites: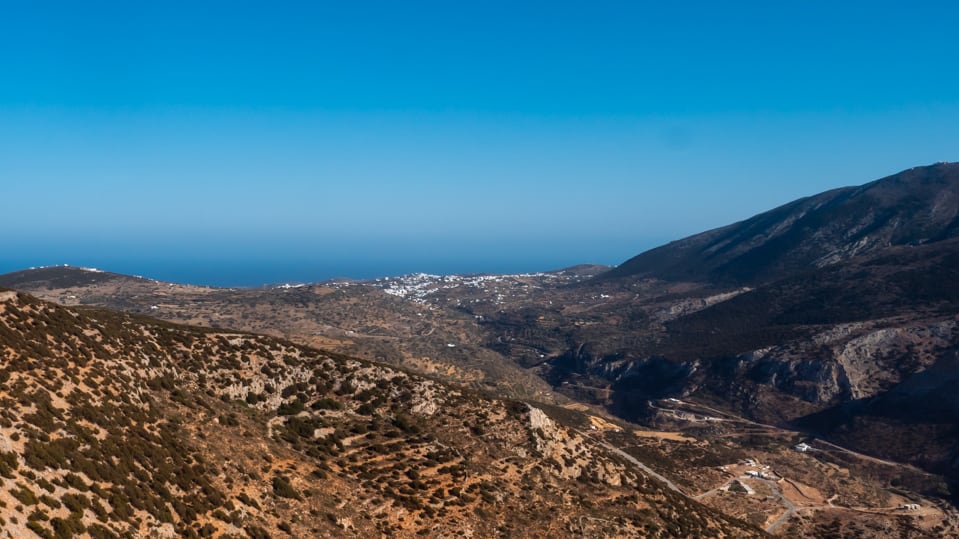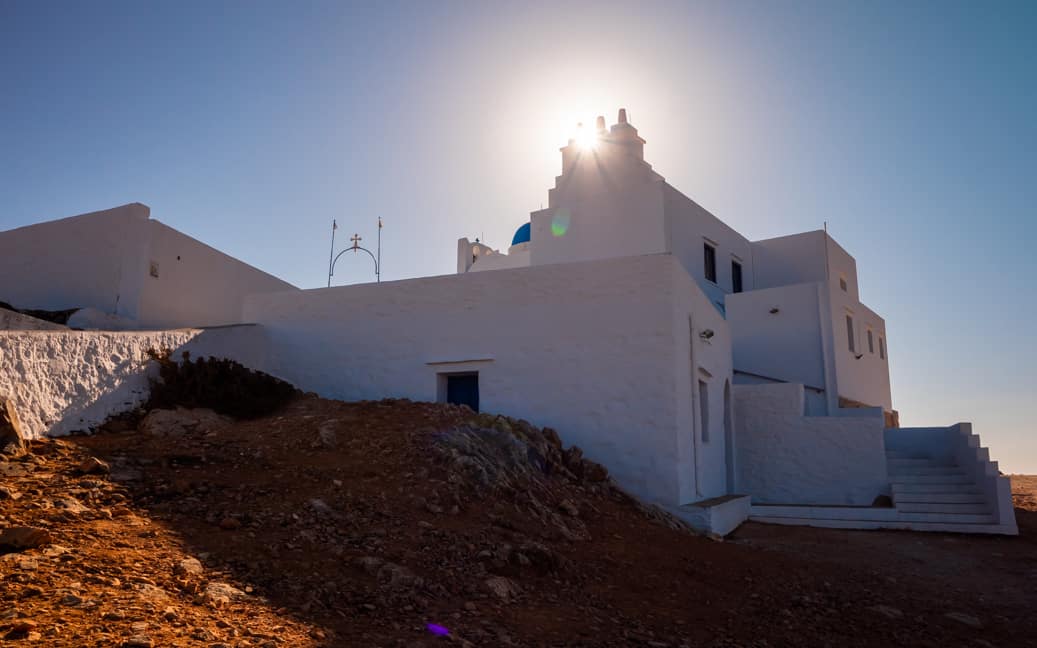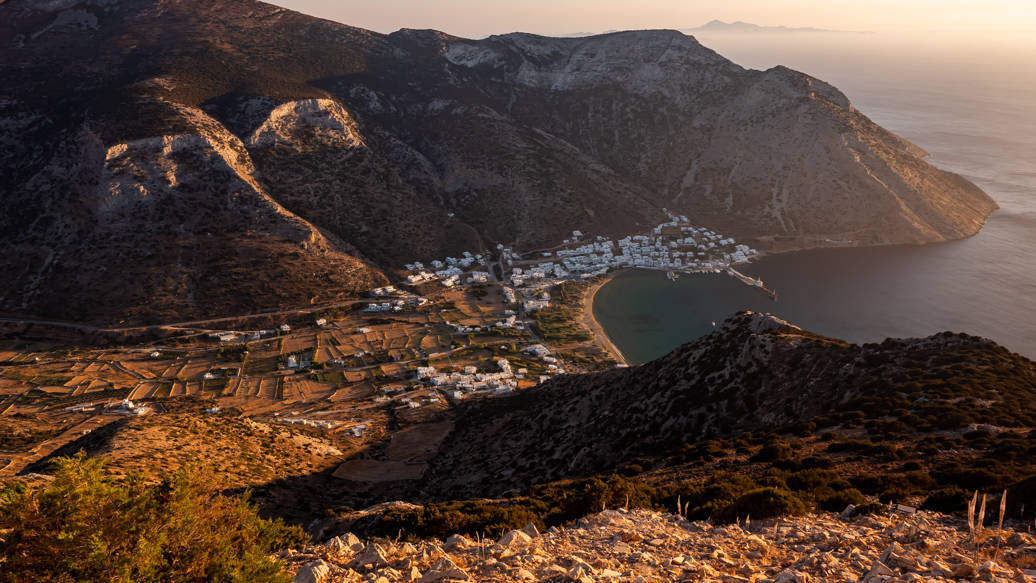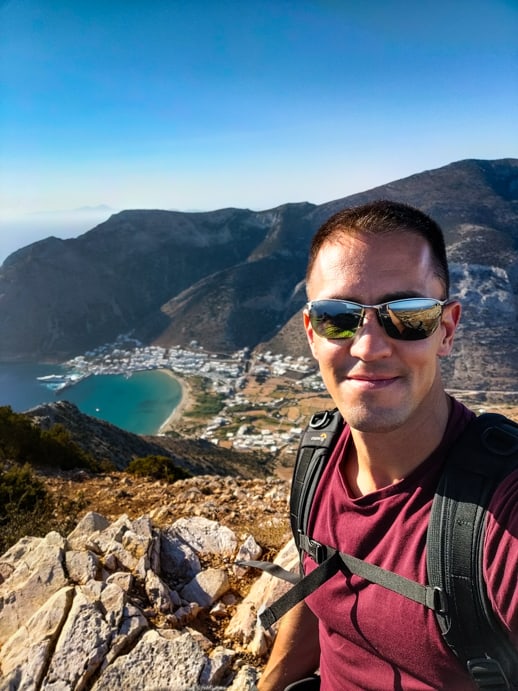 This has to be one of the highlights of my holiday, not just my time on Sifnos. I managed to find a quiet spot where I could sit, relax and enjoy these amazing views while watching the sun begin to set behind the hills. 100% a must-see if you visit the island!
More Italian Food
When I finally tore myself away from the stunning sunset views, I got back on the ATV and headed slowly back to Kamares, filled with that warm holiday buzz you get sometimes when your mood is sky high and you feel that all is right in the world.
There was only one way I could end the day after such a perfect evening: another meal at Camaron! This time I managed to fit in both a starter (bruschetta) and main course (four-cheese tortellini…again). Coupled with some lovely rosé wine, it was a meal fit for gods!