Sunday 13th September 2020
A Slightly Cloudy Morning
After enquiring about the possibility of a late check-out, I was pleased to be told I could keep the room as long as I needed. This enabled me to spend the entire morning at the beach, soaking up some final Sifnos sun, before returning to pack for my late afternoon ferry to Serifos.
Unfortunately, the weather had other plans as it turned out to be a little cloudy and noticeably cooler than previous days. So, despite my best efforts at sunbathing, I admitted defeat just before 11 and headed back to the hotel room. I spent a bit of time looking over more photos, then showered and packed my bags. By 12:30, I was heading down the main road, suitcase in tow, ready for some lunch.
A Long Lazy Lunch
My ferry wasn't due until 4pm, so I made an effort to take my time at Café Stavros for lunch (where else), starting off with a nice cold beer, followed by their delicious burger and chips, then – after a suitable period for digestion – a chocolate crêpe. During this time, I sat reading my Kindle, occasionally watching people passing by on the road and the beach. It seemed noticeably quieter than when I'd arrived, I'm sure due to a combination of Covid and it being a bit later in the season.
Ferry Time
When 3:30pm arrived, I paid up and said my goodbyes to the waiter – a close friend by now considering how many times I've visited over the past few days! I then rolled my suitcase towards the port and found some shade next to a building while I waited for the ferry to arrive. It was quite busy down at the port, though I suspected that most people were waiting for the 15:45 Seajets ferry and not the 16:00 Zante Ferries boat I was taking.
Sure enough, when Champion Jet 2 docked a few minutes behind its scheduled arrival time, 80% of the waiting crowd pushed forward and gradually boarded the waiting boat. Not many minutes after the Seajets ferry had departed, I spotted a larger vessel appearing from the left-hand side of the bay. As it got closer, I could tell from the branding that it was my ferry, so I grabbed my case and got in the short queue of waiting passengers.
The journey to Serifos was short and uneventful. After boarding, I went outside to the rear deck so I could wave goodbye to Sifnos, an island it will be tough to beat!
The Great Hill to my Hotel
When planning my island-hopping hotels, I tend to stick to locations within comfortable walking distance from the ferry: it saves on cost for taxis or waiting around for the local buses (though they are usually waiting for each ferry and pretty cheap). I had checked out my next hotel, Abati, on Google Maps to make sure I could get to it on foot… but the one problem with such planning is you don't get a sense of how hilly a place is until you get there!
The walk from the ferry started off okay: the port in Serifos is located in a small village called Livadi. First impressions were good: a nice, open harbour area lined with the usual array of supermarkets, car rentals, cafes and tavernas. Albeit on a smaller scale than most islands I've visited. My route to the hotel took me around the harbour, then left along a short but narrow street. The road then forks, with the right lane being part of a one-way system into the village and the left heading south-west out of town.
My hotel, the map assured me, was just a few hundred metres along this left road. Which would have been fine, were I not presented with what appeared to be at least a 15% gradient hill! Needless to say, I arrived at the front door of the hotel a rather sweaty mess, thinking that my hotel selection system had a definite flaw in it!
A Touch of Luxury at Last
Things improved at this point though: the lady on reception was very friendly and informed me that I had been upgraded to a nicer room at no extra cost. Though I'm always sceptical about these 'upgrades', the room was indeed very well furnished, if a touch on the small side: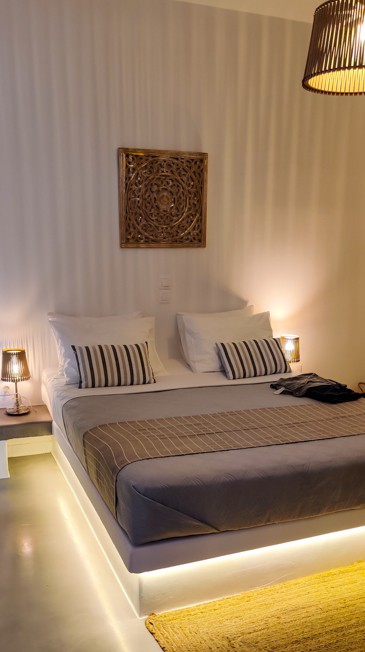 As you can see from the photo above, it definitely had a more luxurious feel than either of my two previous lodgings. The bed, in particular, looked exceptionally comfortable.
No Time to Waste
With only two nights on Serifos, I didn't want to waste any time so after unpacking a few essentials, I got my beach gear together, put on some swim shorts and a clean vest and headed straight out in search of some late afternoon sun.
The nearest beach turned out to be a little awkward to get to: I could just about see it from my hotel, but with no direct path available, I resorted to heading most of the way back down the hill into Livadi, then turning right down a side road and – with the help of my phone's GPS – located a steep-ish dirt track with some rough steps heading down to Livadakia beach.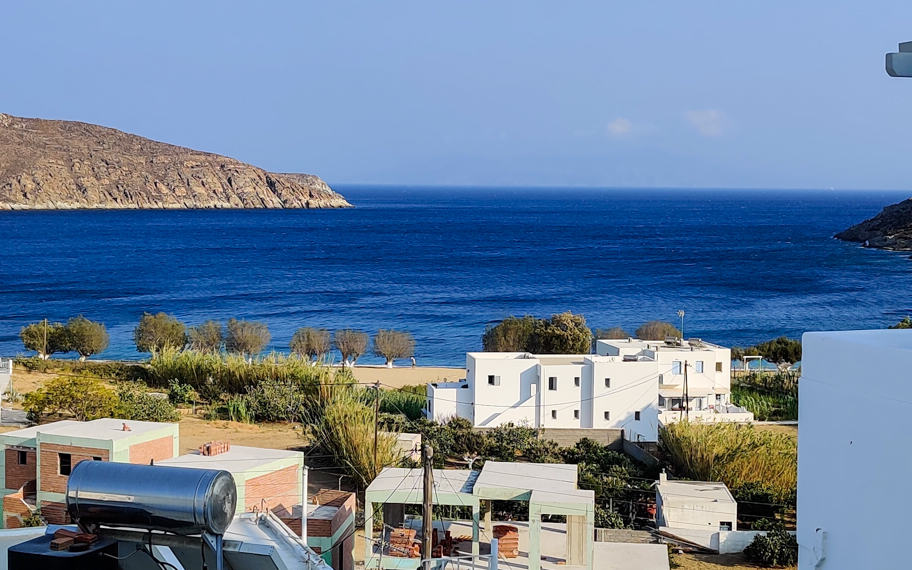 Despite it being close to 6pm, I was surprised to see a few sunbathers spread out on the sand. Not many, mind you, but clearly I wasn't the only person seeking some late-afternoon rays.
In search of my own space, I walked most of the way around the bay, ending up on a nice wide patch of sand just in front of the campsite, Coralli Camping. It was a pleasant 45 minutes of relaxation, with a short dip to cool off, but the sun eventually disappeared behind the hills so I took that as a sign to pack up my towel and head back to the hotel.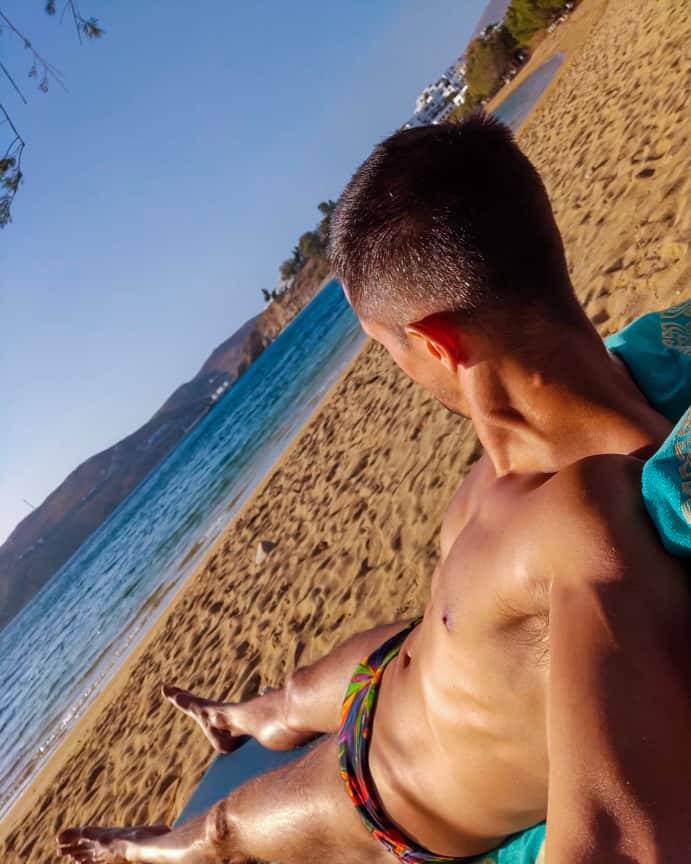 Dinner Disappointment
After a refreshing shower, I got dressed and strolled carefully down the hill and back into Livadi – a much nicer experience in this direction! Not feeling particularly hungry after the big lunch earlier, I walked a little way north east around the bay, scoping out the tavernas along the way. They all looked pretty quiet and not very inviting, so I doubled back towards the port but still couldn't settle on anywhere to eat.
Eventually, realising I would need to eat something before going to bed, I ended up at Tootsie Grill & Wrap – basically a fast-food restaurant that served gyros, burgers etc. I opted for the gyros and a Sprite, which was tasty and filling enough. It didn't take long to eat though, so I was soon heading back to the hotel, a little disappointed at the lack of dining options I had found.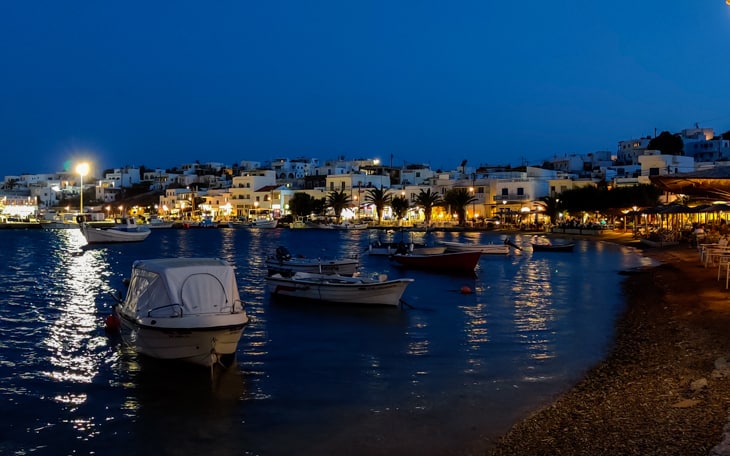 Blissful Bed
My disappointment didn't last long: precisely until I got into bed and discovered just how comfortable it was! I fell asleep almost immediately and woke the next morning feeling totally refreshed.