Sunday 6th September 2020
Breakfast
You can probably guess my breakfast plans by now: yes, I walked down to Aggeliki. Yes, I had my usual selection. No, I don't regret not trying somewhere different!
Heading South
Having explored the eastern side of Milos on the ATV yesterday, today's excursion began by heading south around the bay, past Milos airport. Shortly before the road splits to head either south or west, Achivadolimni beach sits right beside the road. It seemed worth a quick stop for some photos and video – you can see right across the bay towards Adamas: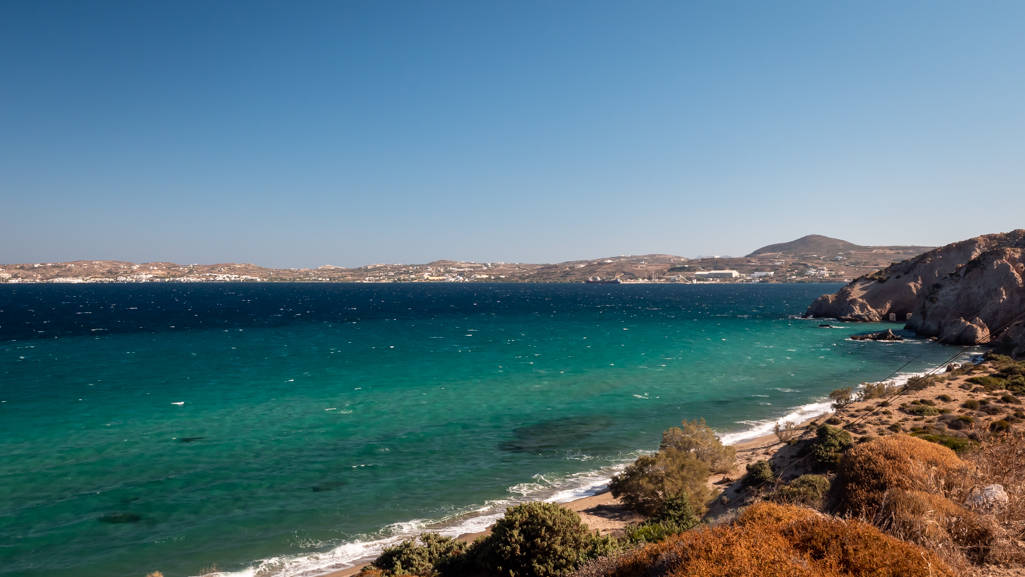 Tsigrado
After that brief unplanned stop, I took the southbound road and kept left until I reached Tsigrado. There are other beaches further along the road – Agia Kiriaki and Paliochori – but I skipped them to save a bit of time.
Tsigrado beach is rather odd as it's only accessible via a steep and narrow crack in the cliffside. So steep that there is a rope tethered to a pole to assist with the climb: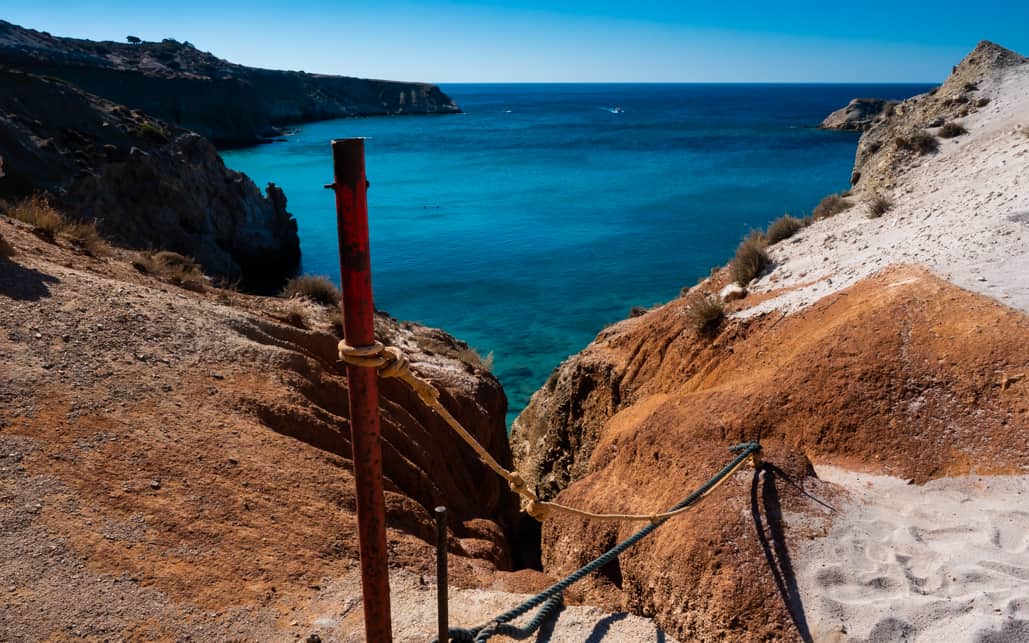 The beach itself is also rather small, so it's not really worth the effort unless you can get there first and snag it for yourself!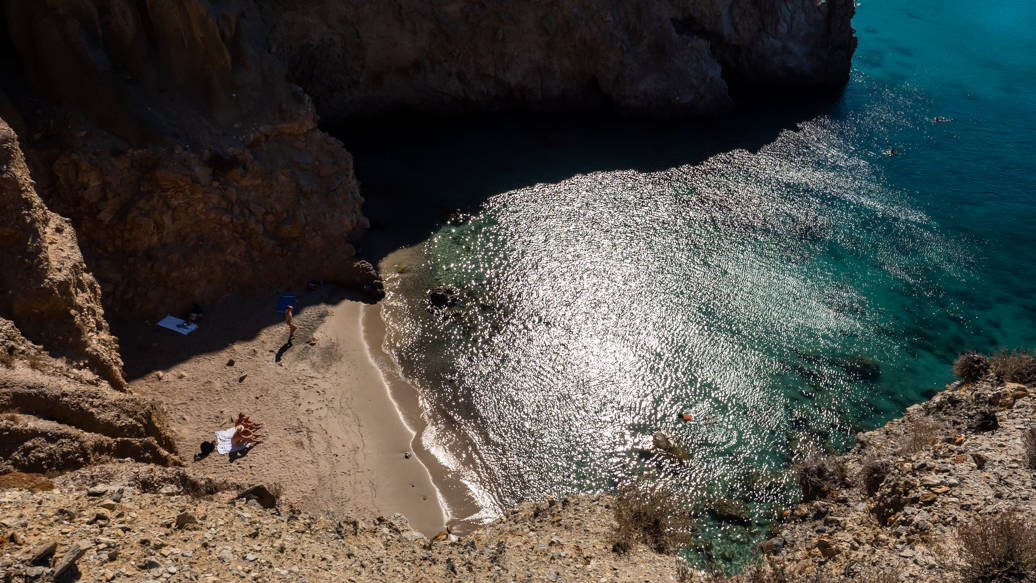 Firiplaka
Firiplaka, on the other hand, is pretty huge by comparison. Just around the headland from Tsigrado, it's a full-on tourist destination, with sunbeds, lovely sand and shallow water. Definitely the better of the two beaches in my opinion.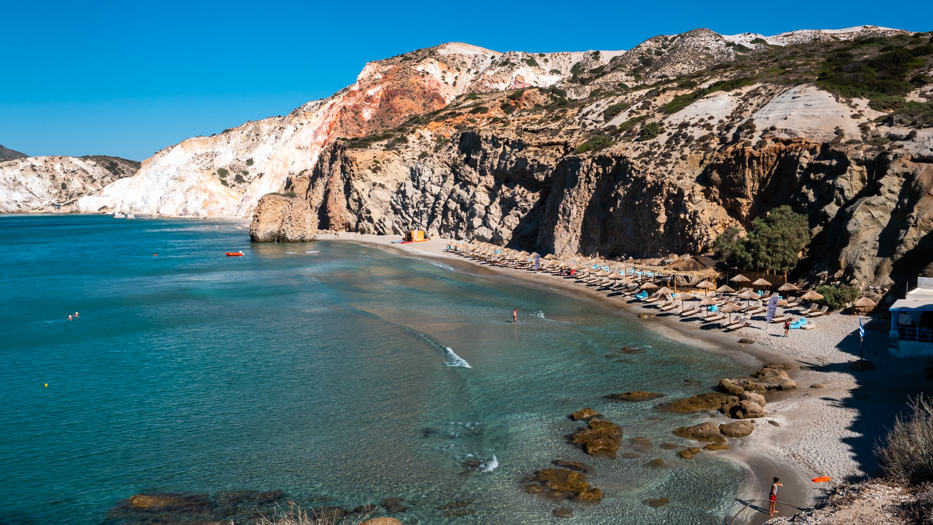 I was sorely tempted to throw down my towel and stay for a while, but I still had a lot to see and do, so after a nice stroll along the beach, I made for the ATV and onto the next destination.
Monastery of St. John Siderianos
One of the main items on my itinerary for today was a visit to the Monastery of St. John Siderianos, located at the far south western end of Milos.
If you don't already know, most of western Milos is uninhabited and, consequently, the road network is quite poor. Hire cars are generally not permitted to visit this side of the island due to the bumpy dirt tracks – one of the main reasons I chose to hire a quad bike instead.
The journey from Firiplaka to the monastery took about 40 minutes. Initially, the road seemed fantastic just west of Achivadolimni beach, but I soon discovered why rental cars aren't allowed. The further west I travelled, the worse the roads became. By the time I reached the monastery I was pretty well shaken around, though on an ATV it was fun rather than the jaw-clenching discomfort I imagine it would be by car.
The monastery itself is pretty large, though quite flat and surrounded by a perimeter wall. Although I heard people inside, I don't think it's open to tourists so I didn't try to get in. Instead, I took out my drone and had some fun taking aerial photos and video instead: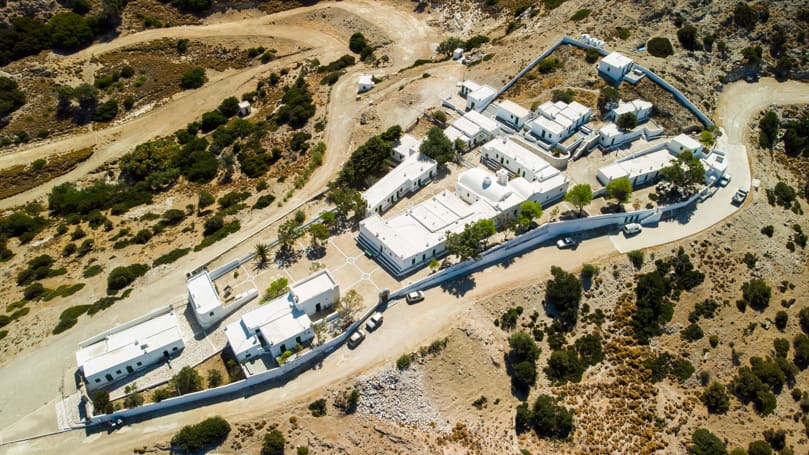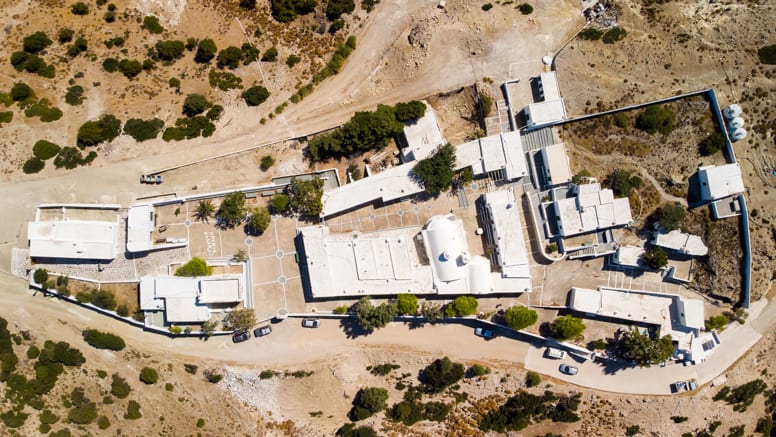 Agios Ioannis
Whilst taking drone shots of the monastery I happened to spot a beach fairly close by, so I went closer with the drone, partly to get some photos of it but also to see if it was worth visiting on foot.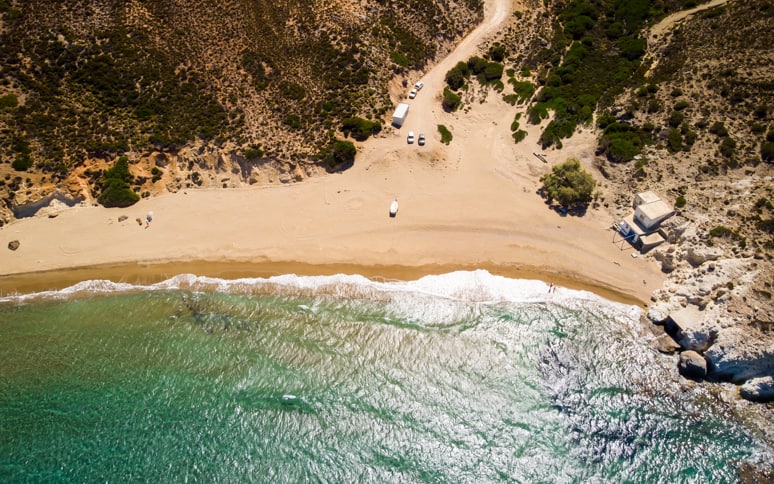 It looked rather nice and fairly quiet too, so once I'd sat in the shade and refuelled on crisps and biscuits (a great healthy lunch!) I took the ATV right up to the edge of the sand and found a quiet spot to lay out on my towel.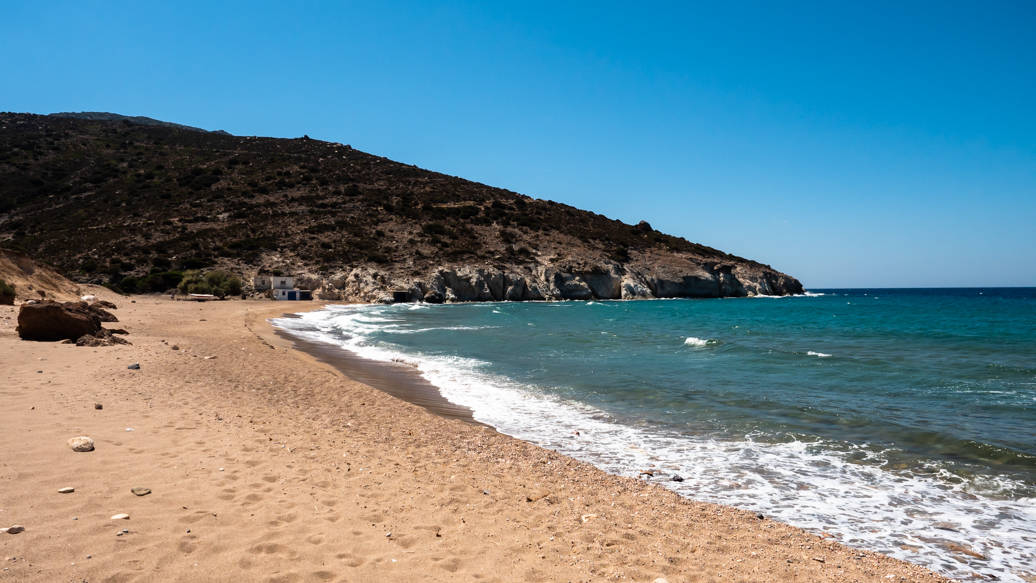 It wasn't long before I was warm enough to need a dip, so I changed into my swim shorts (much easier on a beach with nobody around) and had a brief swim. The sea is quite rocky near the shore, but once you get past the first few metres it's quite sandy and good enough for swimming.
Ammoudaraki, Silent and Triades Beaches
After spending nearly an hour relaxing at Agios Ioannis beach, I decided it was time to continue on my travels. Packing up my towel and clothes, I walked back to the ATV and set off up the hill, past the monastery and north towards a cluster of beaches on the western coastline.
The first stop was Ammoudaraki, the most southerly of the three beaches I planned to see.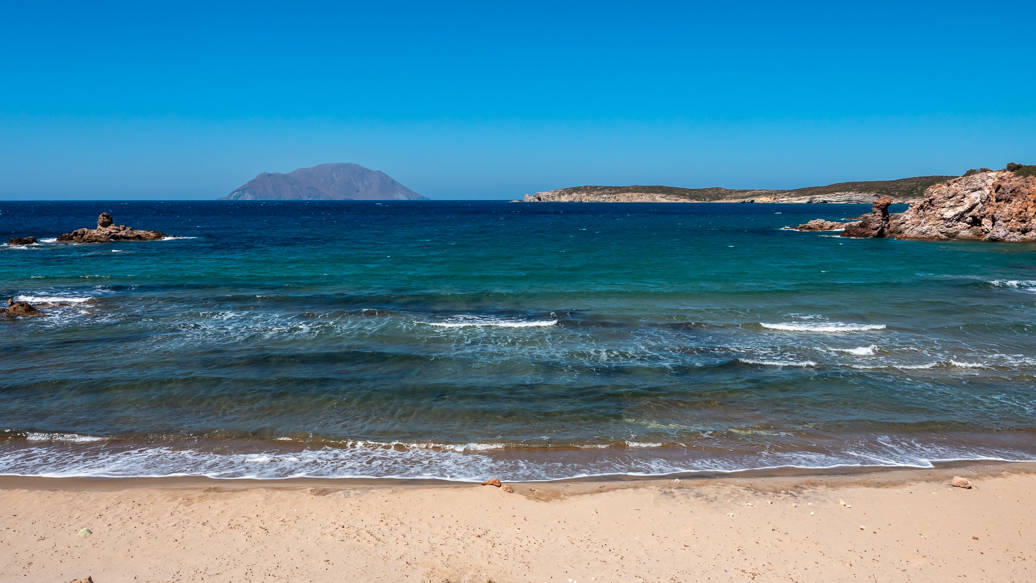 It's a nice enough beach, the largest of the three, but nothing special and probably not worth the difficult journey it would take to get here.
Triades and Silent beach were similar stories, albeit smaller. I was glad to have seen them but didn't feel the urge to spend a lot of time on any of them. Of the beaches I'd seen today, Firiplaka was the nicest and Agios Ioannis second best.
Dodgy Detour to Embourios
As I still had some of the afternoon left, I decided to head to Embourios on the way back. It's a tiny little village on the western side of the bay, opposite Adamas. There's a taverna there where I figured I could get a drink and enjoy the views for a while before heading home.
Unfortunately, Google Maps nearly ruined my plans again. Instead of heading east and then up to Embourios from the south, it took me on a road north of the village and down a very, very bumpy dirt track. Although you can see this track on Google's satellite view, it barely qualifies as a track and even with the ATV I wasn't sure I could make it all the way down.
Eventually, though, I reached what appeared to be a farmer's yard and made it back out onto a paved road close to the taverna. Thinking it would all be worthwhile once I was sat with a cold beer, you can imagine my dismay when I saw quite a sizeable queue of people waiting to get in – the taverna was packed!
Rather reluctantly, I forwent the cool beer and carried on south, then east back onto the main airport road. With the time I had gained from not stopping at Embourios, I decided to park up outside Lydia taverna along Papikinou beach and revisit my sunbathing spot from day 2 of the trip.
Pizza Time
With my tan nicely topped up, I left Papikinou beach just after 5 pm and rode the short distance back to my apartment. I showered and rested for a bit, enjoying the cool air conditioning and comfortable bed after a pretty hectic day.
For dinner, I considered using the ATV again as I wasn't due to return it until tomorrow morning. However, there's a pizza place nearby I wanted to try and, honestly, I felt like I'd spent enough time on the quad today!
I wandered down to New Malion, one of the many tavernas that line the seafront as you head into Adamas. The pizza was lovely and made a great ending to another fantastic day.