Monday 14th September 2020
Unexpectedly Mobile
I woke early having enjoyed the best night's sleep of my trip by far: the beds in Abati Hotel are amazing!! By 8am, I was dressed and had made the 10-minute walk downhill into Livadi in search of somewhere for breakfast.
Basic Breakfasts
Unlike Milos and Sifnos, I couldn't seem to find anywhere in Livadi that offered a good set-menu breakfast, so I was reduced to locating anywhere that would sell me coffee and some kind of sustenance. This turned out to be a fairly modern-looking coffee shop called Gran's, located right on the corner of the main road that leads towards the ferry port.
I sat at a table outside waiting to be served, but after being ignored for what seemed like an excessive amount of time, I figured out that they didn't offer table service. Feeling a bit daft for not realizing this sooner, I popped inside to buy a large latte and pain au chocolat. Returning to my table, I sat and watched the rather limited early morning activity of the few locals and tourists. It's certainly a quiet island and I haven't yet decided how I feel about it.
No Ferry Tickets (Yet)
Suitably caffeinated, the next task on my list was securing my ferry ticket for tomorrow's move to Syros. This turned out to be a failure as I could only find one ticket office and they didn't open until 9am. Not wanting to hang around wasting time, I decided to return later in the day and move onto my next goal: obtaining transportation.
I wasn't sure how easy it would be to get what I wanted in terms of a vehicle. As I'm leaving Serifos tomorrow, it could have made sense to hire a car for today, but that would leave me with no way of getting around tomorrow and nowhere to keep my luggage after I checked out of the hotel at midday. Alternatively, I could hire the car tomorrow instead, but that would have left me with no transportation today. Yes, I could have paid for two days but as I wouldn't get full use out of it tomorrow, that seemed excessive to me. What I really wanted is to hire a car for 24-hours, starting later today and ending before my ferry tomorrow. The question is, would anywhere let me do that? Enter Pegasus rental…
There are a few rental shops dotted around the harbour, but again most seemed to be closed as it was still quite early in the morning so I started thinking it would be another fruitless mission like the ferry ticket. However, I stumbled on Pegasus tucked right at the end of the harbour, closest to the ferry port.
Seeing a man inside, I walked up and asked if they had any cars available. His English didn't seem great, but I managed to convey that ideally I wanted a vehicle for 1 day, but starting later today until tomorrow afternoon. When I asked for the cost, he said €13 which sounded way too good to be true, but he repeated it several times and I decided I'd found the bargain of the century!
After filling out the paperwork it got even better: when I tried to leave, he gave me the keys and said to take the car now! Bonus!! The vehicle itself was a slightly used Opel Corsa, but it seemed to run fine and I was soon heading up the hill back to my hotel (boy was it good not to be walking up that hill!).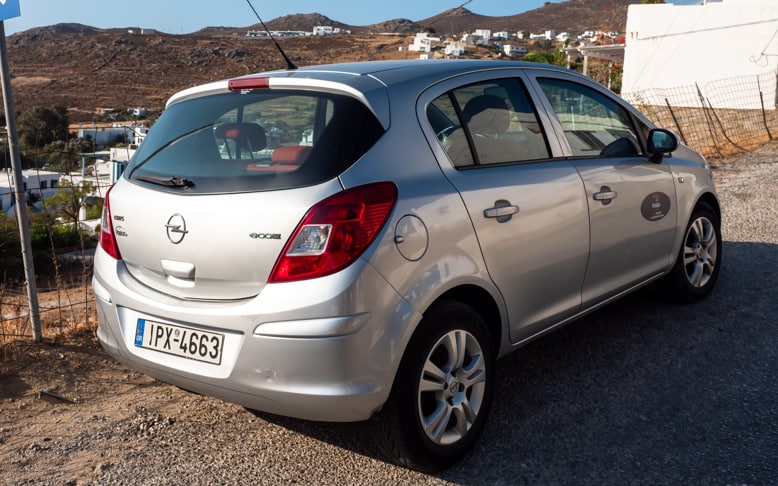 Unexpected Freedom
I hadn't expected to have a car this early in the day, so I quickly revised my sightseeing plans and decided to split the island into north and south, visiting the southern half today and saving the northern side for tomorrow.
Bag packed, I first headed back into Livadi and around the one-way system to get to the only petrol station on the island: an EKO garage on the main road into Livadi from Chora.
Car refuelled, I drove back past my hotel and continued south to my first stop: Ampeli beach. Well, it would have been had I not seen it from a distance and realised it was tiny, as well as being pretty hard to get to by car. So, I skipped that and continued west to Vagia beach instead.
Vagia beach, by contrast, is pretty huge: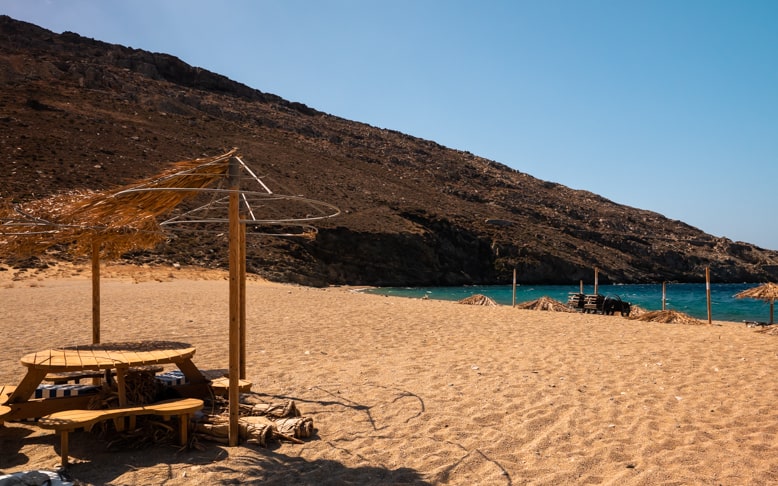 I suspect under normal circumstances it might get quite busy, but due to a combination of the Coronavirus pandemic and it being quite late in the season, the beach was practically deserted.
Behind the beach there are some quite nice looking apartments that would probably make a nice base if you're looking for a quiet holiday: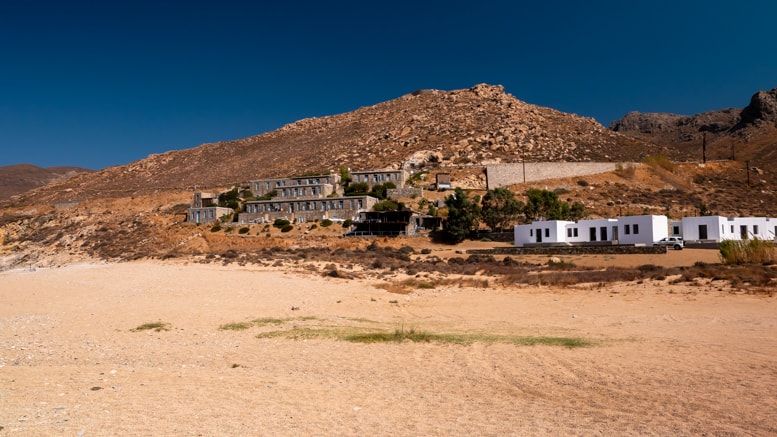 The beach itself is mostly coarse sand/shingle and I could see some rocks in the water close to the shore, so while I wouldn't say it's a patch on Kamares beach on Sifnos, it would be a nice quiet place to lay out for a few hours to soak up some Greek sun.
Not for me though: photos taken, I jumped back in the car for the short drive to my next stop at Ganema. This seemed like a good improvement on Vagia, with softer sand and clearer waters: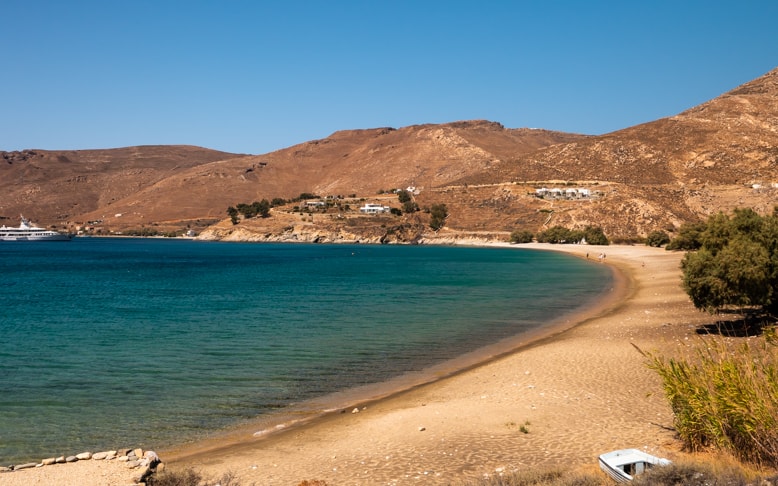 I did have some difficulty parking the car though, which may serve as a warning to other visitors – Google maps shows what appears to be a well-established road down to the beach from the north-east. However, upon turning off the main road, I was greeted by an incredibly rocky track that is basically impassable by car. You could probably manage it on a quad-bike or a 4×4 with suitable tires. After just a few metres, I gave up and managed to turn the car around to get back on the main road.
Realising that my experience explained why there were cars parked along the main road at the south end of Ganema beach, I backtracked and joined them having learned a valuable lesson!
As I mentioned, the beach itself is definitely an improvement over Vagia and could well be the nicest one on the island: the water is very clear and there is plenty of space on the wide, open sand.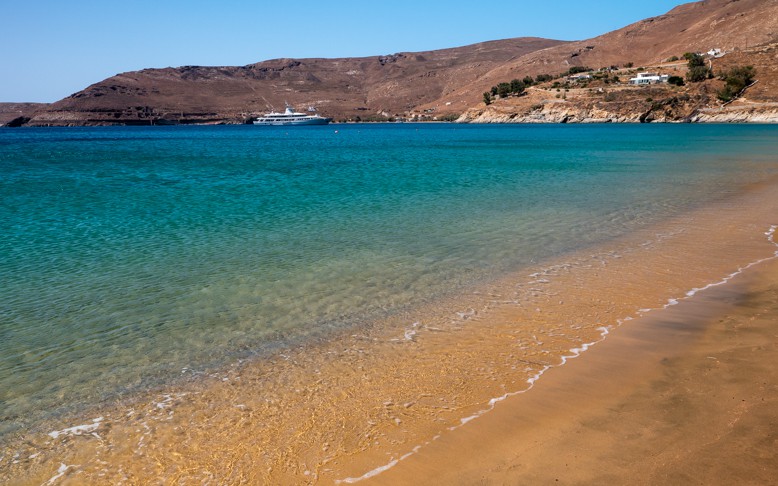 In contrast to Vagia, there were a few people here enjoying the beach but again it was far from crowded.
Lunch Plans
I considered stopping at Ganema for lunch, but the single taverna at the northern end of the beach had some questionable reviews online, so I skipped it and carried on driving west until I reached the next decent-sized beach/village.
This turned out to be Megalo Livadi, where I enjoyed a very fresh meal at a taverna called Kýklōpas.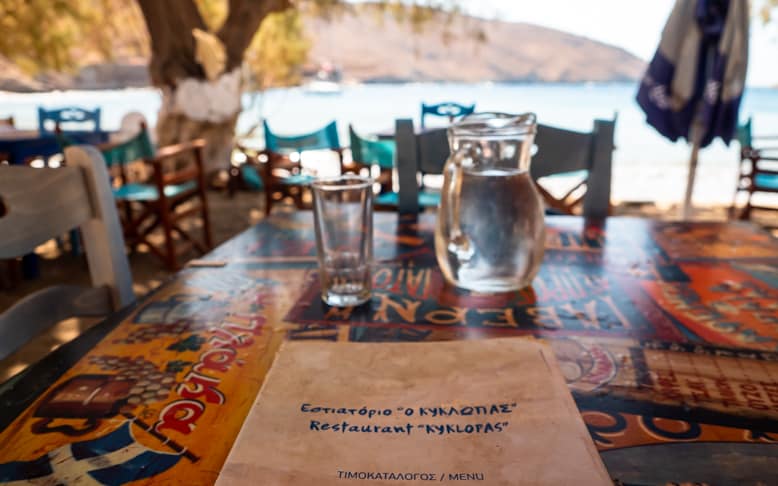 The menu is a bit limited and quite fish-heavy which didn't really suit me, so I opted for a Greek salad, bread and tzatziki, plus a Mythos, of course! It was tasty food, the salad especially was very fresh and delicious.
Chora
Until the time came, I hadn't decided whether to visit Chora today or save it for tomorrow instead. Looking at the map though, it was clear that from Megalo Livadi, there is really nowhere to go but back to the main road and inland towards the centre of the island. This would naturally take me towards Chora anyway, so I decided I would see it today and, if necessary, skip it tomorrow.
The drive to Chora took about 20 minutes through some quite pretty, if rather barren, hilly terrain. It's worth approaching Chora from this direction though, as you get to see it from above and behind. I stopped on the side of the road and managed to get some good photos from a rooftop: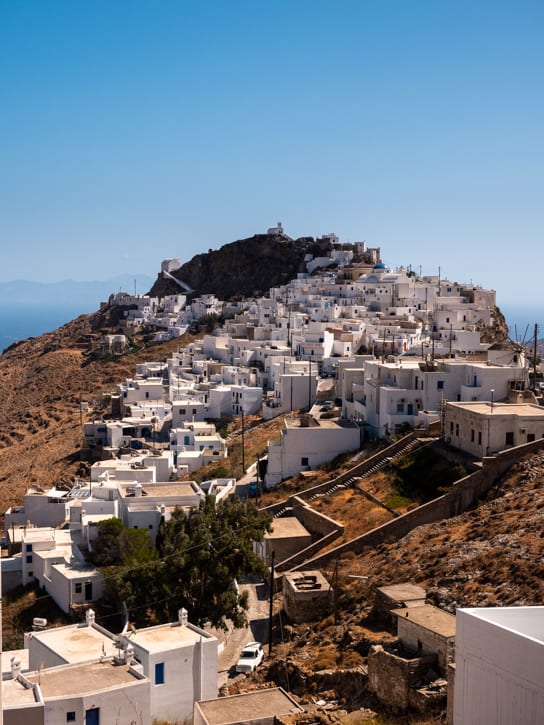 Continuing into the village, I parked up near the centre and walked around the town and up to the church that sits atop the summit.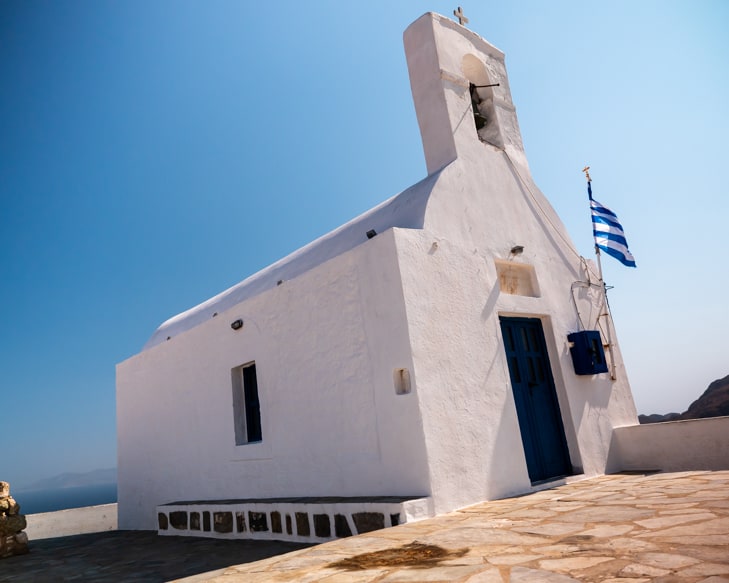 You also get some fabulous views across the island from the top of Chora, especially down towards Livadi: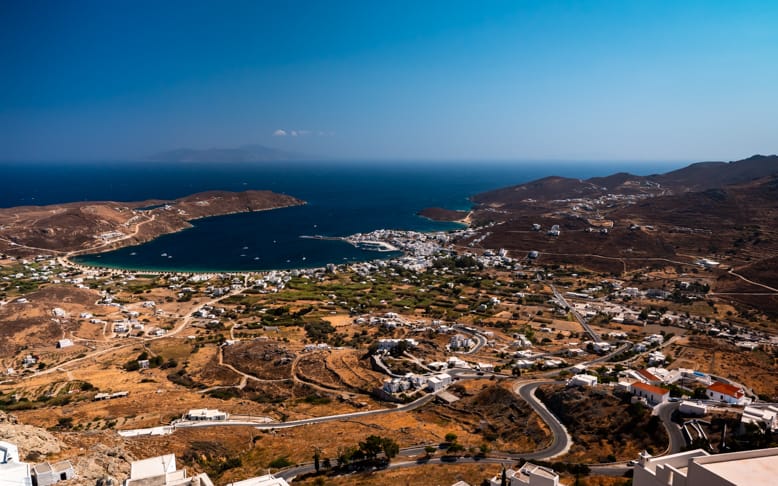 Back to Livadakia Beach
It was only 3pm by the time I got back to my hotel. I wanted to leave myself with plenty of the island still to see tomorrow as my ferry wasn't until 5:45pm, so I got changed into my beach gear and walked back to the same spot on Livadakia beach that I'd visited yesterday evening.
It was a pleasant few hours, again very peaceful with not many people around, so it was nice to lay out, listening to music and reading my Kindle. Not quite as nice as Kamares beach on Sifnos, if I'm being honest – partly because there were no sun loungers so I had to make do with my towel on the sand – but still, there are far worse places to spend time than on a Greek beach!
Dinner Disappointment
My plan for dinner involved taking the car back up to Chora, as the views are supposed to be impressive. Well, unfortunately the sun sets behind some hills to the west of Chora so that was a little disappointing: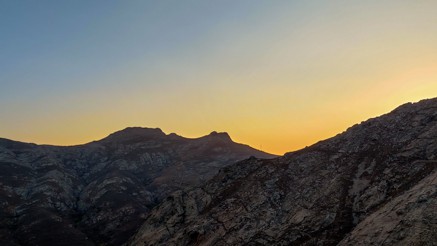 The view down to Livadi was still nice, of course, but then I had seen it earlier in the day so perhaps it didn't have the same impact on me second time around: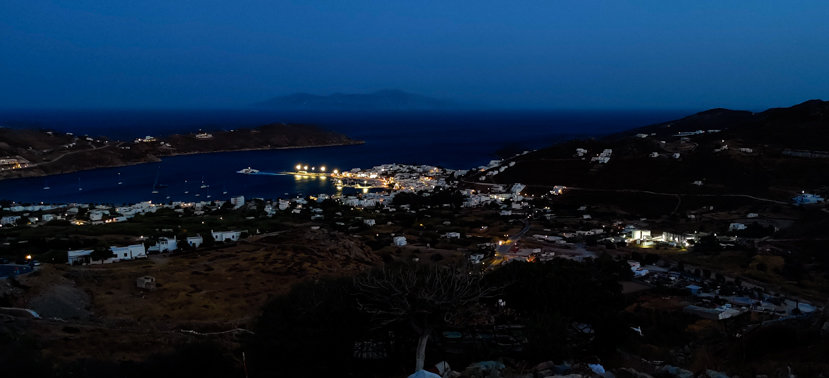 After walking the streets of Chora for a little while, I tried to find a restaurant for dinner but there aren't actually that many around. I ended up in a small square which I assumed to be the social centre of the village. It wasn't especially busy, perhaps because it was still fairly early for some people to be eating. I ended up sitting down outside a Cocktail bar called Barbarossa: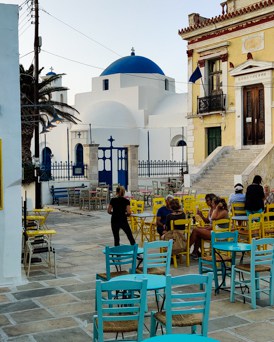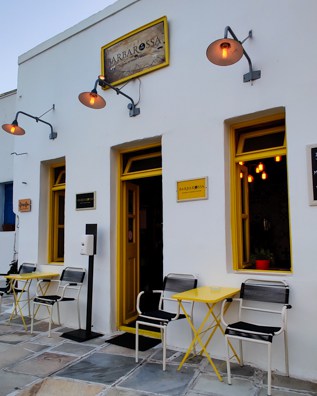 To pass some time, I decided to order a glass of wine before food. The wine was very nice, though unfortunately the pizza I ended up having later was quite disappointing: it seemed like a pre-made base with some okay-ish tomato sauce on top and a bit of cheese. Nothing compared to the amazing food I'd been spoiled with on Sifnos. Oh well.
With nothing really left to do in Chora, I was back at my hotel by 9pm where I made the best of the comfortable bed by reading my book for a while and then settling down for another great night's sleep.