Monday 20th June 2022
Good Morning Sunshine
I woke at 7 feeling refreshed despite waking a few times during the night. I'd agreed to meet Ed for breakfast at 8:30 so I spent this unexpected free time reviewing the photos and videos I'd captured yesterday. I opened my curtains and was greeted with a clear blue sky, much better weather than yesterday!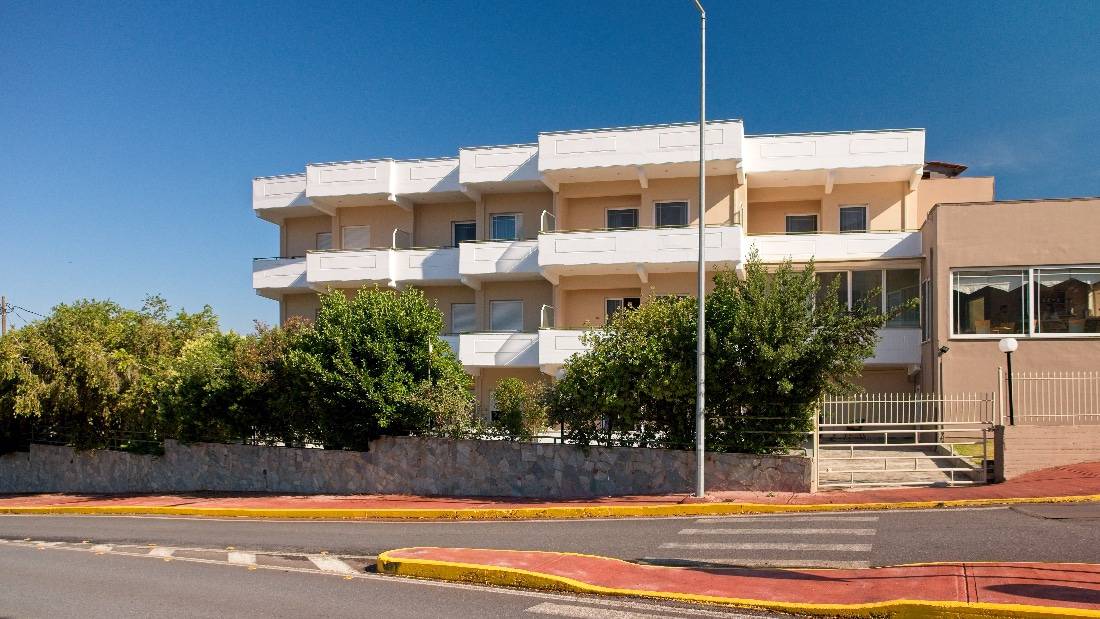 Breakfast at the hotel was a typical affair: coffee, bread, jam, and orange juice, but with a ham and cheese panini and it was all served to our table instead of buffet style. It was filling enough, and I didn't expect anything more given the budget nature of the hotel.
Next Stop: Mystras
As I mentioned yesterday, our next stop was Mystras. It's not all that far from Kalamata as the crow flies but is separated by the Taygetus mountain range. There is a path through the mountains but it's filled with twists and turns and – according to Google – is slower than taking the toll road north from Kalamata and circling around the mountains. We chose the latter option and it was definitely an easy drive, taking about 90 minutes on really nice and mostly empty roads. There were 3 toll stops totalling about €5.
We arrived at our next accommodation, Mystras Inn, at 11:30 and were glad to be told we could check in early. A lady escorted our car to the parking area right outside some very modern-looking rooms:
We unloaded the car and after checking I had no urgent work to do, I met Ed back at the taverna which is part of the Mystras Inn. We decided to try the local Sparta beer (pretty decent) and figure out our sightseeing plans. The main attraction at Mystras is the acropolis and archaeological site that sits atop a tall rock and is visible for miles around: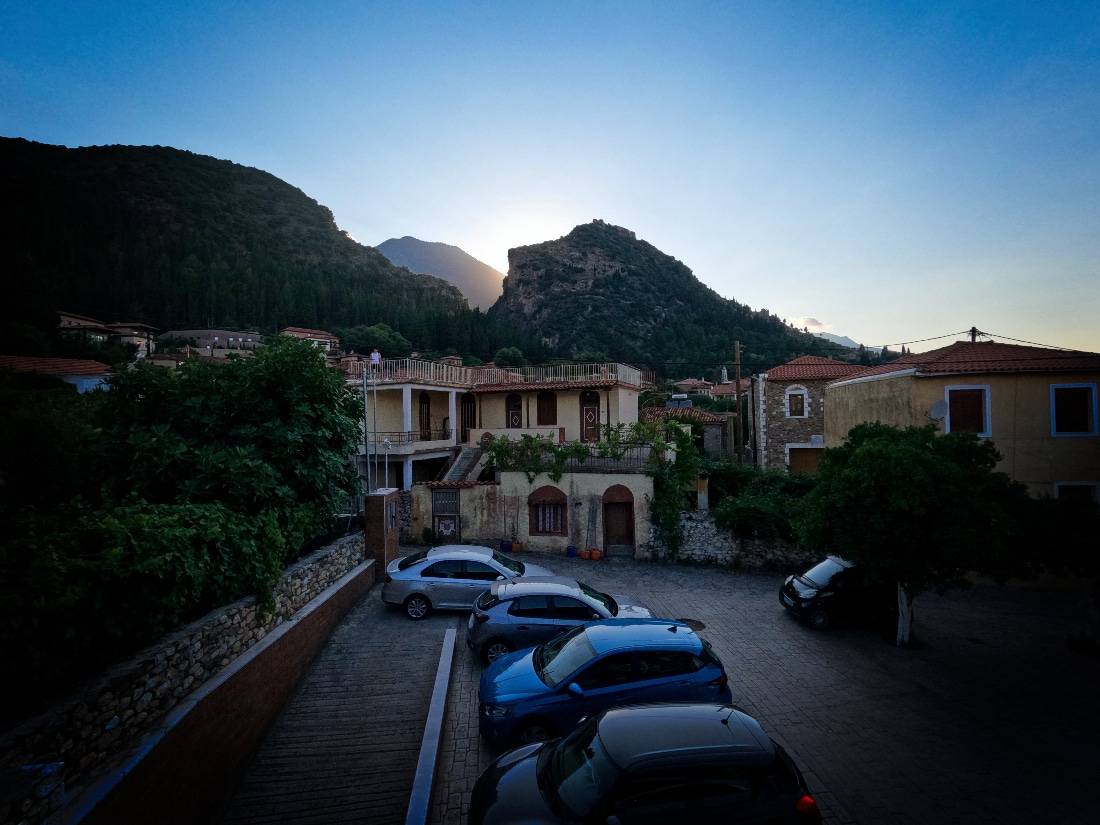 Exploring Mystras
Getting to the top involves either a very steep walk, a car journey or a taxi. Taking the car wasn't ideal as we'd have to retrieve it later as the ruins are spread down the hill so you descend as you see them and end up at the bottom. We opted for a taxi which cost €8 as we've got a big walk tomorrow so didn't fancy going up on foot either.
Entry to Mystras cost €12 which, in hindsight, seems a bit expensive. The acropolis ruins are fairly modest and while the entire archaeological site is large, much of it is just ruined walls that funnel you gradually down the hillside. It was interesting and I would still recommend it if you're in the area and like Greek history.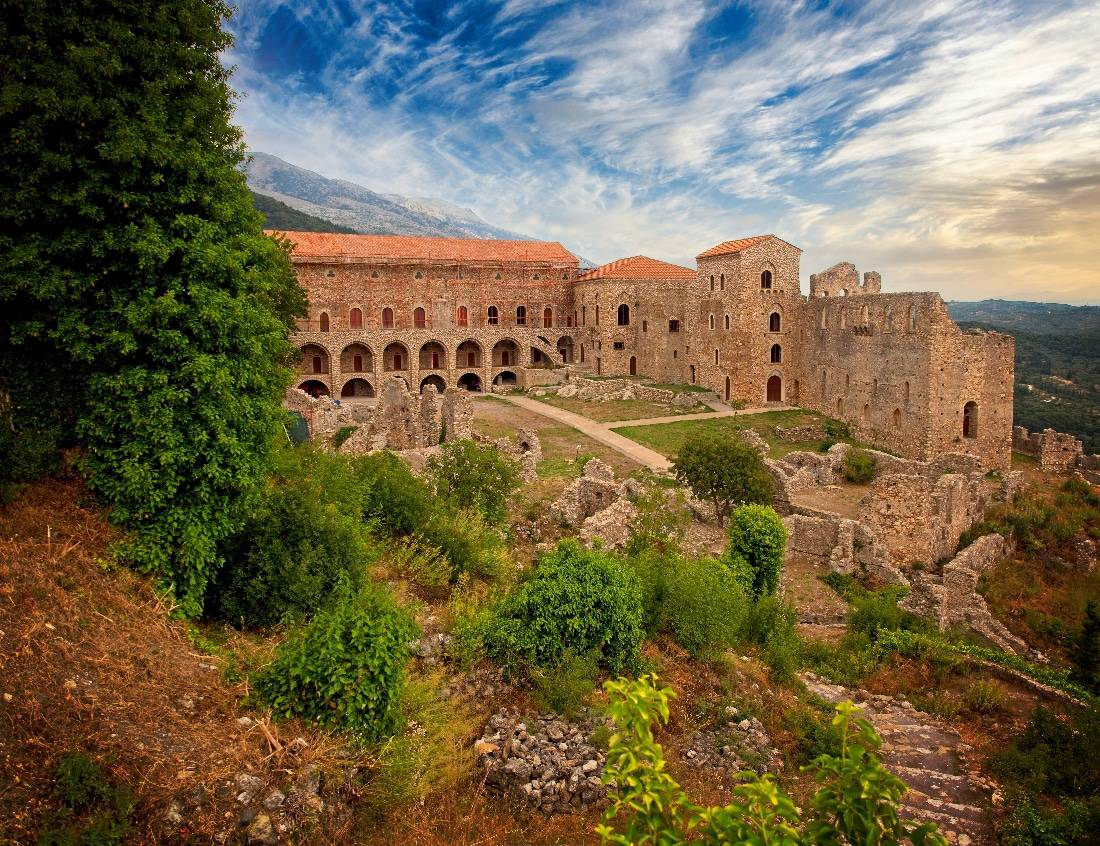 As we exited the site from the lower car park, we stopped at a nearby taverna called Xenia for a cold Mammos beer before continuing back to our accommodation. I spent the next couple of hours in my room resting up after a hot afternoon's sightseeing.
Dinner Time
Partly for the sake of convenience and partly due to limited alternatives, we decided to eat dinner at Mystras Inn's own taverna. It occupies a nice spot in the main public area of the village and is one of only 3 or 4 restaurants in the area. I chose the moussaka while Ed had stuffed tomatoes and we shared some house red wine. The food was pretty good, even though the moussaka was tray-baked which is never as good as the individual bowls.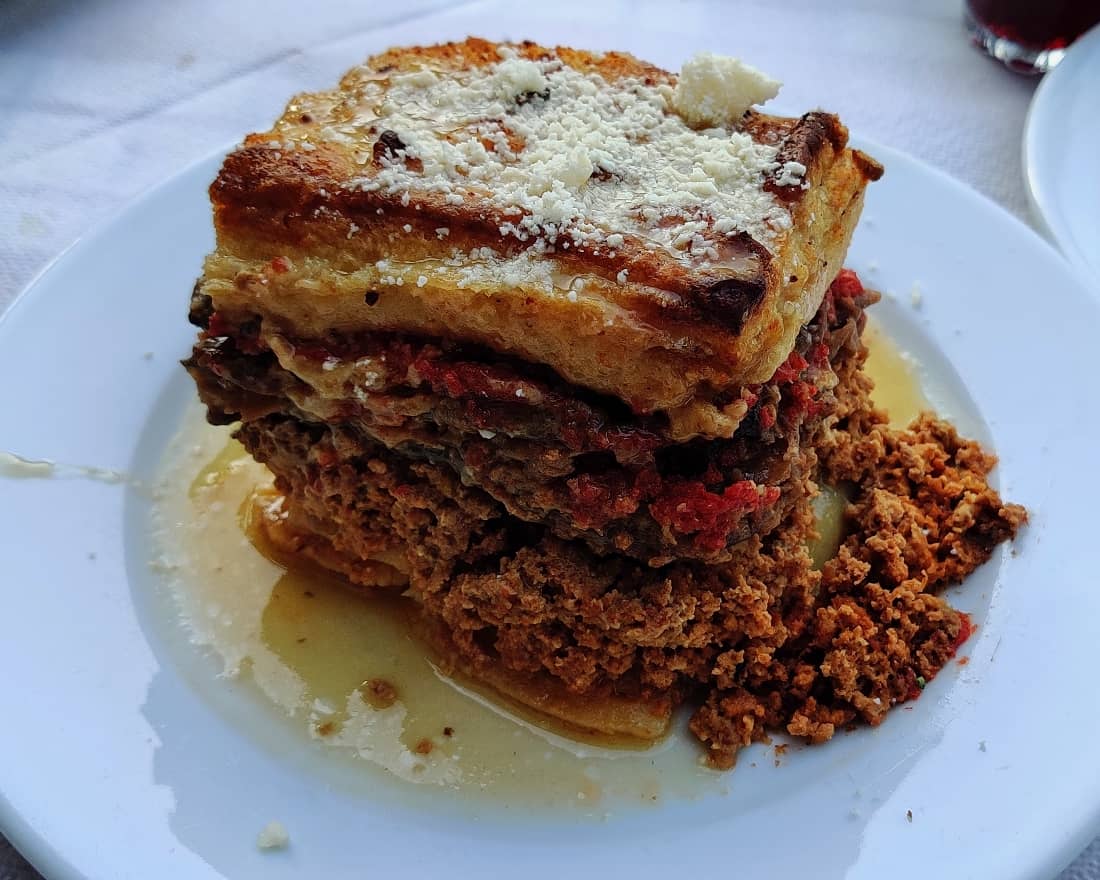 We got through a second carafe of red wine during the meal and even managed some baklava for dessert. It was nice enough but had very thick pastry at the bottom and was difficult to cut with just a small spoon.
Feeling pretty stuffed and only moderately tipsy, we headed back to our rooms to rest up ahead of tomorrow's hike…to the summit of Mount Taygetus!!