Tuesday 21st June 2022
Nervous Energy
I was more than a little nervous about today's hike. Not only would it be the most challenging that I've done with Ed in Greece, but it was almost the end of June and very hot outside. From the rainy start in Kalamata on Sunday, temperatures have been rising fast and were due to be in the mid-30s today. On top of that, my rucksack is designed for camera gear not hiking, so it lacks any external drinks bottle holders making carrying water a problem. On the plus side, Ed was full of enthusiasm and we knew there would be a refuge rest stop just before halfway, so in my mind, if we made it that far and had to stop and turn back, so be it.
To combat the water issue with my rucksack, I removed all of my gear except the main SLR camera, ripped out all of the velcro internal dividers and filled the resulting space with water: 1 x 1.5-litre bottle and 5 x 0.5-litre bottles, giving me a total of 4 litres. Not a huge amount for a 6-ish hour hike, but more than I had expected to be able to carry. It was pretty heavy with all that liquid, but no worse than with all my tech gear and I keep pretty fit in the gym so it wasn't much of a concern.
A Late Start
Normally, on a hike like this, you'd set off at sunrise and aim to finish by midday. Well, apparently we like making a difficult task harder: breakfast is included at our accommodation but it wasn't available until 7:30, so instead of skipping it, we decided to wait around and eat before we left. As a result, we didn't arrive at our starting point, Manganiari Spring, until just after 9, as it was about a 40-minute drive away.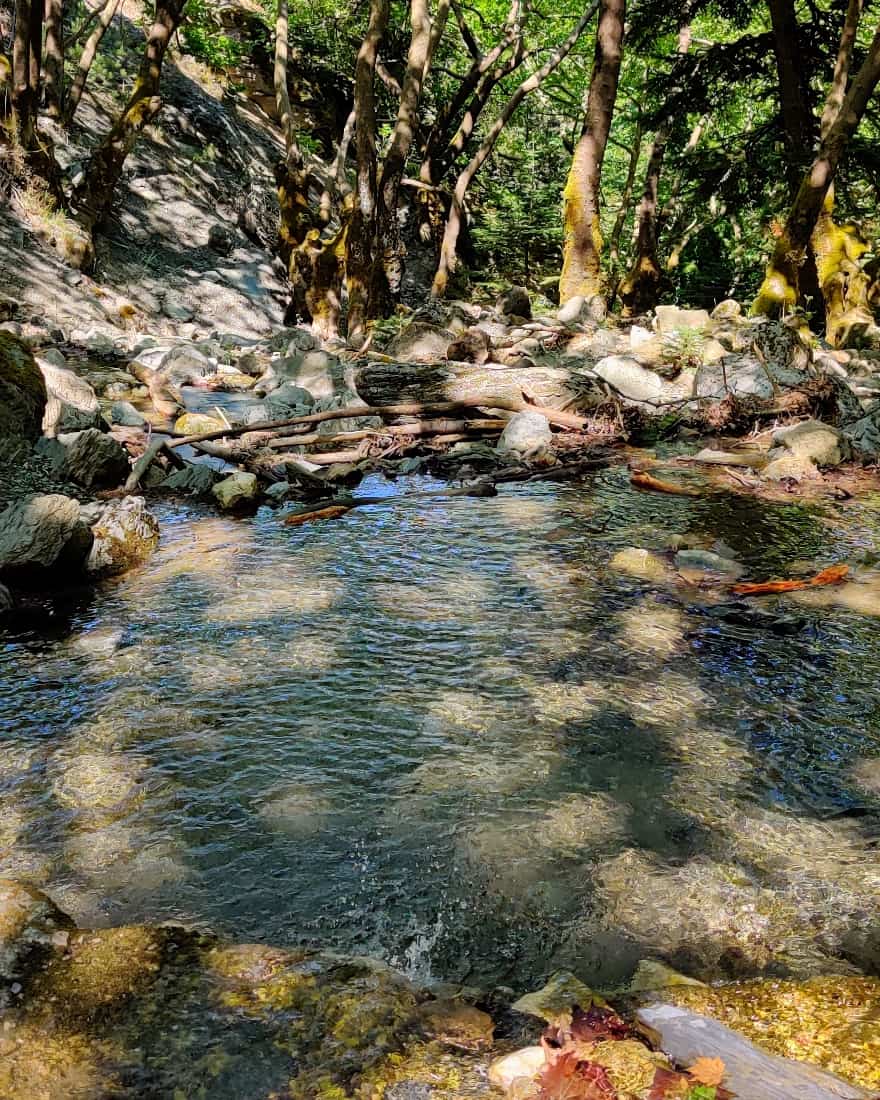 Confidence Improves
The first kilometre or so was quite steep but it soon became more gradual. Better still, it was all under the shade of tall trees giving us some welcome cover from the sun. The breeze was mild and intermittent, but whenever it came it had a lovely cooling effect.
The terrain remained much the same for most of the 4km it took to reach the refuge resting point. We had climbed 490m according to my Garmin watch and it took just over an hour. Due to the shade cover for all but a few small sections, we hadn't used much water and were feeling pretty good. I suddenly became a lot more optimistic we might actually make the summit!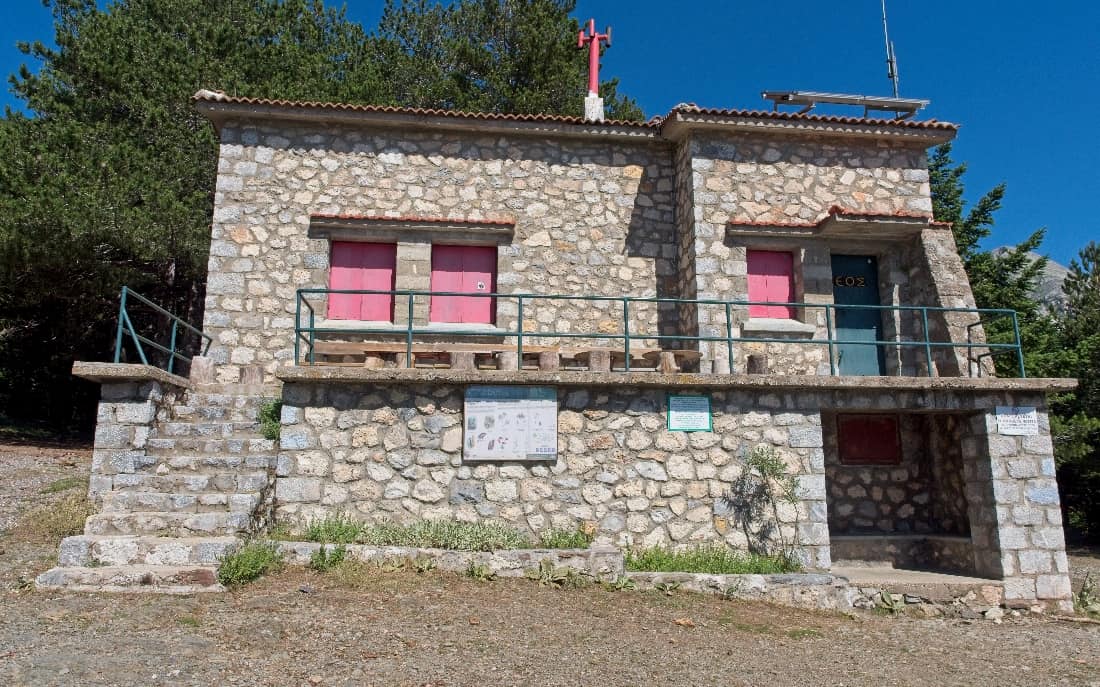 Things Get Tougher
Once we left the refuge, things started to get a bit tougher: the shade cover mostly disappeared as we were now on the upper slope of the mountain range and the tall trees were gone. There were also more frequent sections of steeper ascent so it became harder on the legs too. Still, we continued to make good time and within an hour we reached a total altitude of 2,000m above sea level with a 1500m section to go.
This was the hardest part of the hike. We reached the ridge line so we were able to see the western coastline, but still had a few hundred metres of the climb to go. The terrain became mostly loose rock and of varying steepness so our progress slowed considerably. We persevered, though, and reached the summit after 1 hour 36 minutes from the refuge. In total, according to my Garmin, we climbed 1,282 metres in 2 hours 42 minutes: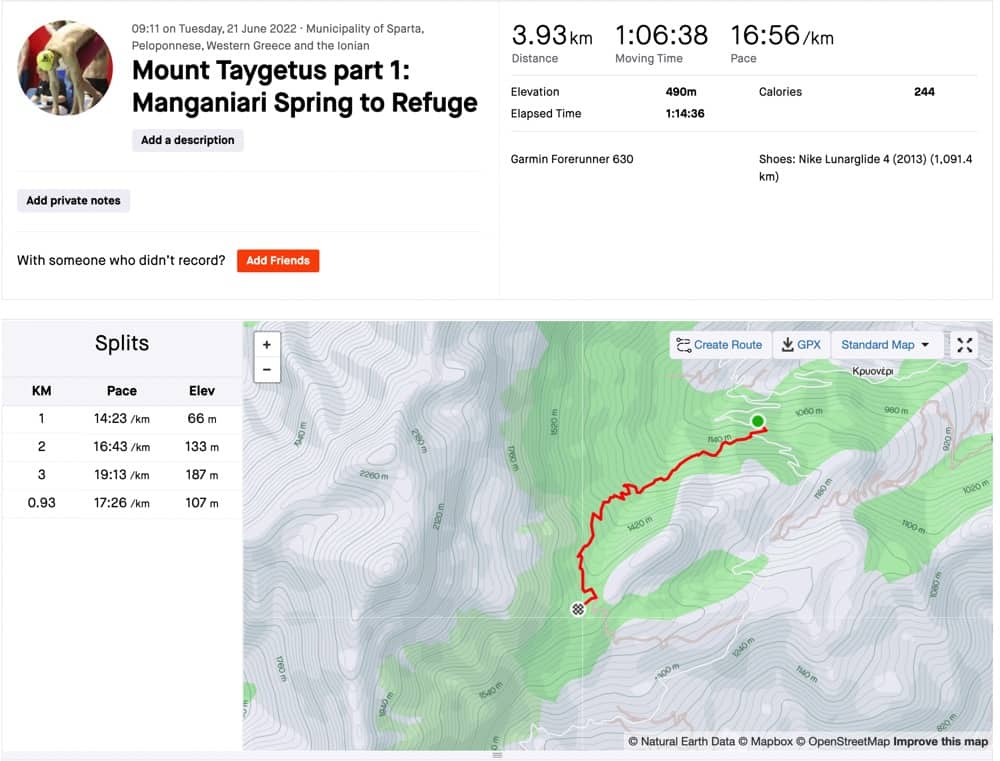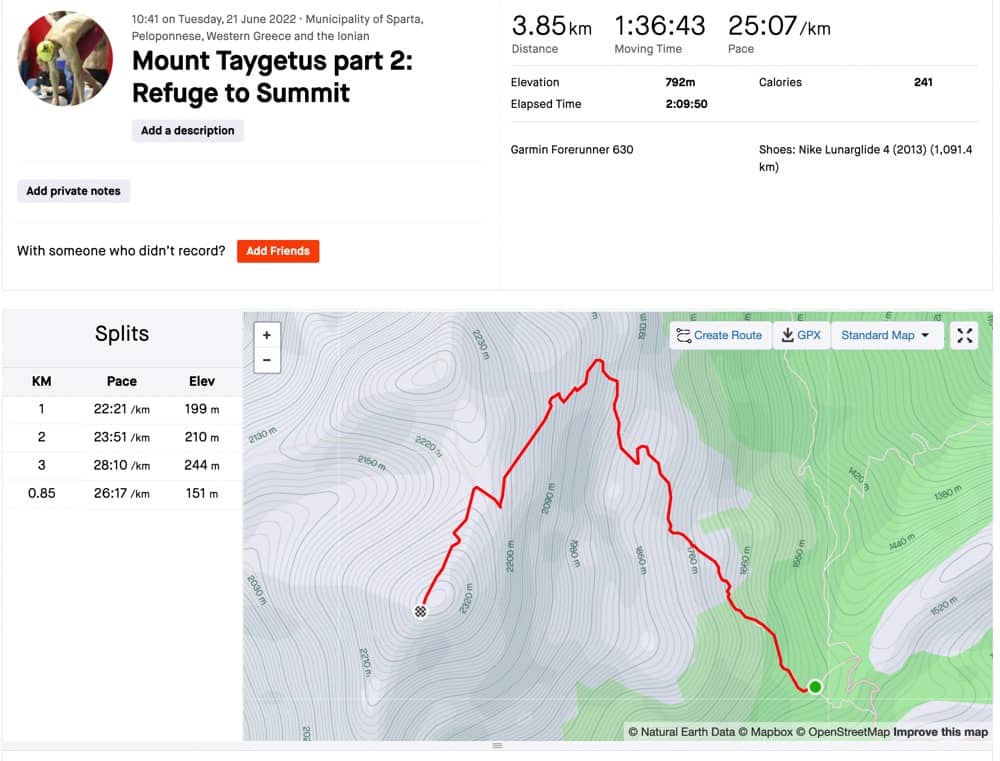 Summit and Descent
Standing at the summit was a great feeling of achievement. I reached the top a few minutes ahead of Ed and took in the amazing views as I waited for him to catch up: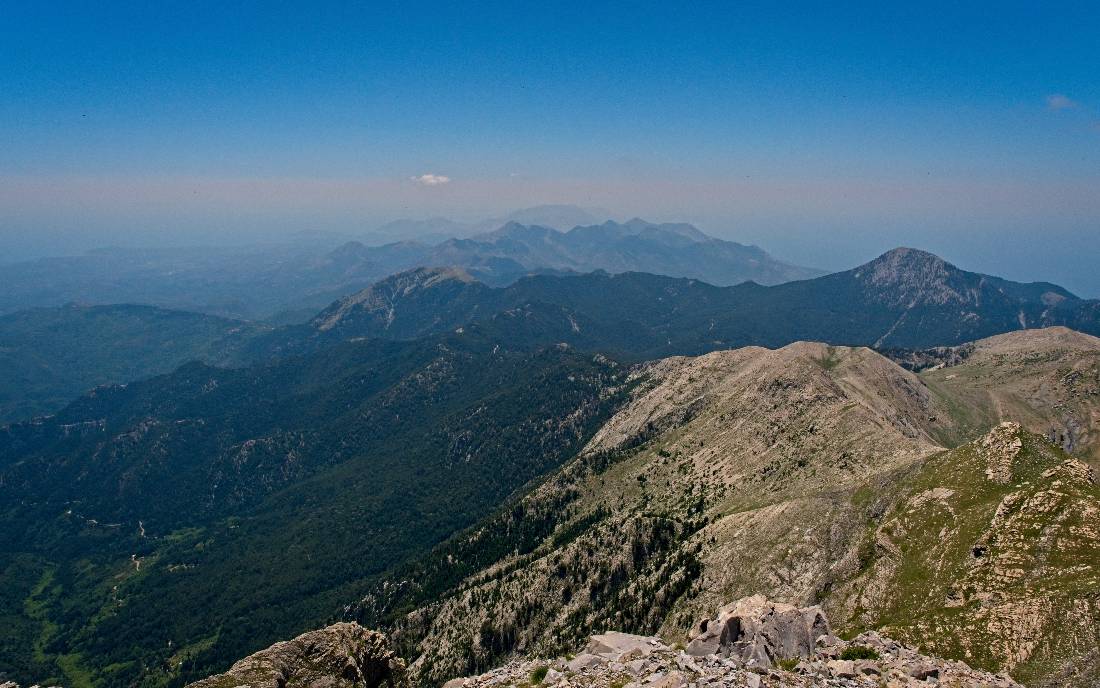 When Ed arrived, we had a stroll around the summit which has the remains of some small buildings and a few low walls. Unfortunately, the area was swarming with flying insects which made it a bit less pleasant to stand around, but we were determined to savour the moment.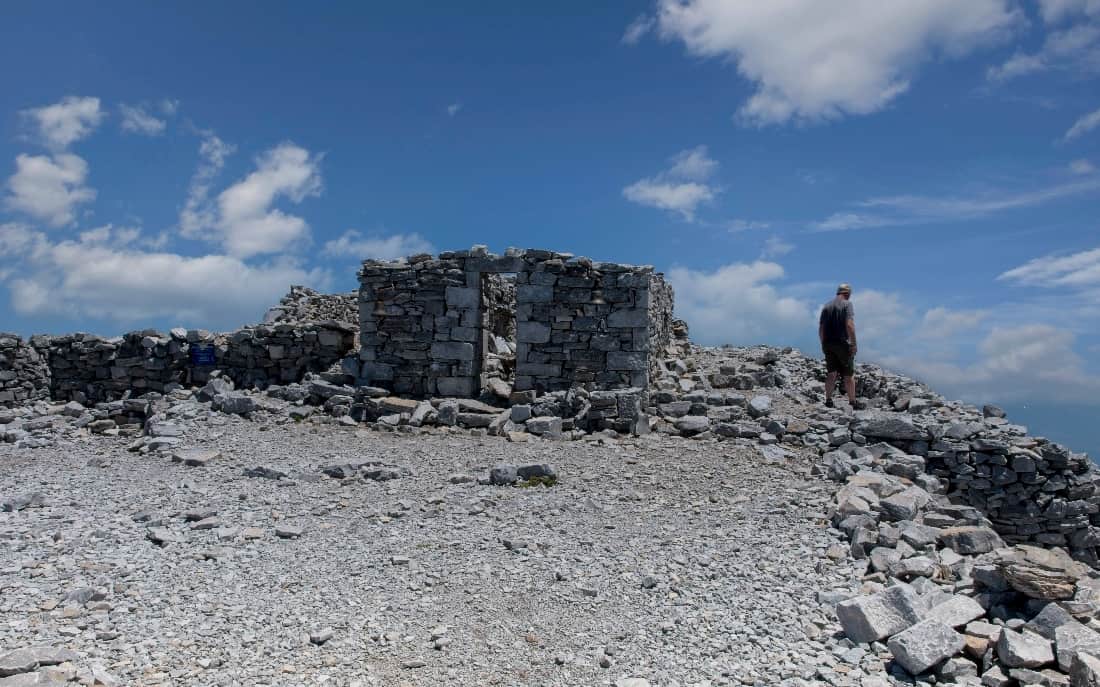 The Descent
I'd been so focused on reaching the summit that I hadn't given much thought to getting back down. Not only was it a few degrees warmer, but it was harder work negotiating the steep sections of terrain coming down instead of up. My knees also get sore sometimes when walking downhill, which started to happen about halfway back to the refuge.
In spite of these challenges, we made it back to the refuge nearly 20 minutes faster than the climb: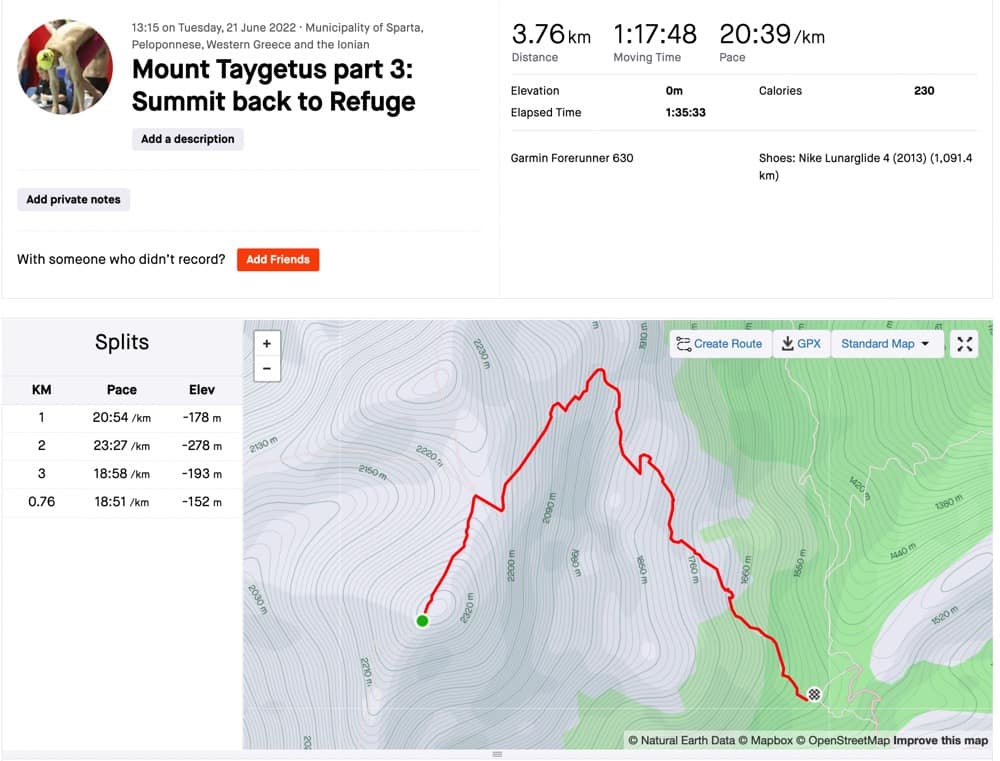 Although we'd now completed the hardest part of the descent, my hips and knees were aching quite badly and fatigue was setting in. It's a good thing the last section back to the car had plenty of shade cover from the trees and also a soft dirt path, which lessened the impact stress on my legs. We made it back to the car after 52 minutes, taking 15 minutes off our ascent time: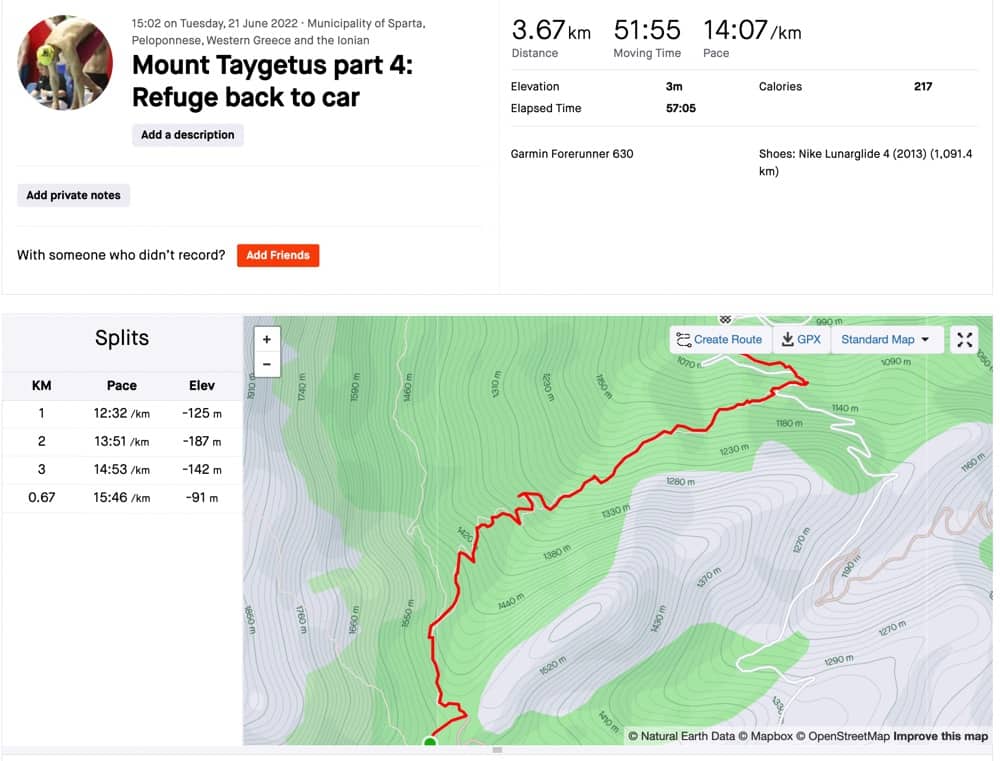 In total, we covered 15.21 kilometres and climbed 1,282 metres (4,206 feet). Not a bad effort for a holiday hike!
Recovery Time
Before getting in the car, I removed my shoes and socks and dipped my feet into the icy cold spring water. My feet went numb almost immediately, but it felt amazing!
The drive back to our hotel was great: it was just nice to be sitting in a comfy seat with the air-conditioning blasting out. We arrived back about 4pm and went straight back to our rooms for a well-deserved shower and rest. I thought I would fall asleep, but wasn't that tired so I just lay on the bed looking over the photos and videos from the hike.
I met Ed for dinner at 7:30. He'd been asleep for most of the time we'd been back, I think he found the hike a bit tougher than I did as he admitted to a lack of recent training. Wanting some carbs to refuel us after the day's exertions, we chose a pizza restaurant across the road from Mystras Inn called The Castle (it appears on Google as Mystras Castle Town Hotel). We ordered 0.5ltr of house white wine – a bargain at €3! – and I had the special pizza while Ed chose the vegetarian option. They weren't the best pizzas ever, but after all the calories we had burned today, they went down just fine and we finished them pretty quickly.
We had anticipated a longer evening of celebrations with at least one more carafe of wine and some dessert, but we were both flagging pretty badly after the pizza and made a rare sensible decision to have an early night so we could recover for our onward journey tomorrow.
Next stop… Monemvasia!