Sunday, 21st July 2019
After an early hotel breakfast, we packed up our gear for the day and made the short walk back to the car rental place to pick up our vehicle for the day. We were soon heading south-east out of Naxos town, up into the hills towards Filoti.
I had decided that we weren't going to do the full hike that Ed and I had made the previous year. This was mainly due to only having the car for one day and wanting to see more of the island. Instead, we parked at Agia Marina church, where the footpath begins for the easier route up the mountain.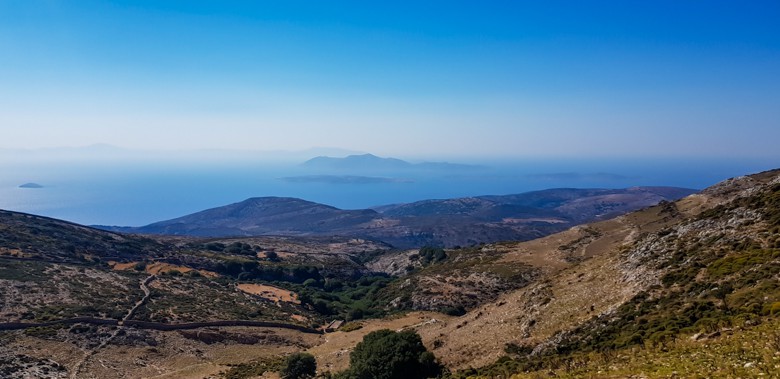 The hike takes about 45 minutes each way and is mostly easy going, aside from a few patches of loose rock and uneven ground. I would allow a couple of hours in total, giving you time to rest and enjoy the views from the summit. It's also worth starting early if you're travelling in high season, as there is little shade and it gets pretty hot.
Back at the car, we decided to head further south as I've never visited that part of the island before and I was keen to see a few new places on my favourite island! First stop was Agiassos, but as we were pretty hungry and there didn't seem to be anywhere open for food, we didn't actually hang around here. Instead, we followed the coastal road north west until we hit the next settlement, Pirgaki.
We parked up outside Psili Ammos restaurant towards the south end of the beach and headed to the veranda for lunch. The food was reasonable in both price and quality. After letting our lunch digest for a few minutes, we grabbed our beach stuff from the car and walked across quite a wide stretch of sand to find a spot close to the water.
Unfortunately, it was a pretty windy day, with the sand frequently blowing across the beach making sunbathing less than ideal. We stuck it out for an hour or so, with a couple of dips in the sea, before admitting defeat and heading back to the car again.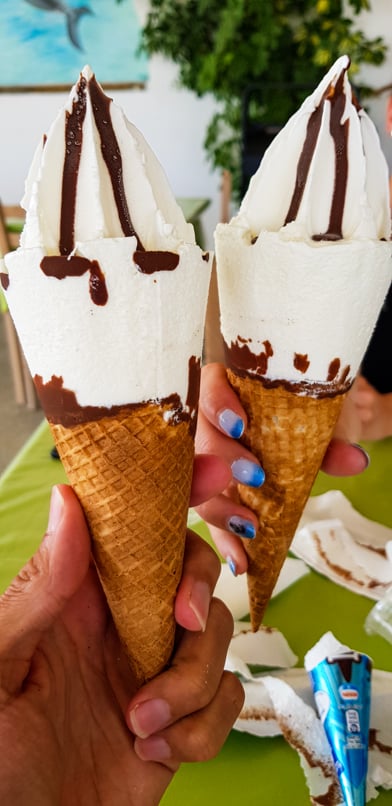 By this time it was past mid-afternoon, so we skipped the next few stops and made it back to Plaka beach, where we stopped for an ice-cream and another spot of sunbathing. We then headed back to the hotel to shower and cool off for a while.
As we didn't have to return the car until 9pm we decided to make use of it for dinner, driving back to Agia Anna where I had also stayed the previous year. We checked the menus at a few places but ended up at Akrogiali – one of my favourites from 2018 – and had a great meal. As we walked back to the car, we caught the sunset which made for a lovely end to a great day.