Tuesday, 16th July 2019
After a later-than-usual breakfast, I checked with the reception that they could organise a transfer to the ferry port so we could catch our 15:30 ferry to Folegandros. They were happy to oblige and advised us it would leave from next to Da Vinci restaurant at 2 p.m., to allow sufficient time to reach the port. They were also happy to store our bags once we had checked out at 11 a.m. so that we could take one final walk into Fira.
As we'd already done most of the sightseeing that we had planned, we just took a gentle stroll into the capital and wandered through the little streets until we got fed up with the crowds (which didn't take long).
As we'd eaten a late – and fairly filling – breakfast, we decided on a snack lunch and ended up just having ice cream at a place called Box, not far from Nick's Grill: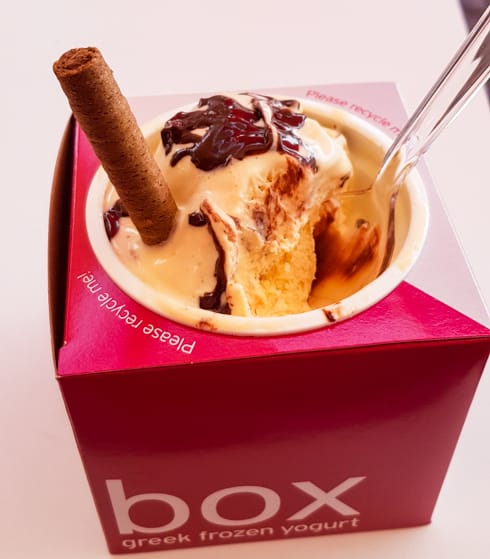 It was a good ice-cream, but probably the most expensive 'snack' I've purchased in a long time! I think we paid around €20 for two… ouch.
Not wanting to be late for our transfer, we headed back to Smaro for 1:45, collected our bags and thanked the staff for a wonderful stay. We then took the short walk over to Da Vinci and sat waiting for the minibus to arrive. It turned up just after 2 and we were soon on the move…until we hit traffic.
As the staff at Smaro had predicted, getting anywhere by vehicle on Santorini is a nightmare. It took nearly 30 minutes to get through Fira and – knowing how bad the traffic can be on the road down to the port – I did start to worry that we might not actually make our ferry! Fortunately, once we got through Fira it was pretty clear running down to the port and we arrived with plenty of time to spare.
Neither of us was especially looking forward to the ferry crossing, as we don't travel well by boat. I'd brought some travel sickness tablets with me so we both took one as we waited for the ferry to arrive. Seajet 2 is a fairly small boat, so I was expecting a bit of a rough ride, but we were lucky with the sea conditions and the 40-minute journey passed smoothly.
On arrival at Folegandros, we disembarked the ferry and set off to find the Hotel Polikandia mini-bus. There were two other couples heading to the same hotel, but we were all soon on board and on the move. The journey from Kavarostasis to Chora only takes 10 minutes – it's a fairly small island – so before we knew it, we had arrived at our lovely accommodation for the next three nights: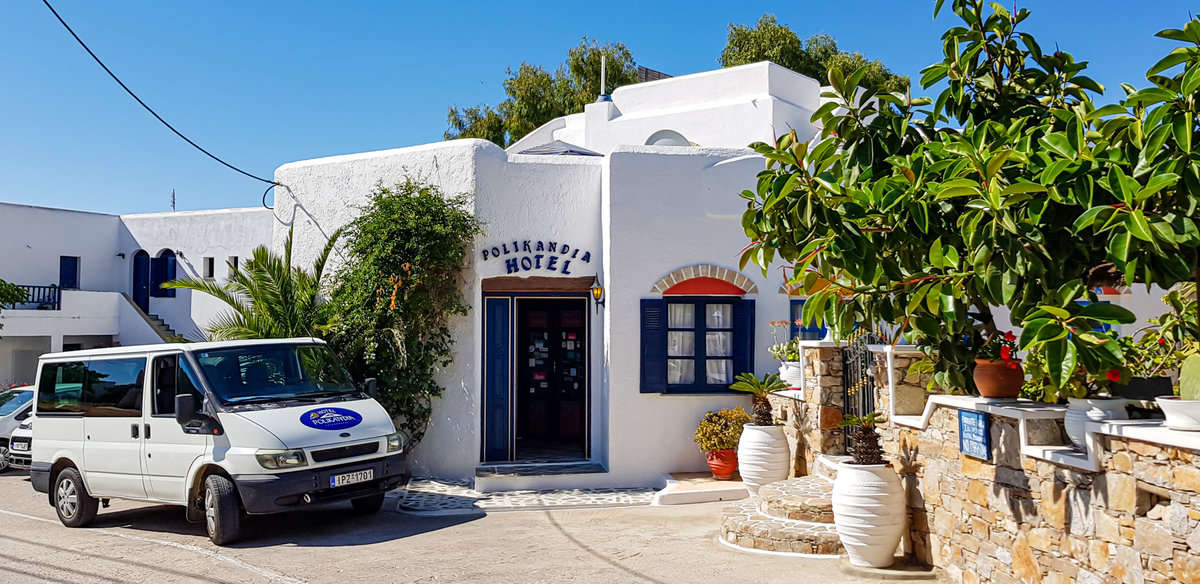 After a quick check-in process, we were taken to our room on the first floor overlooking the pool. [Check out my review here] As it was late afternoon and we'd spent the last few hours getting sweaty travelling, we made straight for the pool and spent a fantastic couple of hours swimming around, sunbathing and enjoying a couple of cold drinks. This is more my kind of Greece!!
Once we'd had enough time in the sun, we retired to our room for a rest, then showered and dressed for the evening. It's just a 5-minute walk from the hotel into the first of Chora's two main squares. These are both lovely spaces, with trees and restaurants providing a relaxed and friendly atmosphere – very typically Greek.
We decided to eat at Araxe, having read some positive reviews online. It turned out to be a nice, but not fantastic, meal. I had moussaka (my favourite Greek dish, if you don't know by now) which was tasty, but not the best I've had. The prices were reasonable though, and after the crowds of Santorini, it was just nice to be in a quieter, more relaxed environment.
After dinner, we took the opportunity to explore a bit more of Chora, which didn't take long as it's really quite small. It was good to get a feel for the place though, as well as walking off some of our dinners. Feeling rather sleepy, we headed back to Polikandia for a good night's sleep.