Wednesday, 17th July 2019
Breakfast wasn't included at Hotel Polikandia (though it is available), so we took a short stroll to a taverna called Pounta that we'd seen on our way into Chora the previous day.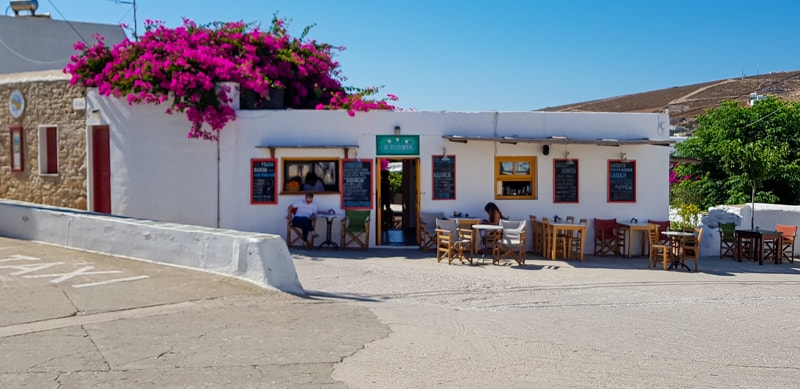 This turned out to be an excellent decision: they have a lovely garden setting at the rear and serve a delicious breakfast. We ended up returning the following two days, deciding there was no need to risk an inferior meal elsewhere!
We had learned the bus timetable from the hotel reception the previous day and decided we would catch a bus to Agkali beach to see what it was like. After returning to our room to lotion up and pack a bag, we headed towards the bus station. This is also especially convenient when staying at Polikandia – the station is less than 5 minutes walk away.
The bus to Agkali takes about 20-30 minutes. The journey is fairly short, but it stops several times to pick up passengers along the route, and the road down to the beach is quite narrow and steep so the bus goes very slowly.
As beaches go, Agkali is nothing special, but it is fairly peaceful and the sea is quite clear and pleasant to swim: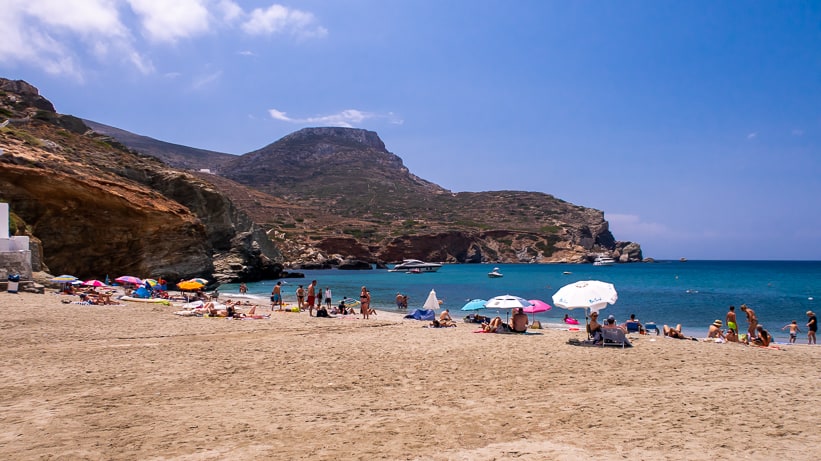 After a few hours sunbathing and swimming, we left our towels down and walked off the beach in search of food. Unfortunately, dining options are pretty limited. There are perhaps 5 restaurants in total, of which three are up the hill on the right and two are at ground level on the left. One of them wasn't open for food until 3 p.m. either. We eventually settled on Amoundaki on the left side of the beach, but sadly the food wasn't up to much.
We returned to the beach for another hour or so, before catching the next available bus back to Chora. It was only mid-afternoon, so we set up at the pool and enjoyed another couple of hours chilling out, reading our books and taking dips in the pool whenever it got too hot. Quite a contrast from Santorini, but it was nice to just relax.
That evening, we had another decent meal, this time at a place called To Sik. It was fairly well recommended on TripAdvisor, but again fell a little short of our expectations. Nice, just not amazing.
We decided to make a bit more of an evening of it and headed out from the restaurant in search of a bar. There aren't too many options, but Aquarius looked nice, with comfortable seating on the street so you can do some people watching while you drink. I had a rather nice espresso martini that went down a treat!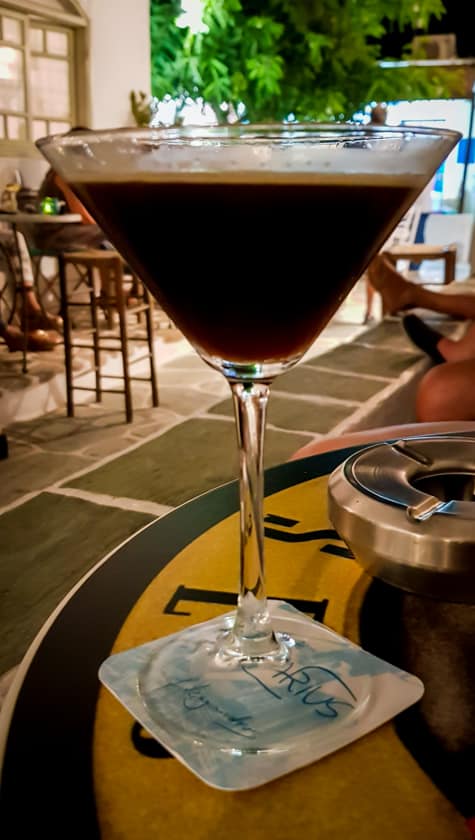 We may have had another drink or two, I can't really remember…but we made it back to our room and slept very well!