Saturday, 20th July 2019
As we had a busy day planned for tomorrow with the hire car, we decided today would be a beach day. After a decent breakfast at the hotel, we took a short stroll down St George's beach just opposite in search of a good spot to lay out and sunbathe.
Initially, we just set our towels down on the sand at the south end of the beach, but as the day grew hotter, we really needed some shade to provide shelter from the sun. Picking up our towels, we walked back north towards our hotel, before stopping outside a new-ish looking beach lounge called Naxaki. They offered free sunbeds and umbrella for the day as long as you spend a total of 20€ on food or drinks. As we planned to eat out for lunch anyway it seemed like a fair deal, so we set up camp on two comfortable loungers and ordered some drinks.
At lunchtime, we left the sunbeds and headed over to the restaurant area of Naxaki, where we had a pretty delicious lunch and some more drinks. It isn't the cheapest of places, but the food seemed to justify it and the ambience was nice and relaxing too.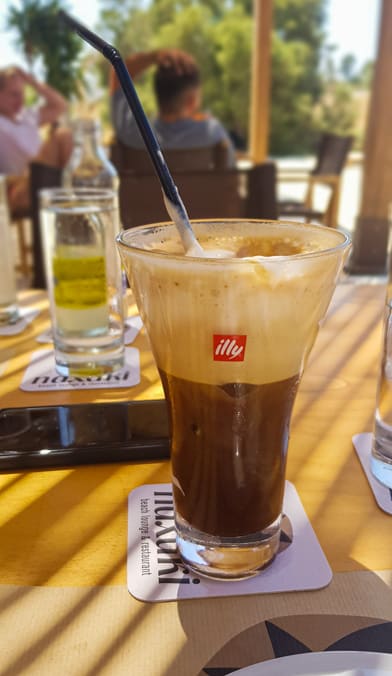 We spent a couple more hours back at the beach after lunch before returning to the hotel pool area. Managing to find some empty sunbeds in a good corner location, we laid our towels out and, after a quick dip in the pool, stretched out again to enjoy the late afternoon sun and read our books.
I'd done a bit of research to try and find a nice restaurant for dinner, settling on a place called To Elliniko. It wasn't far from our hotel and had glowing reviews on TripAdvisor, so we turned up early and with high expectations! It was lucky we had arrived early too, as already the large restaurant was nearly full and we had to wait a few minutes to be seated.
The meal was absolutely worth it though, with a delicious starter of sun-dried tomato and feta cheese in a fried parcel: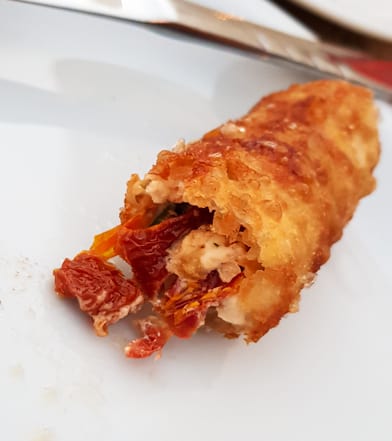 The mains were superb too, and we even managed dessert! We had such a great meal that, upon leaving, we made a reservation to dine here again on our last night.
After dinner, we set off to find a tour company that offered daily boat trips and booked onto one that would take us to nearby Iraklia and Koufonissi. This would be our plan for the day after tomorrow.