Sunday, 14th July 2019
We woke up at 8 a.m. to make the most of our limited time at Villa Koronios as they have a nice pool and terrace area. Breakfast was quite basic, but the coffee was drinkable and we got through enough bread and jam to fuel us for the morning.
We sunbathed by the pool until nearly midday then returned to our room for a quick shower. We hadn't really unpacked anything from the night before, so we grabbed our luggage, checked-out at reception and then began the walk into Fira and onto Firostefani to our next hotel, Smaro Studios.
As check-in wasn't until 2 p.m., we had originally planned to stop for lunch in Fira on the way, but carrying two backpacks each was sweaty work so we decided to go directly to the new hotel and hope for early check-in. We were in luck and our room was ready, so we dropped our bags off and went for a quick dip in the (small but very welcome) pool, then showered and changed for lunch.
The walk back to Fira, minus heavy luggage, was much more pleasant. I was keen to go back to Nick's Grill for pork gyros, as I had very fond memories of them from my 2017 visit. It was every bit as good as I remembered!
After lunch, we visited the Museum of Prehistoric Thira, before walking back to the hotel for another dip in the pool and a nap. We then decided on an unplanned excursion to Skaros rock, which is just a 30-minute walk from the hotel. The views are excellent and I highly recommend it:
Still somewhat fatigued from the previous day's travelling, we opted to eat close to the hotel and had a fantastic meal at Da Vinci – an Italian restaurant (could you guess?!) just opposite Smaro Studios. The food was excellent, combined with some nice red wine, and perhaps the biggest chocolate calzone dessert I've ever eaten: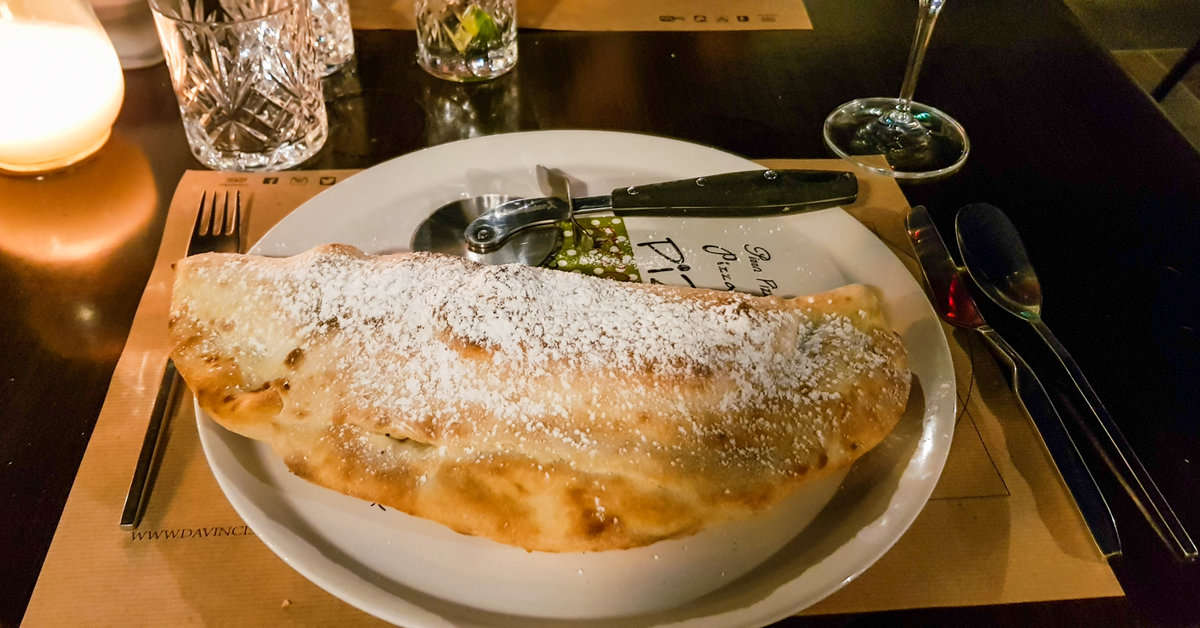 Having eaten enough to feed a small elephant, we slowly ambled back to our room (grateful it was so close) and went to bed.