Sunday 19th June 2022
Arriving in Good Time
Conscious of the recent chaos and queues at UK airports, I arrived at Manchester's Terminal 1 exactly 3 hours ahead of my Jet2 flight's departure time of 6am. There were plenty of people, though, so I was a bit nervous about what to expect once I got into the terminal building and found the bag drop area. Once I found the Jet2 check-in desks on a lower floor, I joined the queue and was pleased to see it was moving quickly. 15 minutes later, my suitcase had been deposited and I was heading to security. As I left the baggage drop, I could see the queue had grown considerably behind me, so I was glad I arrived when I did.
Security was a similar story: the queue was moderate, but moving fast. Once again, I was through in 15-20 minutes with the number of passengers behind me growing all the time. As I collected my rucksack and loose items from the x-ray trays and made my way through to the departure lounge, I felt a huge sense of relief that things had gone so smoothly.
Now I'm Too Early
The downside to arriving so early and not facing long queues was getting to the departure lounge and still having a good couple of hours to wait for my flight, but, it's definitely the lesser of two evils! According to the departures board, my gate information wouldn't appear until 5:10 and it was only just 4am, so I headed upstairs to a restaurant/bar called The Grain Loft. A few tables were still available, but it was quite busy and I suspected would soon be full so I sat down at a smaller table near the back. I'd had a protein shake on the drive to the airport and also brought a protein bar and some nuts with me for the journey, so I didn't want to eat or spend much. I ordered some toast with butter and jam, plus a latte coffee to keep me going.
I passed the time reading my Kindle and before I knew it, it was 5am. I grabbed my bag and walked downstairs to wait by one of the information boards for my gate to be announced. Gate 10 appeared right on schedule and I started off in that direction. Even though there's no rush, I like to get to the gate early, it gives me a sense of progress! Sure enough, I was the first one there and had to wait a few minutes before the Jet2 staff were ready to let people through. Once I was seated at the gate (right next to the door we'd be heading through next, obviously) I became more hopeful we might take off on time as it was only 5:20 and plenty of other passengers seemed to be coming through as well.
A (Nearly) On-Time Flight
Before leaving home earlier this morning, I had checked my flight's status on the Jet2 app and noticed a slight delay: it suggested our departure time would be 6:29 instead of 6 o'clock. However, the airport screens still showed us as scheduled for 6am so I wasn't sure which would be correct.
It wasn't long before the gate door opened and we were allowed to walk out onto the tarmac to the Jet2 plane. I was the first passenger up the front steps onto the plane, so I got to stow my bag right above my seat row – 2F – and got sat down with my headphones, Kindle and a bottle of water I'd purchased in the departure lounge.
I had a slightly awkward moment when the stewardess asked to see my boarding pass and informed me I was in the wrong seat: it turned out that 2F was a front-row seat on the right-hand side of the plane because there was an extra row of seats on the left side. I had assumed row 2 was the second row back and thus ended up in 3F by mistake! It was a happy mistake though as I was moved forward a row and had a seat with extra legroom that I wasn't expecting!
Flying High
Despite boarding being completed before 6am, the captain did inform us that due to air traffic restrictions, we were indeed scheduled for 6:29, so had to spend a few minutes sitting stationary on the tarmac before we eventually taxied to the runway. The flight itself was very smooth and I could feel my excitement building as we edged closer to Greece!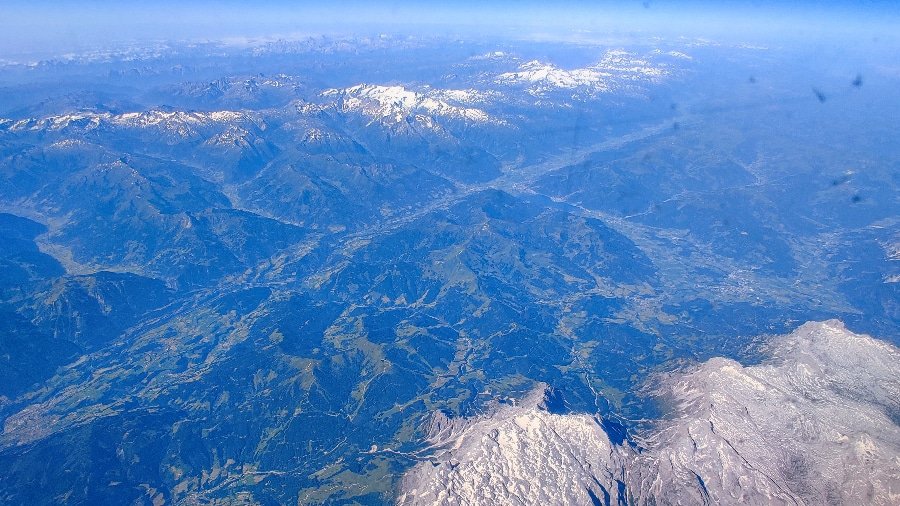 Cloudy Kalamata
There must have been some air traffic as we neared our destination: we circled the airport a couple of times before heading out to sea and making our final turn into Kalamata. It was a little cloudy but still dry and the forecast was mid-20s Celsius so it was at least warmer than back home.
Kalamata airport is pretty small so, being one of the first off the plane, I was through security and into the single baggage reclaim area within 5 minutes. I'd messaged my friend Ed to say I was waiting for my luggage – he arrived yesterday and was picking me up from the airport along with a hire car for us to get around in for the next week.
My good luck continued when the bags started to appear a few minutes later and mine was the third one through. I grabbed it and headed outside where Ed was waiting to greet me. Our next task was finding the car rental person who was supposed to be there with Ed's name on a board so he could take us to our car. We could see lots of people holding boards, but none with the right name. Just as we were about to start heading towards the car park, he turned up so we waved him down and followed him to our vehicle.
A Swift Trip from The Airport
Our rental car turned out to be a new shiny silver Suzuki Swift Hybrid. Ed was able to add both of us onto the insurance so I volunteered to drive as I'm not a great passenger. I jumped into the driver's seat and we headed off to our hotel. Ed had already spent his first night at Hotel Fotini, so he was able to guide me to it with minimal assistance from Google Maps.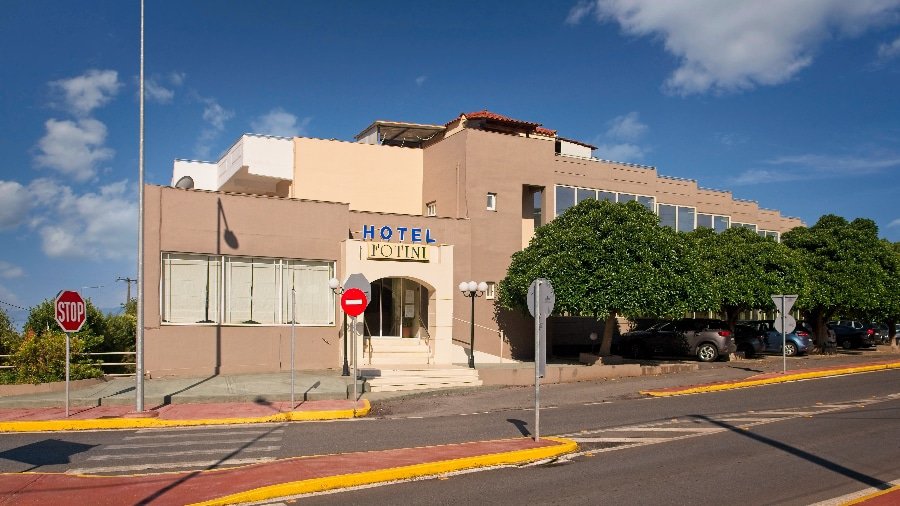 A Wet Welcome to Kalamata
After checking into my room, I had a quick shower and got changed into some fresh clothes. We set off from the hotel towards the seafront in search of somewhere to have a late-ish lunch. Unfortunately, it began to spit with rain just as we left. At first, it was only a light drizzle, but by the time we'd reached the sea, it began to get heavier. Rather than getting soaked, we quickly took refuge at a place called Waterland – a rather run-down taverna with the odd addition of large water slides that looked like they hadn't been used for quite a while. On the plus side, it was open and they served cold beer, so…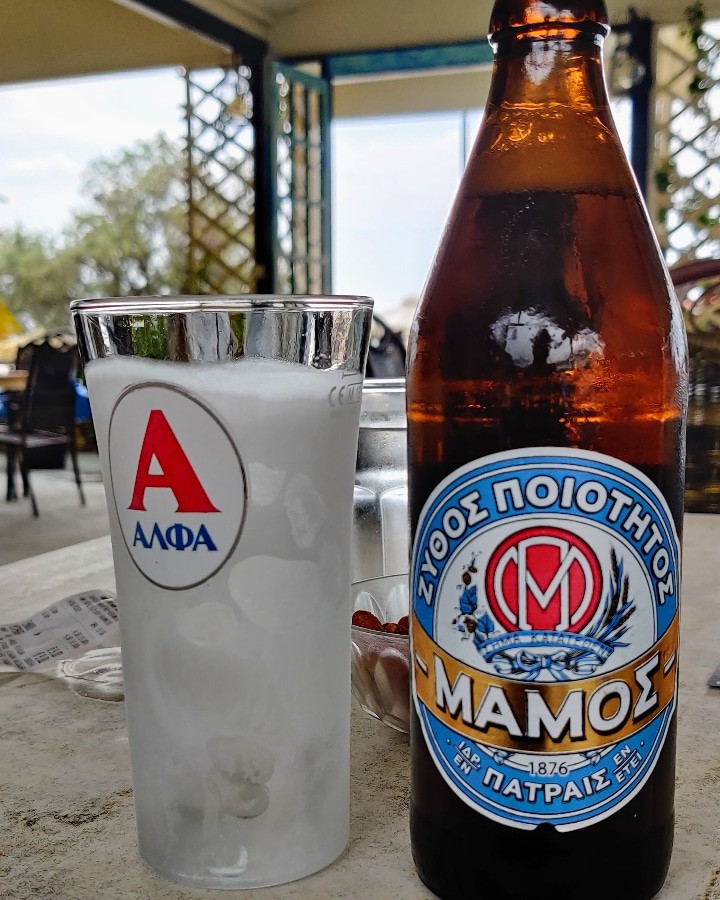 The rain eased off after 20 minutes or so, allowing us to leave Waterland in search of a nicer venue for lunch. We didn't want to go too far, however, in case the rain returned and we got soaked going back to the hotel. Luckily, a restaurant called Fare Grillhouse was just a few buildings further down so we took a table there and ordered a pizza each plus some wine to share. The food was a bit mediocre: the pizza base tasted like it was store bought and just had some toppings thrown on, but it was edible and we were hungry so it went down fine. The wine was pretty good though and definitely improved our mood!
Dinner in Kalamata
We made it back to the hotel without getting wet. I retreated to my room for a nap, feeling exhausted from the early start and a bit light-headed from the beer and wine. I woke 90 minutes later, feeling disoriented from the mixture of sleep and alcohol but glad of the rest.
I met Ed down at reception just before 7pm. He mentioned that the nearby Grecotel Filoxenia runs a regular minibus into the main part of Kalamata along the beach road. It cost €1 each but would save us a long walk, so we headed out of our accommodation and down to where the minibus was waiting.
We hopped off the minibus near the harbour and had a stroll around looking for somewhere to have a drink – we were still quite full from the pizza earlier, so hadn't decided if we would eat dinner or not. It had stopped raining but was still quite cloudy.
After scoping out some nearby cafe/bar options, we settled on one called PanTONY which seemed quite popular and had a nice central location. In need of a caffeine kick, I ordered a double espresso plus a beer, while Ed just had a beer. It was nice to sit and chat, watching people walking by and taking in the ambience. It wasn't overly busy being a Sunday evening, but there were still plenty of people around.
Making Onward Plans
We discussed our itinerary for the following day, agreeing that it made sense to leave our hotel around 10 so that we would arrive at our next destination, Mystras, late morning in time for me to check in with my UK-based work clients. We would hopefully be able to check into our hotel early, then have a light lunch before heading out to visit the sights of Mystras.
As the evening progressed, we agreed that neither of us fancied a main meal but we could probably manage a snack…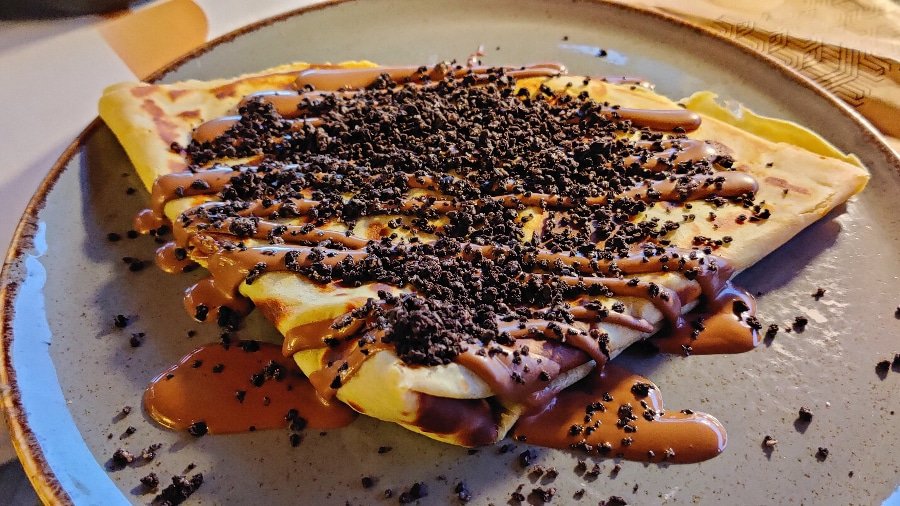 I had a crepe with Nutella and Oreo bits, while Ed had something called a 'bubble waffle' – basically a normal waffle but with bumps instead of indentations! We debated ordering a second beer, but decided (perhaps surprisingly) to abstain as we were quite tired and it seemed unnecessary. Once we'd finished our food, we settled the bill and ended up getting a taxi back to our hotel as we weren't sure what time the minibus would be passing. It cost €4 so it was worth it to get back faster. I went straight to bed and fell asleep almost immediately, despite the amount of sugar and calories I'd just eaten!