Friday 24th June 2022
Completing the Loop
Over the past five days, we've journeyed around the southeastern Peloponnese exploring some great places and even climbing a mountain! Today, we complete the journey by heading back to our starting point, Kalamata, in preparation for Ed's flight home tomorrow and my onward journey.
It's a fairly long drive back to Kalamata, about 3 hours, so we decided to plan a lunch stop at Gytheio to break up the journey and see what it's like there.
Breakfast and Ferry
Breakfast wasn't included at our hotel, so we checked out just after 9, loaded our bags into the car and drove around to the harbour in search of food. We ended up parking at the same place we had yesterday when we stopped for lunch. A stroll down the road led us to a little bakery where we each got a coffee, orange juice and a pastry (Nutella croissant for me, pain au chocolat for Ed). The bakery had some tables and chairs by the beach so we sat down under the shade of a big tree and enjoyed our breakfast.
Our plan was to take the 10:30 ferry back to the mainland. Given how busy it had been when we arrived yesterday, we made sure to get our car around to the port and buy our tickets just after 10. There were a few vehicles ahead of us, but we were confident of getting a space on the boat. When it was our turn to load, we ended up being directed to the exact same spot we'd parked in the day before which was quite a funny coincidence.
The journey back across the water was brief and in no time at all, we had driven off the ferry and were making our way towards Gytheio.
Gytheio
While making our itinerary for the Peloponnese, we had considered staying in Gytheio overnight, but as the plans evolved it didn't seem to fit. We were glad, then, to be able to pay it a visit – albeit briefly – on our way back to Kalamata. We entered the town from the north via the coastal road and parked on the roadside above the port. Our time was a bit limited, so our first task was finding somewhere to have lunch. Neither of us wanted anything fancy, so we set about locating somewhere that sold gyros or a similar light snack.
We walked down the harbour front past lots of cafes, eventually reaching a roundabout at the south end of the marina that seemed to have lots of dining options. We couldn't find a gyros place at first, but then we saw a sign pointing towards a street leading off the roundabout and spotted Masouleri Giorgios Kokkalis a few metres down. It's a small place with tables inside and a couple out on the street, so we sat down outside and were served immediately. The gyros and beer were just the ticket and tasted pretty good, especially when the entire meal cost €9!
As we finished eating, Ed got out his phone and we looked for some sights to see that were easily accessible. He spotted the little island of Cranae, connected by a short land bridge, just south of our current location. There's a lighthouse on the island, plus a little history museum and a small church. It wouldn't have been too far to walk from the taverna, but since we had the car we decided to go back and get it so we could drive there instead.
Cranae
We parked at the mainland end of the land bridge, not being sure if we were allowed to drive across or would find any parking there. It's a short bridge and we quickly spotted the little church: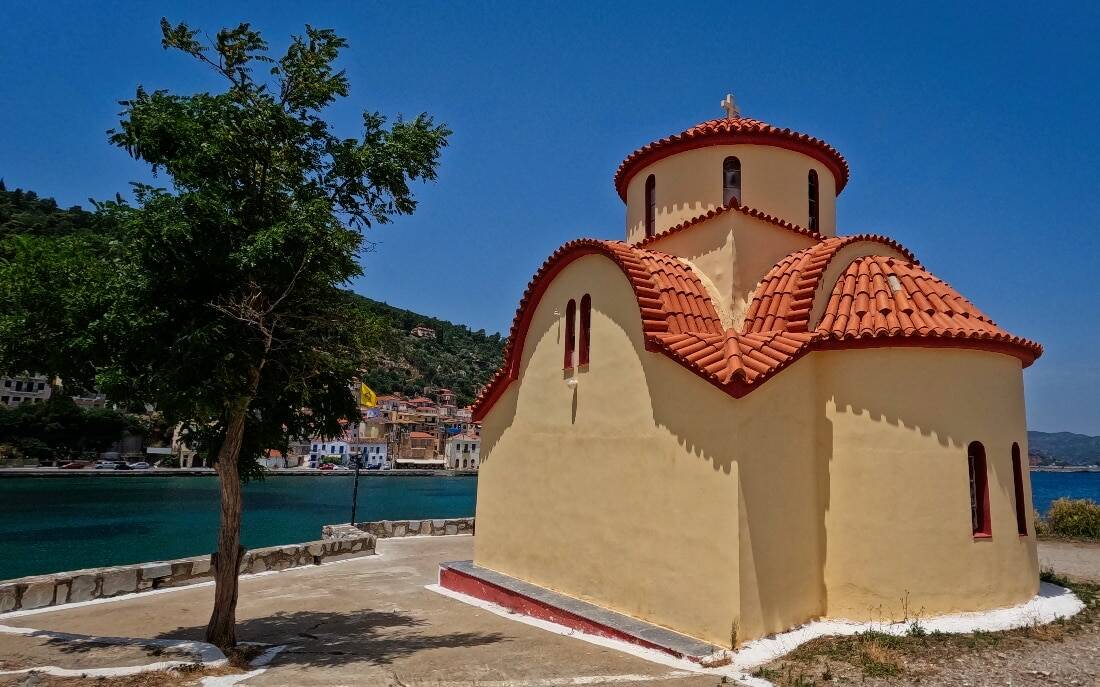 Continuing down the dirt path, we came upon a large-ish building called Tzannetakis Tower which is apparently a local history museum. It seemed to be closed as there was nobody around, but we stopped to take a few photos before heading towards the lighthouse.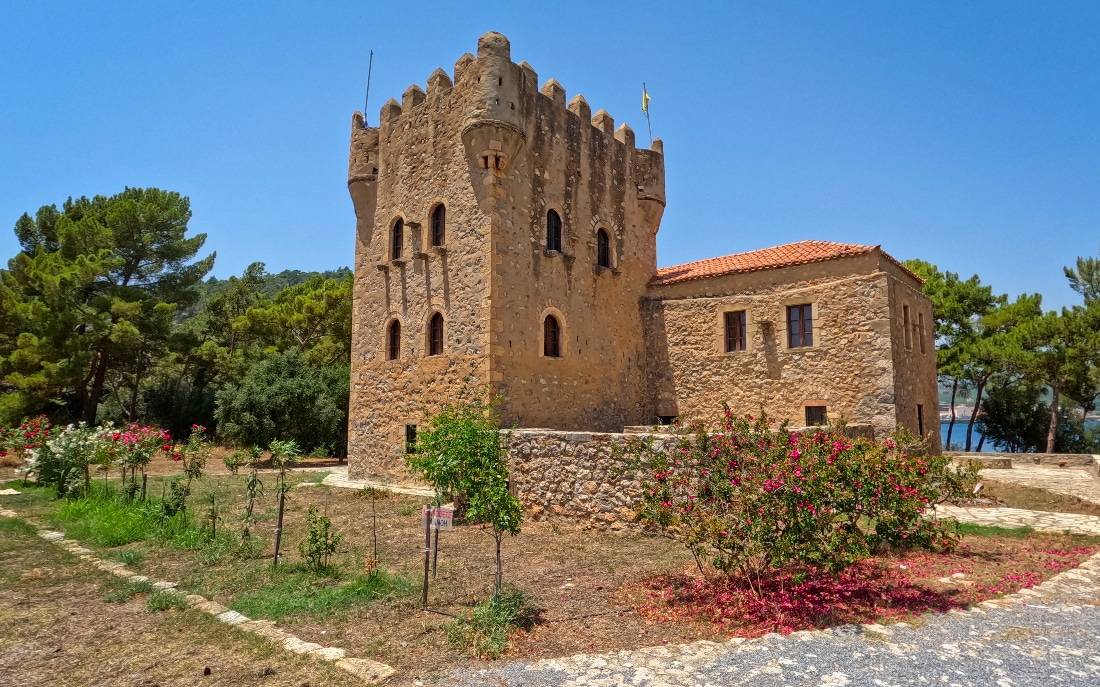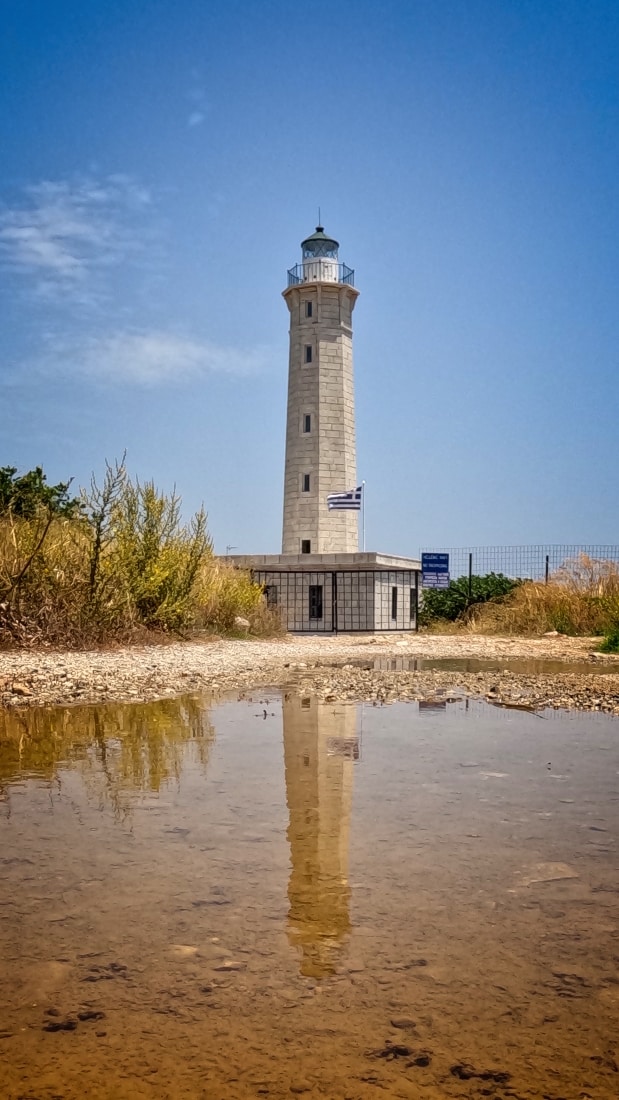 Kalamata
Feeling like we'd done at least a bit of sightseeing in Gytheio, we headed back to the car and continued our journey back to Kalamata. The rest of the drive went quickly as we soon got back onto the toll roads which were still practically empty.
Our next hotel, Haikos, was located near the harbour in Kalamata and was much more central than Hotel Fotini where we'd been on Sunday. This was good for eating/drinking but presented a problem for parking. According to Booking.com, the hotel lacks its own parking so when we arrived in Kalamata, we first tried to find some public parking nearby. However, the only place we stopped was opposite some kind of small football stadium and definitely looked like the kind of place our car might get stolen or vandalised! Ed certainly wasn't keen to stop there, so we drove further and managed to stop on the kerbside right in front of the hotel.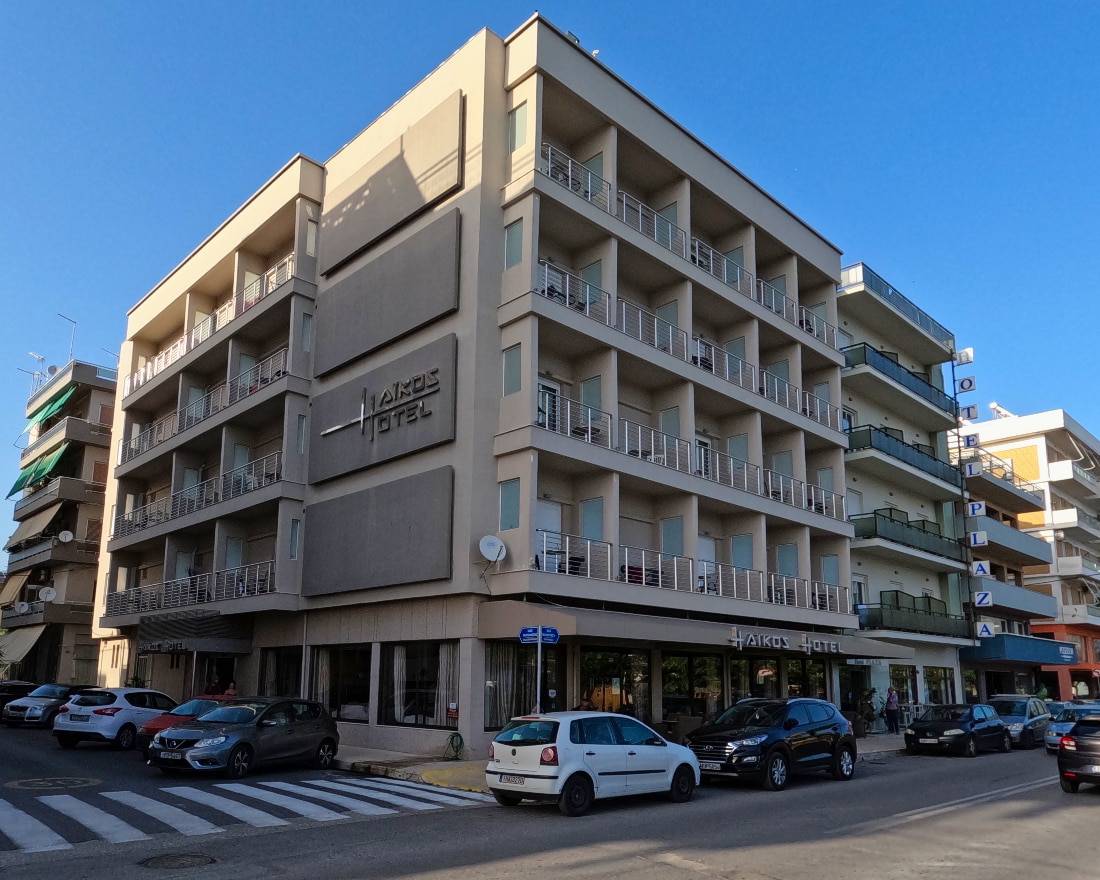 We didn't see any parking restrictions, so left the car there while we unloaded our bags and got checked in. I stayed in my room for a bit while Ed decided to go out for a walk. He messaged me a little while later to say he'd seen a Hotel Haikos car park just over the road (thanks for telling us about that, booking.com!), so when he got back, I gave him the keys and he moved the car into the car park.
Last Night Celebrations
I finished my work, showered and changed, and was ready to meet Ed at 6:45. He was already camped out at a local bar called Thalassa, so I walked down and met him. It's a nice bar with a beachfront location and comfy seating. He offered to get me a beer, but I didn't really want to fill up on too much liquid before dinner, so opted for a 'strawberry passion' cocktail instead. It was very tasty, a little sweet but not too sickly.
We sat for a while and chatted about the trip, enjoying our drinks and the warm evening sun. We contemplated a second drink, but I'd found quite a nice-sounding Italian restaurant for dinner and it was about a 25-minute walk away, so we agreed to get moving and possibly stop somewhere else on the way. Of course, that place turned out to be PanTONY, where we'd enjoyed a beer on Sunday evening. Unfortunately, beer is the only alcohol they serve so we had no choice but to order one – I had a small beer (still not wanting to ruin my appetite with excess liquid) and Ed had a large.
We started walking further west towards the location of the Italian restaurant I'd found online, but as we got closer, it seemed we were heading out of the nice tourist part of town and into a bit of a dodgy area. We persevered for a couple of minutes but then decided to turn around and abandon the idea. This brought us back to a place called L'Artigiano, which I hadn't seen online but looked pretty good. We got seated at a great table right in the middle of the restaurant, which also had a good view of the bandstand next door where a local music band seemed to be playing.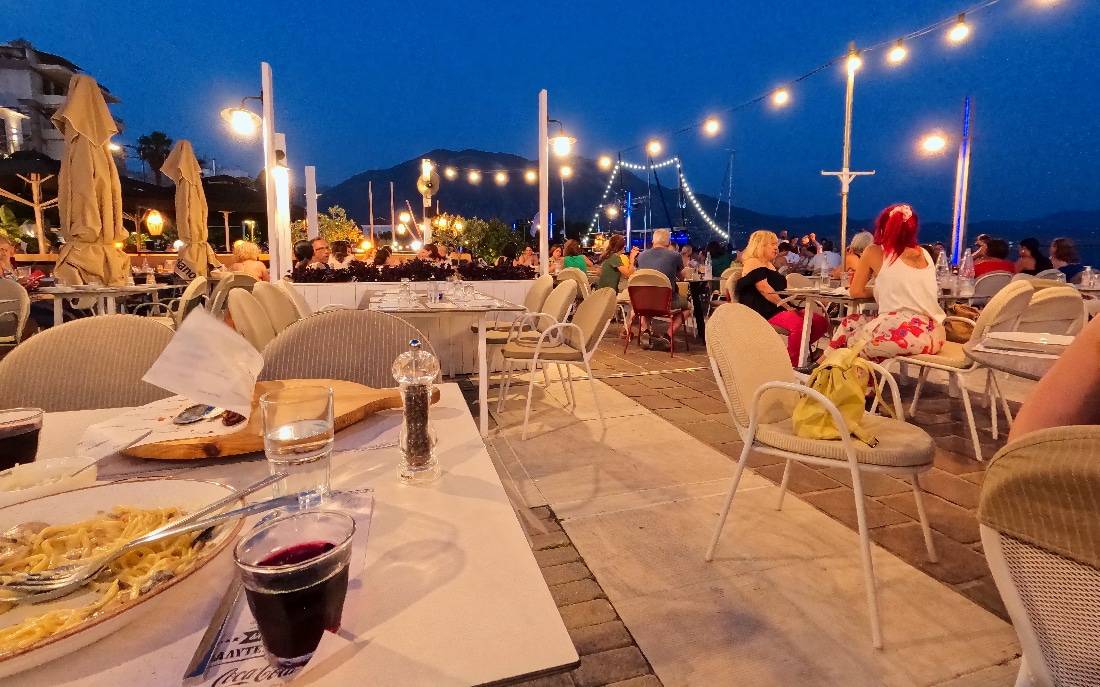 The restaurant turned out to be an excellent choice: I had creamy mushrooms to start, followed by a garlic mushroom and ham linguini (yes I like mushrooms!) Ed had a vegetarian pizza, which he said was nice although a bit heavy on the onion. We shared 0.5ltr of white wine and had a great meal. The restaurant was pretty busy so there was a lively atmosphere and it was a great place to sit and enjoy it.
In no rush to leave the restaurant, we ordered another 0.5 ltr of wine but this time chose red instead of white just to mix things up a bit. The band were still playing and there was a decent audience watching them, which added to the party atmosphere.
Time for a Nightcap
After leaving the restaurant, we walked back in the direction of our hotel in search of somewhere to have a final drink (or two). Much like on our way down before dinner, though, we didn't really see anywhere appealing and so ended up back at Thalassa beach bar. The bar was a lot busier than when we'd left it, but we found a table close to where we'd sat earlier and ordered another round of drinks – the same strawberry-passion cocktail for me, ouzo for Ed. As we finished our drinks, I expected Ed to want another round, but he was ready to call it a night despite it being just after 11. He'd had a swim earlier and a can of Alfa Strong before I met him, so he claimed to be a bit worse for wear.
Never one to turn down an early night, I was okay heading back to the hotel as I have a long day of travelling tomorrow, so we strolled back to our rooms and I went straight to sleep.