Thursday 23rd June 2022
Getting Back to Island Life
I've enjoyed spending the last few days exploring mainland Greece – my first time in over 30 years of Greek holidays (not counting brief stops at Athens airport and Piraeus). Today, however, saw us returning to island life, of sorts anyway.
The last leg of our trip before returning to Kalamata involved journeying further south almost to the bottom tip of the Peloponnese to a tiny island called Elafonisos – not to be confused with the popular picturesque Cretan beach called Elafonissi. This involved taking the car on a very short ferry crossing from the mainland to the island.
A Lazy Start
We planned to take the 11:30 ferry, so had no need to rush away from Monemvasia. The drive to the port was estimated to take about an hour, so we didn't need to leave until 10 at the earliest. I'd paid an extra €7 to get breakfast at my hotel since it wasn't included in the room rate. The buffet selection was fairly typical and I ate and drank about enough to justify the cost. The best part was getting to eat it on the beach at the hotel's seafront cafe. It was the first meal of my trip that I ate alone, as Ed was back at his hotel eating breakfast there.
We were loading our bags into the car by 9:45, itching to get moving. This turned out to be a good thing when Ed realised he had misread the ferry schedule: 11:30 was when it departed from the island – the ferries to the island left at 11:00 or midday (there are other times, of course, but those were the ones relevant to us). Because we'd left ahead of schedule, we arrived just in time to catch the 11:00 boat.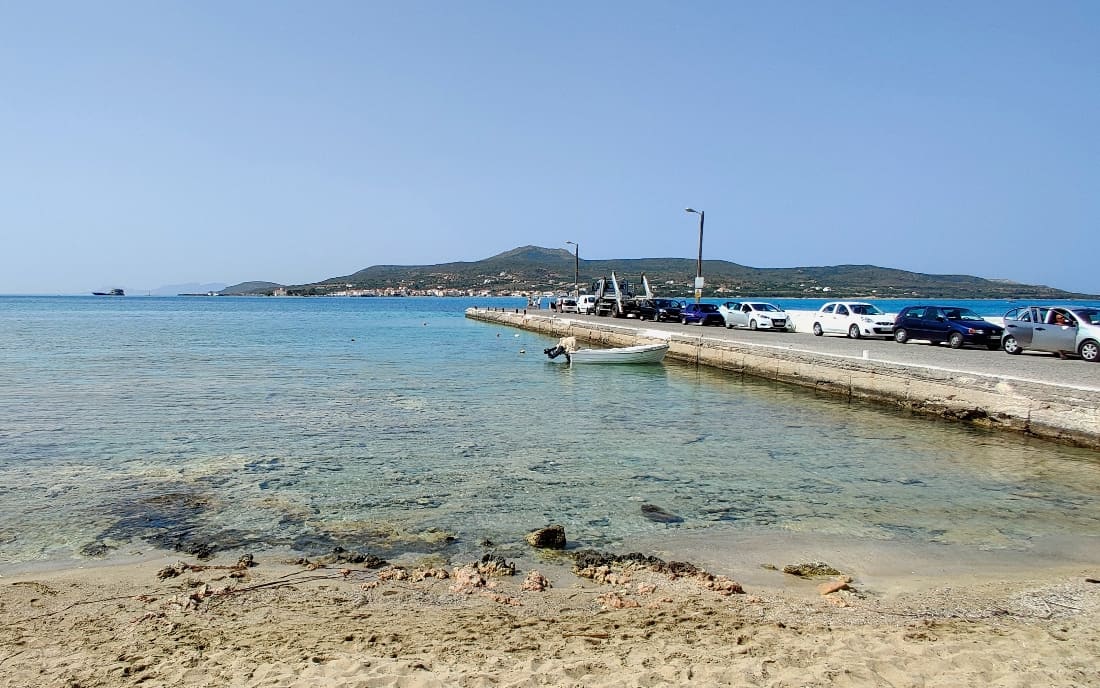 Ferry Fun
Despite arriving in time, there was no guarantee we'd actually make it onto the 11:00 ferry: there were quite a few vehicles already queued up. The lady in the kiosk was happy to sell us a ticket, though, so we joined the queue and hoped for the best.
Loading the car onto the ferry proved to be quite fun as we had to reverse all the way down the jetty and up the ramp onto the boat. The crew then directed us to a parking spot right against a side wall near the front. It was a tight squeeze as they tried to make sure as many vehicles as possible could get on – I had to climb out over the passenger seat as my driver's side door was wedged against the side of the ferry!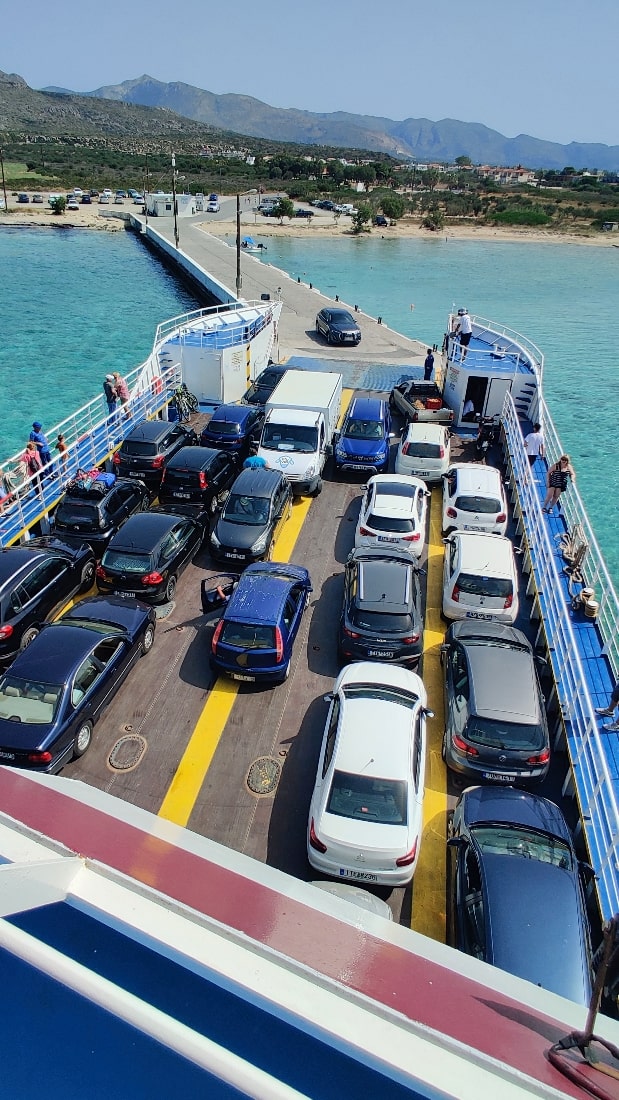 All of the waiting vehicles managed to get on board and we set off just after 11. The crossing itself is comically short: it takes about as long to get to the island as it did to load the ferry! (About 10 minutes.) It was so short that I barely had time to finish my ferry beer!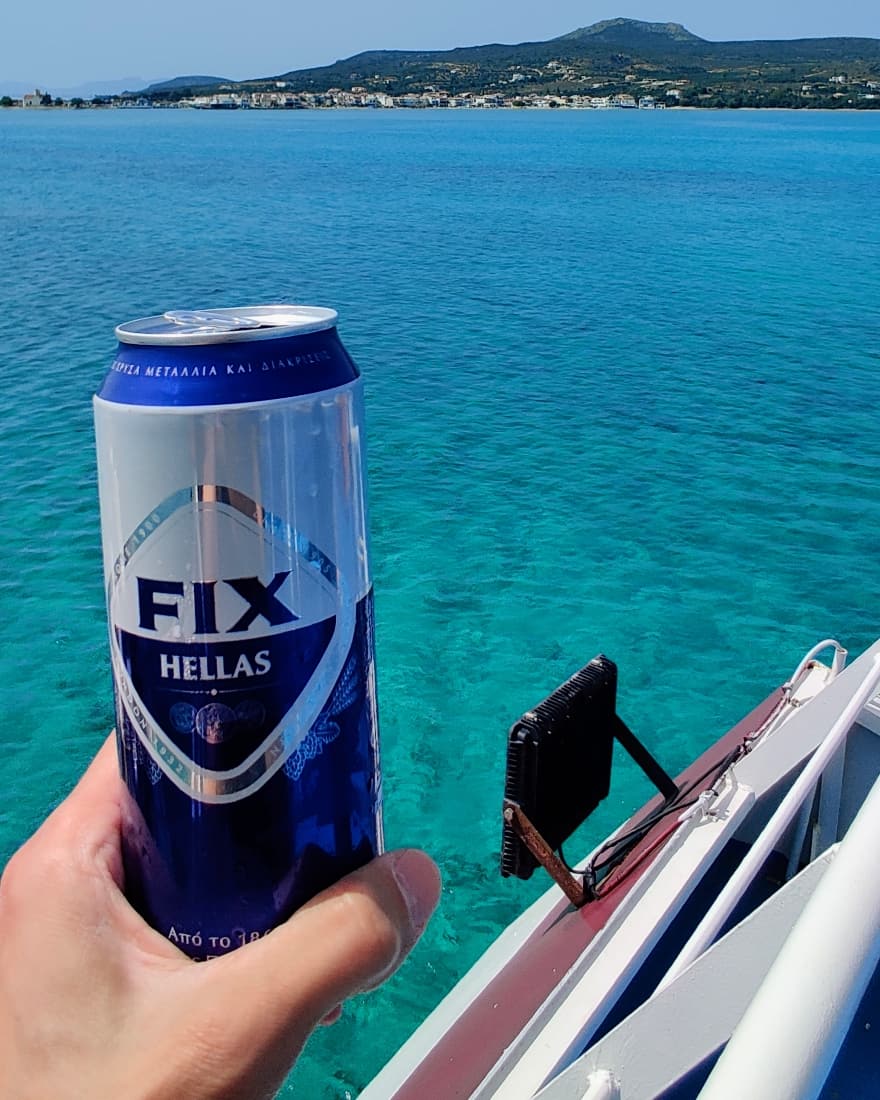 As soon as the ramp came down and the boat had docked, vehicles began to drive off. As we'd been parked near the front of the ferry, I managed to get out ahead of most other cars. We drove off and around the coastal road through the port town (the only settlement on the island). Our hotel, Kontogoni Rooms, was located on the northwestern side not far from the centre.
Beach Time
In a repeat of yesterday's hotel check-in, we arrived early (11:20) and were initially told that neither room was ready yet, but by the time the Greek lady manager – who didn't have the best English (but still better than our Greek!) – had got us to fill out some check-in forms, she had changed her mind and told Ed that his room was available, but mine was still being cleaned. Not wanting to waste time, I put my luggage into Ed's room and used the hotel WiFi to make sure I had no urgent work tasks. By the time I'd done that, my room was ready and I popped downstairs with my luggage to leave it in the room and get ready to head to the beach.
Our initial plan was to get to the beach on foot, however, it's a 45-minute walk and in the full sun so I said I was happy to drive around and limit myself to a single beer so we wouldn't have to abandon the car. The beach we wanted to visit was on the far side of the island, called Simos, and was supposed to be the nicest one on the island. By car, it only took 10-minutes and we were soon parked up just off the sand and partly under the shade of some trees.
The beach was quite busy, but nothing compared to Elafonissi. The sun loungers were a bit of a rip-off, we got sold some story about a 'special discount' today because of some problems serving food to the beach, but even with the so-called 'discount' it was €30+ for two sunbeds and an umbrella – no thanks!
Instead, we found a space to throw down our towels and enjoyed a refreshing dip in the clear, shallow waters of the bay.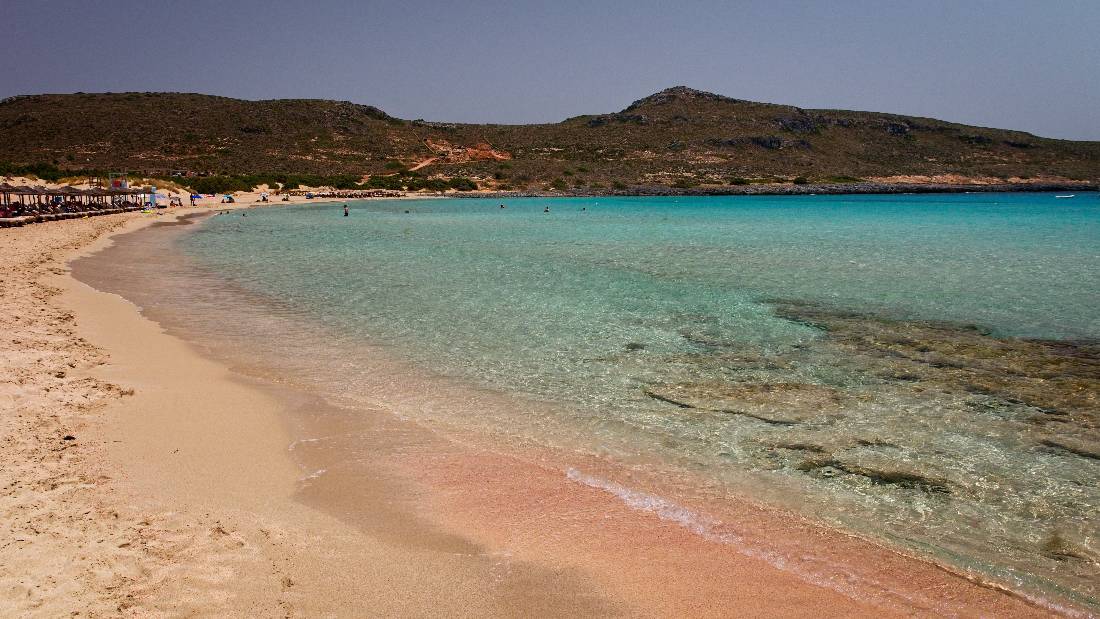 Ed Walks, I sunbathe
In typical Ed fashion, he spotted a bit of a hill just south of the beach and decided it was worth a little hike to see the views from the top. I had no such aspirations, however, and planted myself firmly on my towel to soak up some rays – my first sunbathing stop of the trip!
We thought there might be some lively beach bars, but didn't really see any and the heat made it less desirable to spend too much time on the sand with no shade, so we soon headed off the beach and found a canteen/bar called Paradiso. We got a couple of cans of Mythos and sat in the shade enjoying our cool drinks.
Meeting Time…or is it?
Unfortunately, I had a work meeting scheduled for 16:30 which meant cutting the beach time shorter than we'd intended. We drove back to the main town after finishing our beers and looked for a good spot to have lunch. We found a place called Pita Bar, serving – can you guess? – gyros! I ordered the pork while Ed had the vegetarian option. It was very tasty and just what I needed after a fairly light breakfast.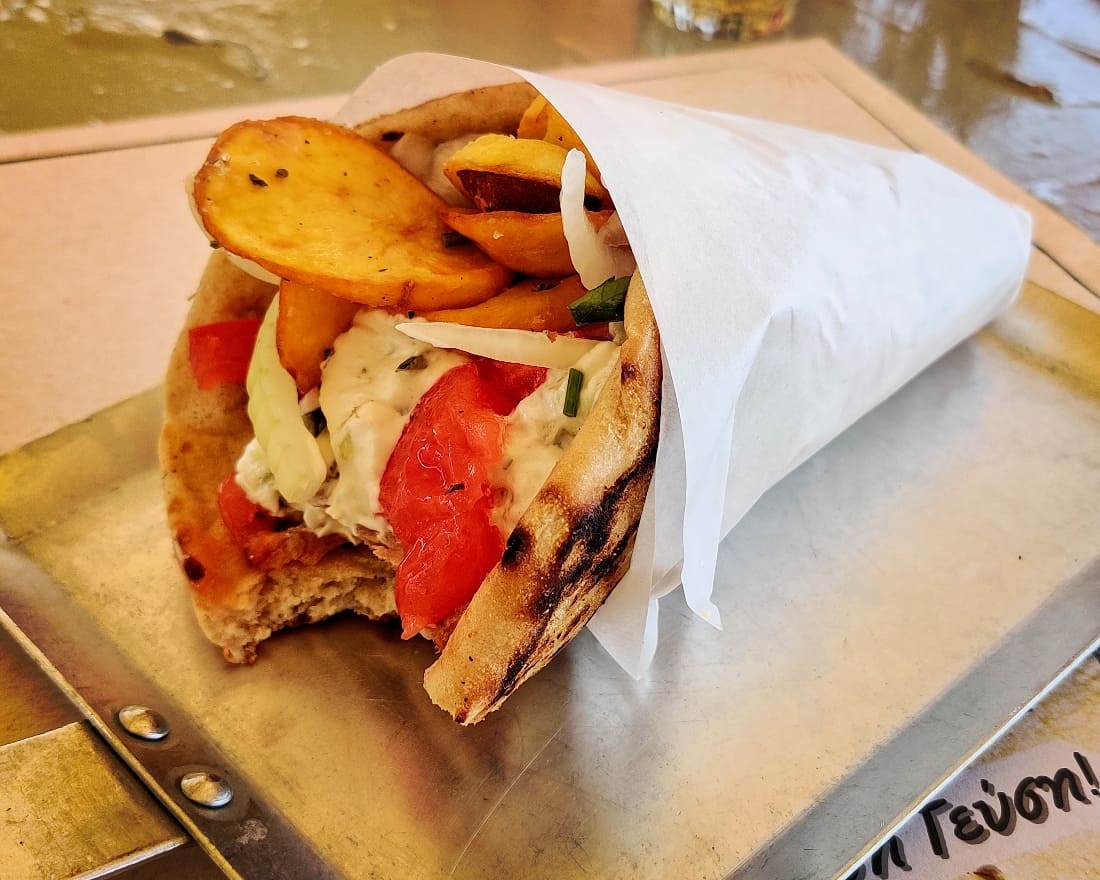 We also shared 0.5ltr of house white wine, though Ed had the majority as I still needed to get the car back to the hotel once we'd finished eating.
I drove us back to the hotel shortly before 16:00 in time to get my laptop setup and prepare for the meeting. Which is when I received an email telling me it had been rescheduled! Slightly frustrating, but it did mean I had time to chill out and catch up on this blog – silver linings I guess.
I met Ed up on his balcony at 18:15. He'd been for a walk around the bay and picked up some cans of Mythos on the way back, so we sat and drank them while we took in the views. I spotted a small stretch of beach close to the hotel and suggested we could have a walk to it as a bit of pre-dinner exercise.
Dinner Time
It's that time again…dinner time! From our beach stroll, we continued along the coastal road that leads from our hotel around the headland and into the town. A few restaurants and bars looked interesting but we weren't sure what type of food to have so our indecision kept us moving on. Eventually, we settled on a Greek restaurant called Antonios where we shared some tzatziki and chips to start, followed by pastitio for me as an alternative to moussaka, while Ed had a vegetarian dish called Imam. We also shared a nice 0.5ltr of house red wine.
As it was a nice evening, we decided to find a nearby bar to have another drink and enjoy the sunset. I had a delicious strawberry daiquiri while Ed had an Ouzo. The sunset was fantastic and made for a very pleasant evening: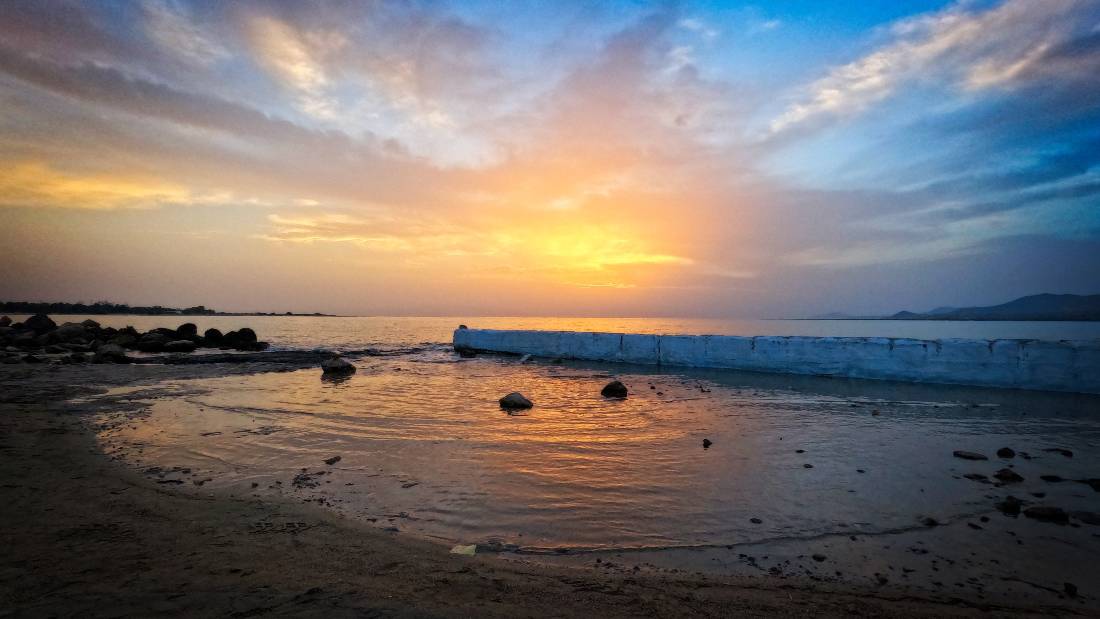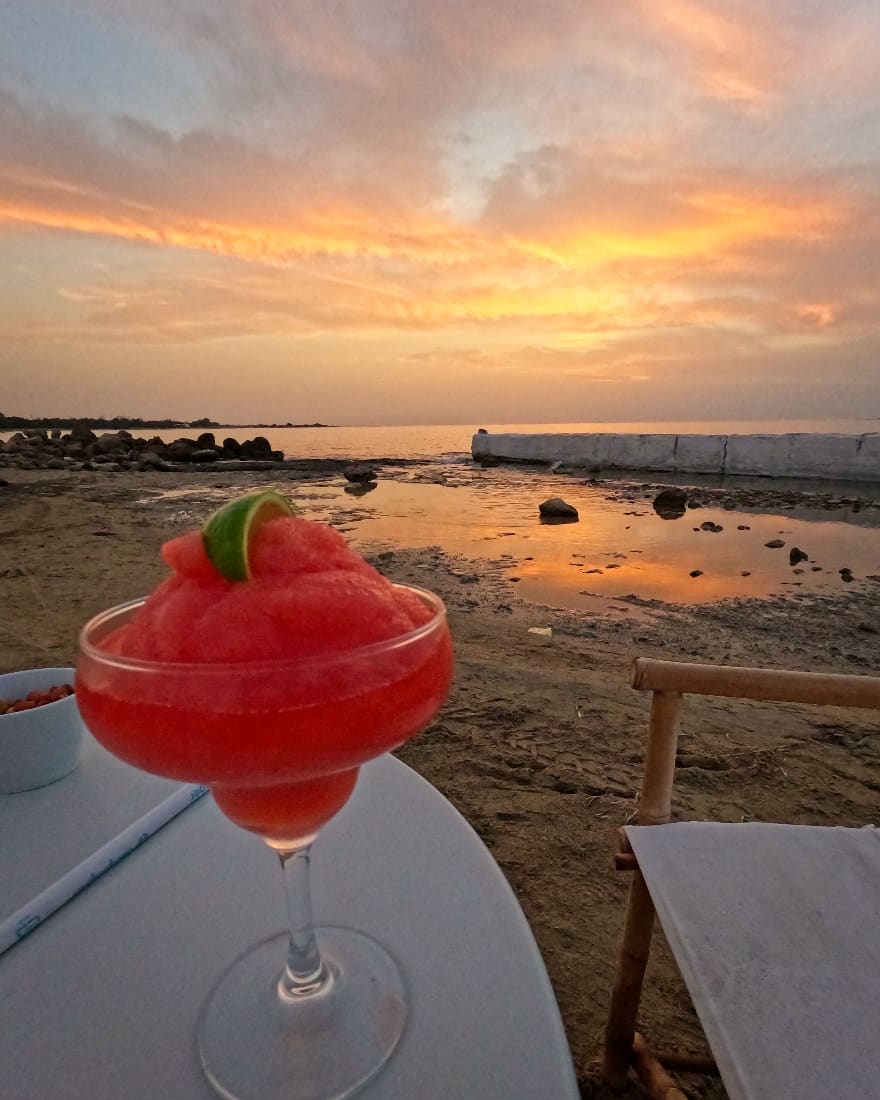 It's possible we had another round of drinks (okay, we did) and sat chatting the evening away. It was gone 22:30 when we left the bar and strolled back to our hotel. Not exactly a late night, but good enough for us!