Monday 27th June 2022
The Working Week Begins
I had some work to catch up on before I could relax, so Caroline decided to head off alone on the 9 o'clock bus to a beach called Logaras, located on the eastern side of Paros. I would join her later in the day once I've finished working. Before starting work, I popped out for breakfast and found a fantastic place called Symposium purely by accident. Then, I learned via TripAdvisor that it's one of the most popular places in Parikia, not far from our Hotel (Oasis) and does amazing food and coffee. I had Greek yoghurt with honey and walnuts, plus a latte. It was delicious.
Back at the hotel, I managed a couple of hours of work and then checked the bus timetable to see when I could next get to Logaras. A bus was due to depart at 11:45 which gave me just enough time to get my beach gear ready and walk over to the bus station.
Logaras and Punda
The bus ride took about 35 minutes as it stops at several other resorts on the way. Caroline had moved from Logaras to a beach just south of it called Punda, so I walked from the bus stop down to meet her at a beach bar. I got a beer and we chatted for a bit, then decided to head back up to Logaras for lunch as there was more choice of tavernas.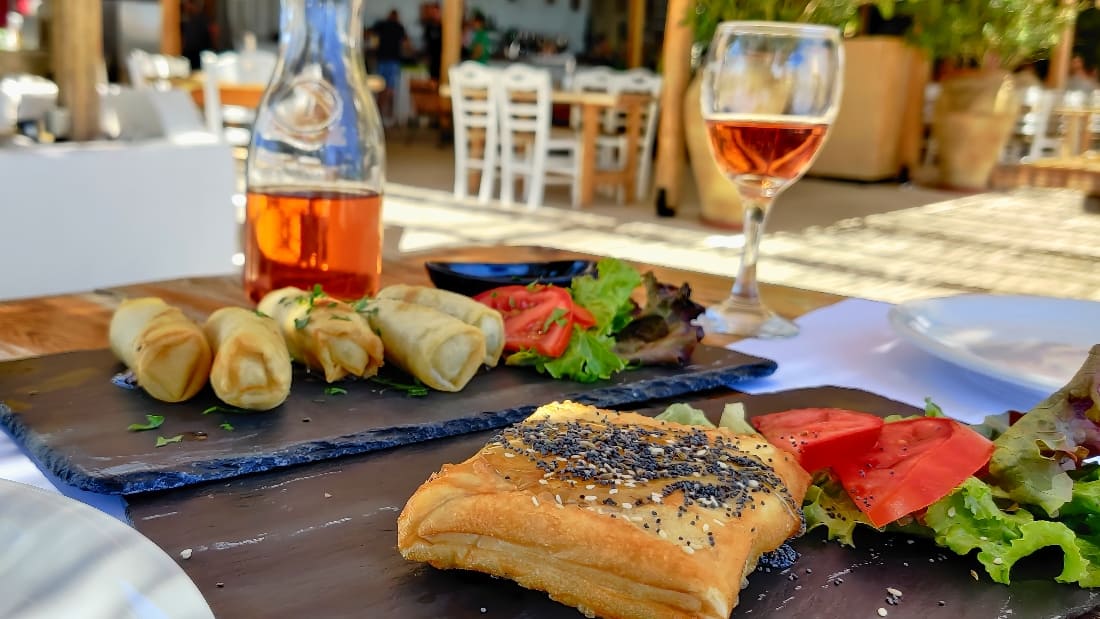 It wasn't easy to choose which taverna to stop at, but in the end, we picked Cactus and were very glad we did! The food was amazing, a little expensive but totally worth it.
Piso Livadi
After finishing our meal, we decided to walk north past the end of Logaras beach and on to Piso Livadi. Here we found a small beach nestled into the corner of a harbour. Quite pretty but quiet compared to the other two beaches we'd visited. We decided not to stay, however, and when I checked my phone and saw a return bus scheduled for 15:20, we decided to get on it and head back to Parikia.
Rather than heading straight back to the hotel, we headed south from the bus depot and walked down to another small-ish beach that I hadn't seen before. I stopped for ice cream and Caroline bought some more water. I thought about having a swim but it was quite windy on this side of the island and the beach also looked quite stony near the shoreline, which put me off a bit. We turned around and strolled back to the hotel.
Dinner in Parikia
After a brief nap, I had a video call with my parents to catch up with them, then got ready for dinner and met Caroline on her balcony to do some people watching before setting out for food. Her balcony has a great view of the port so it's fun to watch people coming and going.
We walked north from the hotel and chose Aioli taverna for dinner. Caroline had been here on her first night and said it was good, so I wanted to try it for myself. I ordered the salmon linguini with lemon in a cream sauce. It was pretty good, though could have done with more sauce as I found it a tad dry.
Rather than head straight back to the hotel, we went for a post-dinner drink at a bar called The Mad Hatter, just behind our hotel. I had a strawberry daiquiri and we sat and chatted for a while then decided to call it a night.