Sunday 26th June 2022
Making the Most of the Weekend
Today is my only full day with Caroline where I don't have any work obligations. We decided to make the most of it by heading to Antiparos for the day. We met at 8 in the hotel reception and set off searching for breakfast, as it wasn't included in the room rate. Walking through some of the back streets behind Hotel Oasis, we saw several options but many of them were still closed, presumably because it was Sunday. As a result, we did a complete loop and ended up back outside our hotel! Luckily, they have a cafe on site so we sat down and ate there – I had yoghurt with honey and nuts, plus a Freddo cappuccino, while Caroline had a cup of tea and a muffin.
Getting to Antiparos
Although there is a direct ferry from Parikia to Antiparos, it's not as regular as the one from Pounta and costs €5 per person each way. Going from Pounta does mean taking a bus first, but the service is very regular and only costs €1.80 each way. The Pounta ferry is €3 so there is a (very small) saving of €0.20.
The bus station is just south of the port and therefore very close to our hotel. Once we'd finished breakfast, we popped back to our rooms to get our stuff ready, then walked to the bus station in time to catch the 9:10 bus to Pounta. It's about 10-15 minutes away, so we got there just in time to board the 9:30 ferry across to Antiparos. The ferry journey is ridiculously short, taking about 8 minutes at the most. They were only charging €2 per person as well, making it even better value than the Parikia option.
Exploring(ish)
Being a Sunday, we discovered that the local bus service wasn't running (according to Google anyway, and we didn't see any buses while we were there), so our options for exploring were either to hire our own transportation or pay for one of the tour bus excursions.
Not fancying either option, I suggested we could walk to a beach just north of the town, and spend a bit of time there. If we got bored and wanted to go further afield, we could reconsider hiring something. In the meantime, we had a stroll through some of the pretty little streets of Antiparos town, eventually finding our way to the Kastro, though it's currently fenced off for renovation.
Back near the harbour, we began heading north but decided to stop for a drink before we went to the beach. We found a taverna called Soulatso and sat down in the shade. I ordered a beer and Caroline had more tea.
The walk to the beach took about 15-20 minutes, but there was a cool-ish breeze and it was nice to just be away from the crowds and do our own thing – Antiparos is a lot quieter than Paros. The beach we found is very nice, quite small but with very few people and lovely shallow water for swimming: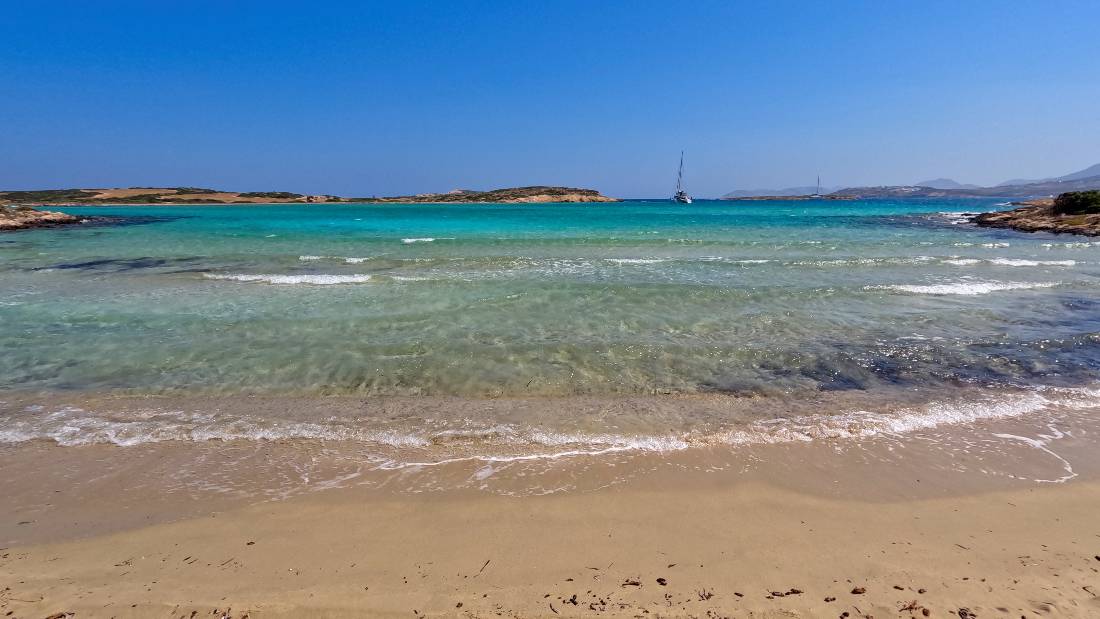 We spent a couple of hours at the beach, a mixture of sunbathing and swimming. I even swam across the bay to the island opposite! It looks far in the photo, but I calculated it's only about 400 metres and is fairly shallow all the way across – just the way I like it!
Lunch and Back to Paros
Deciding we'd spent enough time at the beach, we packed up our belongings and walked back into the town. For lunch, we stopped at Soulatso again as their food menu looked pretty good and reasonably priced. We shared a Greek sala, each had a ham and cheese toastie and shared some white wine to wash it all down. The food was nice and we chatted away until nearly 3 o'clock. There was a ferry at 3:15 so we decided to catch it and head back to Parikia.
I was still a bit tired from travelling all day yesterday, so I went back to my room for a nap and agreed to meet Caroline at 5 o'clock on her balcony to play some cards before dinner. Her balcony had a great front-facing view over the port, but it was quite windy so we had to stay in the sheltered corner of the balcony so the cards didn't all blow away!
Dinner Time
Despite vowing not to return to the overpriced rooftop bar, I'd been given a voucher for a free welcome drink that had to be used this evening. Caroline had used hers yesterday, having arrived a day earlier than me, so I knew the drink was just a homemade lemonade, but still, it was free so I wasn't going to turn it down! As Caroline came with me, she ended up getting another free drink as I assume they thought we were together in the same room.
Once we'd had our free drinks, we didn't hang around and headed downstairs and out in search of dinner. I had agreed to choose a restaurant for tonight's meal, so we walked north around the bay towards the beach. On my brief visit to Paros in 2017, I stayed at a place called Hotel Livadi which was close to the main beach. Next door to the hotel was a restaurant called Cavo d'Oro and I remember enjoying some food there so it seemed like a logical choice.
The menu at Cavo d'Oro is huge and the seating is quite nice as you can be right on the sand next to the sea, with great views across the bay to watch the sunset. I had a BBQ chicken pizza and Caroline ordered spaghetti with tomato sauce. My pizza was tasty, though a bit heavy on the cheese – fine while it was still hot and gooey, as it began to cool the cheese hardened and it wasn't as good. Caroline enjoyed her spaghetti very much though. We stayed to watch the sunset and then strolled back to the hotel and said our goodnights.