Saturday 25th June 2022
Leaving the Mainland Behind
I've spent a fantastic week exploring some of mainland Greece with Ed, but while he'll be flying home later today, my journey will take me from Kalamata to Athens by bus, then from Piraeus to Paros by ferry. I leave Kalamata at 10:30 and won't arrive at Paros until 21:30, so it's quite a full day of travelling.
Breakfast and Goodbyes
I met Ed for breakfast downstairs in the hotel lobby at 8:45. We had paid €6 each for the meal as it wasn't included in the room rate and the price seemed cheaper than we were likely to find eating outside the hotel. The selection was a bit disappointing, though, but fairly typical hotel buffet bits and we ate enough to keep us going for the next few hours.
I went back to my room for a quick shower and to pack the last few bits into my suitcase, then met Ed at the car just after 10. It was a short drive to the bus station but I wanted to get there in good time for the 10:30 to Athens. On the way, we stopped at a petrol station right next to the bus depot so Ed could top up the tank before he returned the car to the airport. He then pulled over on the side of the road to drop me off. We said our goodbyes – me wishing him a safe flight back to the UK and him wishing me a safe journey to Paros and beyond – and I dragged my case into the bus station and sat waiting to be allowed on board.
Athens and Piraeus
The bus journey to Athens took 3 hours. It was a fairly comfortable ride, most of the way there I had both seats to myself so I could relax with my rucksack next to me, but towards the end, another passenger got moved into the seat next to me so things got a bit cramped. I had to put the rucksack on my lap which wasn't the most comfortable arrangement.
We got off the bus in Athens at a station towards the northwest of the capital. I'd already figured out this was our destination but hadn't decided whether to take a local bus, a taxi, or an Uber from there to the ferry port at Piraeus. A bus was the cheapest option, but my bum was a bit numb from the previous journey and I decided to spend a bit extra and get an Uber instead. It's quite a novelty as we don't have Uber where I live back in the UK. The car arrived after 5 minutes or so, then we were heading southwest to Piraeus. It took about 20 minutes and cost €14.50 which seemed reasonable.
The downside to getting an Uber was that I'd arrived at the port even earlier than I would have by bus. My ferry departs at 17:30 and it was only just after 14:30 so I had about 3 hours to waste. I'd been dropped at the Blue Star ticket office, so my first task was buying a ticket for the Blue Star Chios' route to Paros later that afternoon. Priority 2 was finding a toilet as I was quite in need of a wee at this point! I walked along the road opposite the port in search of a cheap but decent-looking place to have some food that would also have a toilet. It didn't take long to find somewhere as the area is full of little cafes and tavernas catering to all the people coming and going from the ferries.
I ordered a pork Gyros and a beer, and then quickly headed upstairs to use their facilities while the food was being prepared. I felt so much better with an empty bladder! Now I could relax and enjoy the food which, while not the best Gyros ever, tasted pretty decent.
I dragged out my meal as long as I could in order to waste some time, but decided at 15:30 I should probably move on. I grabbed my case and wheeled it back south towards the port, looking for anywhere I could sit comfortably and pass the time. There was a small park right near the port, but it seemed to contain small groups of homeless people and didn't seem like a great place to settle. I continued a bit further south and found a wooden bench shaded by a large tree just on the side of the road. It was far enough from the port that there weren't many people wandering around, so, aside from a bit of traffic noise, it was relatively quiet.
I got my Kindle out and sat reading for a while. It got to 16:15 and I figured it was worth seeing if I could board the ferry early, having seen on MarineTraffic.com that it was in the port already. Sure enough, there were a few other people heading to the boat and I was able to get aboard, stow my luggage and head up to find a seat on the outside deck.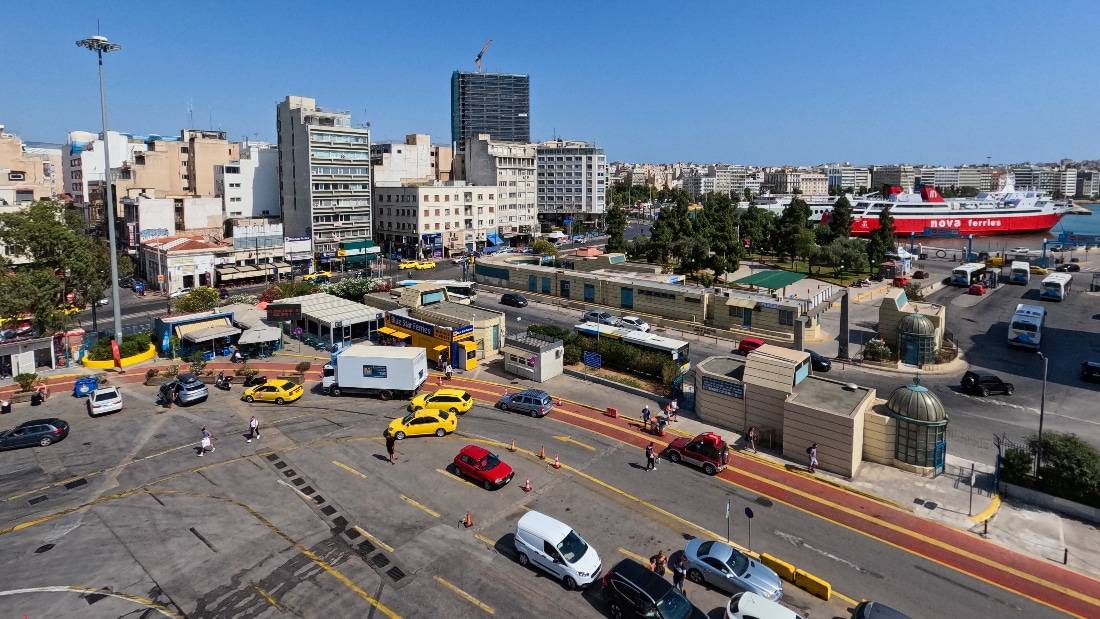 Paros Arrival
The ferry journey took just over 4 hours. It was moderately busy, but I had no trouble finding a good seat outside with a table where I could use my laptop. I spent the first couple of hours going through the photos and video I'd captured during my week with Ed, and writing up several blog posts. Then I switched to relaxation mode and sat reading my Kindle with an Eza beer that I'd purchased on the ferry.
One nice part of the journey was getting to watch the sun set behind the boat as we made our way east into the Cyclades: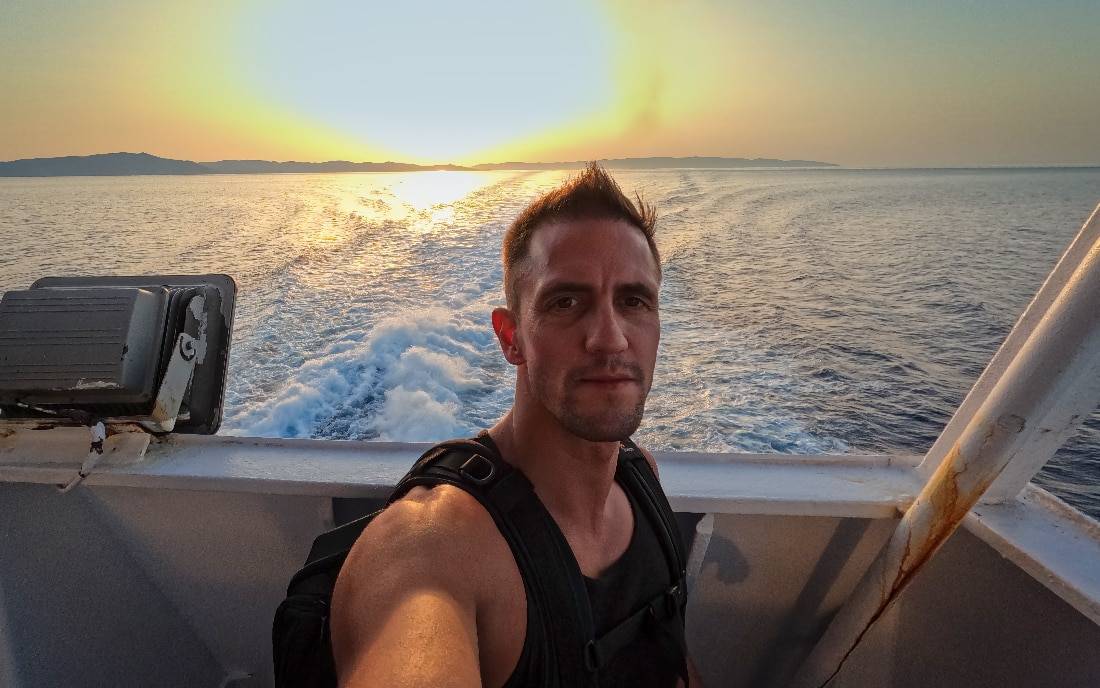 We arrived on Paros slightly after the 21:40 scheduled time. My friend Caroline had flown in the previous day and was staying at the same hotel right next to the port. Once I'd disembarked, checked in, and had a quick shower and change of clothes, I met her at the hotel reception and we decided to head up to the rooftop bar to catch up over a drink.
It was pretty windy on Paros and felt much cooler than it had on the mainland which was quite refreshing for me. We sat and chatted over a very expensive cocktail – agreeing we wouldn't be buying any more from them – then I headed back to my room a bit after 23:00 for some much-needed sleep!