Monday 28th March 2022
Six Months Later
To anyone who's actually followed my posts on this trip, you may have noticed that nearly all of them were uploaded retrospectively. I took copious notes during my travels but only began composing the articles on my return in September 2021, over a period of what turned out to be six months. The final post was published two days ago, at the end of March 2022.
My notes served as a great memory aid, allowing me to cast my mind back to each day as it happened, reliving the trip one step at a time. It's one of the greatest things about blogging and I always enjoy re-reading articles on my previous visits to Greece, particularly when it's wet and gloomy here in the UK in early spring.
Now that the dust has well and truly settled, I think it's good to write a retrospective and think about what the best and worst parts of the trip were. This is that post.
Highlights
73 days is by far the longest I've ever spent in Greece or anywhere away from the UK, for that matter. Picking just a couple of highlights is impossible, so there are going to be a few in order to do the trip justice.
1. Being visited by friends and family
Okay, this isn't directly related to Greece itself, but spending the first 9 days with my parents in Palaiochora; Ed visiting me on Kos in August; and seeing Mum and Dad again on my favourite island, Sifnos, in September were the stand-out moments for me. Much as I love travelling alone and enjoying the freedom it offers to do whatever you want, whenever you want to, being on my own for such a long time made having company that much nicer.
2. Rhodes and Kos
If you asked me before the trip to name some Greek islands I'd be unlikely to recommend, Rhodes and Kos probably would have made the list. Both have a reputation (in England at least) as destinations for hordes of uncultured tourists looking for a budget summer vacation: bland hotels, familiar food, cheap booze and tacky tourist shops.
I ended up on Rhodes after changing my mind about visiting Chalki, partly due to unfavourable ferry timings. The three days I spent in Rhodes Town was surprisingly great and I wouldn't hesitate to go back: good food, lots of historical sights and very easy to navigate. I do wish I'd managed to get to Pefkos, the resort of my first ever Greek holiday back in 1990, but I guess that can be a reason to go back again at some point.
Kos was even more surprising. Okay, I never meant to get stuck there for over three weeks due to my poor planning and a lack of accommodation on certain islands in peak season. To avoid detouring too far off my planned route, I chose to stick it out on Kos until I could make it across to Amorgos and into the Cyclades for the final phase of my trip.
Kos Town isn't the sort of place I would usually stay or want to spend much time, but with plenty of good tavernas, a gym right next to the beach and lots of friendly people (Yannis at The Sunburnt Arms and Argyriou at Hotel Sonia in particular) made it feel like a home away from home.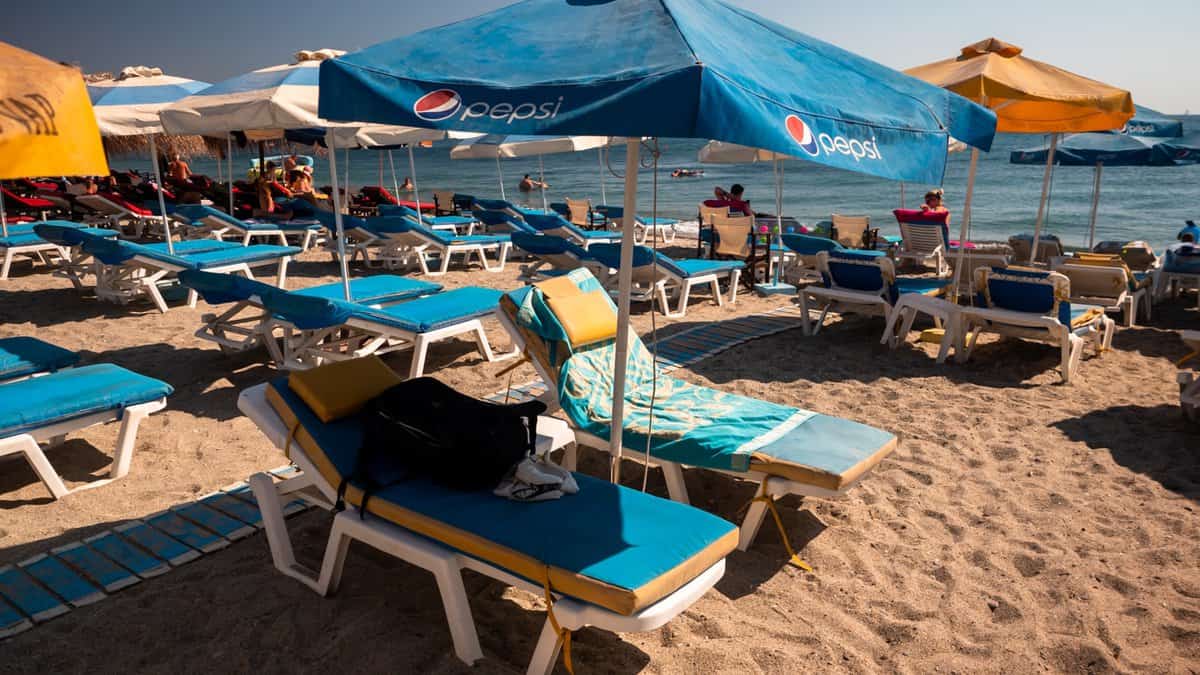 3. Sifnos
Sometimes, when you visit an island for the first time and have a good experience, your next time can be a disappointment due to a mixture of high expectations and nostalgia. Not so with Sifnos. I enjoyed it every bit as much as the first time and it's now firmly in the Number 1 spot on my top Greek island list. My parents loved it too and have already re-booked for 2022 (and who knows, I might even pay them a visit… watch this space!)
4. Sikinos
Despite struggling to eat a decent meal the entire time I was on the island, I loved the contrast between Sikinos and the islands I'd visited just prior: Naxos and Ios. Sikinos is so quiet and traditional, it was great to feel like I wasn't just one of the crowd of tourists, but more like a true explorer on a wild island.
Lowlights
Though nothing really bad happened on the trip (thankfully), there are always things that, in hindsight, I'd do differently or avoid entirely if given the opportunity to repeat the experience.
1. Tilos
I'm not saying I regret Tilos at all. In fact, it's here because I regret giving up on it after my first night simply because of the power cuts that happened to coincide with my arrival. With better planning, I would have had more reason to stay but I made a rash decision to abandon the experience because I didn't really know what I was doing there and it seemed easier to just move on rather than stick it out and get something from it. I do plan to go back sometime and make up for my mistake.
2. Booking Hotels for Peak Season
Though I pre-booked most of my hotels on Crete, I wanted the trip to feel like an adventure and keep my plans fluid. I was adamant that I wanted to avoid booking any accommodation until just a few days before I arrived on each island. This bit me badly when it came to leaving Kos: my only ferry option was to Amorgos in order to get into the Cyclades, and I couldn't find any way of avoiding spending at least one night there to make an onward connection.
Amorgos is a fairly popular destination but with only two main resorts and limited accommodation, it was booked solid for the first two weeks of August, leaving me stranded on Kos until the 21st. In some ways, this was a blessing as you'll have read above that I ended up loving my time on Kos, but it did mean I missed out on visiting islands I really wanted to see.
Next time, I'll make sure I pre-book rooms for August, especially on smaller islands that are likely to fill up fast.
3. Naxos instead of Paros
Naxos is one of my favourite Greek islands and, with the exception of 2020, somewhere I've visited every year since 2017. After reaching Amorgos, my instinct was to head to Naxos to get back on familiar ground and spend a few days revisiting my favourite places.
While I don't necessarily regret this, it turned out that I didn't really do much on Naxos besides relaxing at the beach – something I'd already done a lot of during my extended time on Kos, so the novelty had worn off a little. In hindsight, choosing Paros over Naxos would have made more sense as I could've been more active in exploring a new island (if you don't count my very brief stay in 2017) instead of just chilling out somewhere that I know pretty well.
Learnings for Future Trips
1. Booking Hotels at Short Notice
Prior to this trip, I'd always booked all my accommodation up-front and had a fixed route in mind. Despite the aforementioned hiccup getting stuck on Kos, I'm glad that I resisted booking most of my accommodation too far in advance. Firstly, it allowed me to skip Chalki and visit Rhodes instead, then on Kos, I spent the first 3 nights at a hotel I didn't really like (Captain's Hotel) and then decided to move to a different (and much, much nicer) hotel for the rest of the time (Hotel Sonia) – by only booking the first few nights I could get a feel for the area without committing myself to an extended stay at one hotel, or go through the hassle of cancelling a reservation and trying to avoid being charged for it.
2. Staying Longer in One Place
With the exception of the 4 single-night stays as I travelled across southern Crete and onto Sitia for my crossing to Karpathos and the one night I spent on Amorgos to make a ferry connection, all of my island stays were at least 3 nights, mostly 4, 5 or 6. Aside from the obvious cost of moving around more frequently, staying in one place for longer does tend to improve the experience for me. It takes a good couple of days to feel familiar in a resort, and if, like me, you like to split your time between sightseeing and beach/relaxation days, having at least 5 or 6 nights provides the best balance.
Of course, it helps to have the luxury of an extended time in Greece to stretch out the time at each destination, but in future, I intended to make 5 nights my new minimum unless the island is exceptionally small, or ferry timetables dictate a more brief stay.