Review rating: 5/5
Date of visit: May 2019
My friend Ed and I had high hopes for the Yperia based on its Trip Advisor rating and recommendations via the forums, and we weren't disappointed!
We booked direct via their website: it was a little cheaper, but we also contacted them first to ensure they would be happy for us to check in at 2 am – our Naxos ferry being a particularly late one – and they confirmed someone would be waiting for us at the port, despite the hotel being very close by.
As it turned out, our ferry was an hour late, but a young woman from the hotel was still there to greet us. We quickly arrived at Yperia after a 5-minute uphill walk, and were shown straight to our rooms. I had room 24 on the ground floor overlooking the pool, while Ed had room 1 at the top.
The rooms were spacious and well equipped, in a traditional Greek style, with good air conditioning, comfortable beds and a decent shower.
Breakfast was served from 8:30 to 11 am. The selection was modest, but of a good quality: freshly squeezed orange juice, coffee, bread, fruit, cereals and yoghurt with honey. It was very pleasant sitting outside to eat, with a nice view over the bay towards Naxos.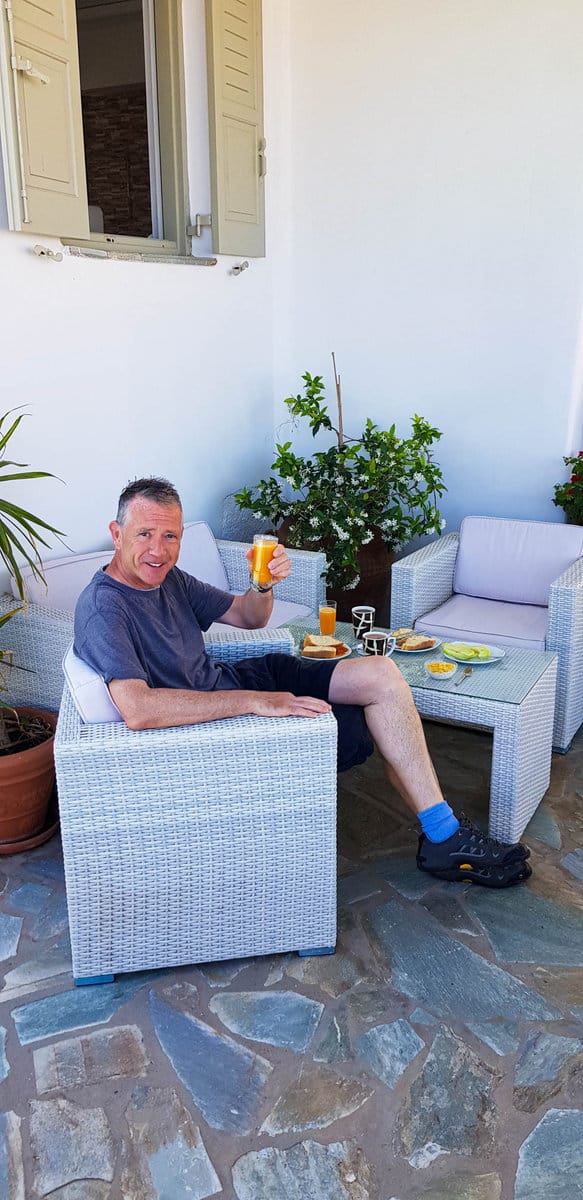 Better still was the stunning view at sunset…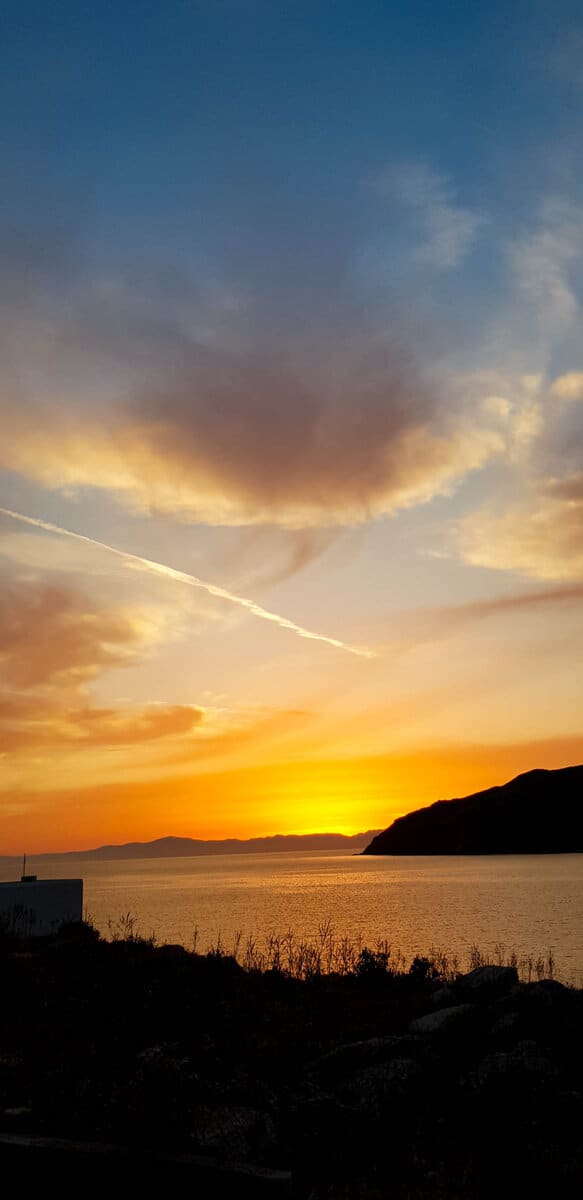 The staff were all extremely friendly, and we were pleased (and surprised) to find upon check out that two glasses of Ouzo we had purchased one evening were complimentary, and that the resort fee – usually only payable in cash locally – had been paid for us as part of our booking fee.
Yperia is set up a slight hill, making it easier to get down to the resort than getting back to your room again, especially after a good meal and a few drinks! But it's close enough that the hill isn't really a bother.
The only small criticisms I could make were the limited amount of sun loungers around the pool – due to a lack of space – meaning there aren't nearly enough to cover the number of guests who could be staying. On two occasions Ed and I took the last available beds. Also, due to the location of the pool between a large tree next door and the hotel building, it's shaded for some parts of the day.
That said, I imagine most guests will spend their time outside the hotel exploring the wonders of Amorgos (a truly fantastic island), so the fact the hotel has a pool at all is a real bonus.
I can thoroughly recommend Yperia for anyone staying in Aegiali: great location, nice rooms and lovely staff at a price that you won't find on more popular islands.