Saturday 1st June 2019
Today's mission: hike across Amorgos from Aegiali to Chora. This is the main walking route on the island, and the reason a lot of hikers visit Amorgos as the views are supposed to be stunning.
I woke just after 7 am and packed my rucksack for the hike, then met Ed for breakfast as soon as it opened at 8:30 am. After a good meal and plenty of coffee, we set off around 9 am, heading south from the hotel towards Potamos.
We had studied the route several times on Ed's printed map but still used the GPS on my phone to make sure we were heading towards the marked route 1 path. Apparently, most people start the walk from Chora, so many of the markers were facing the opposite direction, making them more difficult to see. However, the path is pretty obvious once you get on it, and several of the red markers/paint patches are clearly visible in either direction.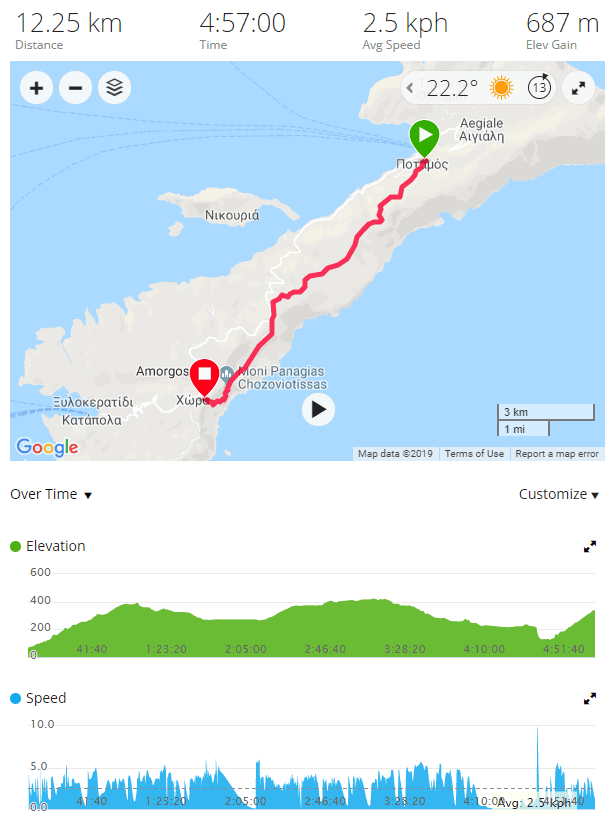 As you can see from the Garmin data above, the total distance to Chora via Chozoviotissas monastery was a little over 12km and took just shy of 5 hours to complete. This did include our time at the monastery though (I forgot to stop my watch). I wouldn't say the walk is especially difficult, although some sections are narrow and the path quite rocky and uneven. There is also a small taverna about half way, near Asfondilitis, where you can get a drink and snack.
Also worth noting that the walk is probably more challenging the way we did it, as most of the ascent is within the first few kilometres of leaving Aegiali.
The walk itself was very enjoyable. We were fortunate with the weather not being too hot, which I'm sure would have made it much tougher. It was a touch cloudy at times but mostly the visibility was excellent. Our only gripe was that, despite the route being called the 'spine walk', you never really reach any of the peaks or walk along a ridgeline at all, so although the views are great, there are only a few spots where you get impressive panoramic views of the island (see below).