Only a few days to go until we jet off to visit another new Greek island. This time we're heading to Amorgos, the southeasternmost island in the Cyclades.
On our return, we'll be giving a full review of the island with lots of recommendations on where to stay, eat and how best to travel to and around the island. In the meantime, here's a bit of information on our itinerary.
---
Day 1
We take an early Easyjet flight from London Gatwick to Mykonos, as it's usually a cheap route and – delays aside – gets us on the island early enough to catch a ferry the same day. Our aim is to make the 15:20 Golden Star Ferries' Supercat to Naxos, with the 16:30 Seajets' Superjet and 18:15 Golden Star Super Speed as backups.
From Naxos we're catching the (very) late Blue Star Ferries' Blue Star Naxos at 23:55, arriving Amorgos at 02:00 the next morning. This gives us a few hours layover on Naxos, so we'll probably take the local bus to Agia Anna to chill on the beach and have dinner, before heading back to Naxos Town for a drink or two while waiting for the ferry.
---
Day 2
On arrival at Egiali, we check in to the Yperia Hotel for 3 nights. Due to the very late arrival, and being up almost 24 hours, we're expecting a fairly late start with breakfast at the hotel, then some fairly relaxed exploring of the local area. There are reported to be some excellent local walks, including this one: http://www.cycladen.be/Langada-StavrosEngFrame.htm
---
Day 3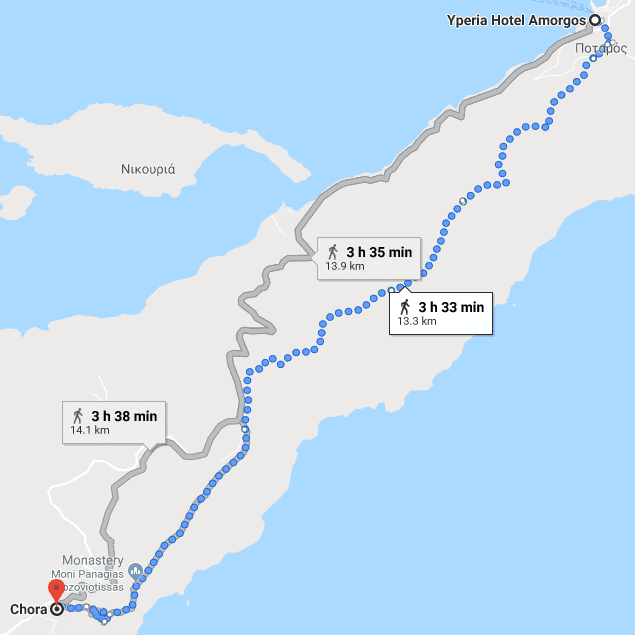 This will be our main hiking day. We plan to walk from Egiali to Chora via the impressive Chozoviótissa monastery. The walk is described here, albeit in reverse as we're not starting from Chora: http://www.cycladen.be/Chora-EgialiEngFrame.htm. Once in Chora, we'll have a late lunch and catch the afternoon bus back to Egiali.
---
Day 4
We decided to switch accommodation at this point and move to Katapola, the other port town located further south on the western coastline. Depending on how tiring the previous day's hike proved to be, we might attempt to walk from Egiali, trying to find some different paths than the day before. Failing that, we'll use the local bus service to get to Chora, then walk the remaining few kilometers to our new lodgings, Amorgion Hotel.
The remainder of the day will be spent exploring walks in the local area, perhaps heading as far as Lefkes.
---
Day 5
For our last full day on Amorgos, we may decide to hire a car to enable us to visit some of the more distant sights, including Kalotaritissa beach on the westernmost tip of the island, stopping at other sights along the way.
Alternatively, we may attempt to hike instead, but due to the lack of public transport further west than Katapola, we either need to allow for a return trip on foot, or perhaps take a taxi from the hotel and walk back.
---
Day 6
The return journey begins at 14:10 on the Seajets' Super Jet ferry from Katapola direct to Mykonos, arriving 16:05. Alternatively, we have ferry options back via Naxos, all of which get us to Mykonos by 4 pm.
Our flight isn't until 21:00, so assuming the ferry is on time, we'll probably take the bus into Mykonos Town for an early dinner, then head to the airport for 19:30.