Today was my last day on Naxos (until I return on Sunday, anyway!). My next destination was the small and beautiful island of Koufonissi – I haven't visited before so I was excited to visit another new island, especially one that isn't as well known to tourists (though that is changing as the island gains popularity).
I decided to get packed before breakfast so I was ready to check out when I got back. I skipped the hotel option and chose a local cafe instead, enjoying a decent Greek yoghurt with honey, some toast and jam, orange juice, and of course a large coffee!
At 10:15 am, I went back to the room, grabbed my bags and checked to make sure I'd left nothing behind, then checked out and walked back up the harbour towards the ferry port. My Koufonissi ferry was due in at 11:15 am, so I bought my ticket and sat in the shade to wait for its arrival. It's always a good opportunity to catch up with some reading on my Kindle – or a spot of people watching – with a beer or coffee.
The crossing only takes 50 minutes and it was a smooth journey, made better as I was able to stand outside at the back of the high-speed ferry and avoid the risk of travel sickness – topping up my tan at the same time!
I had booked my accommodation, Dafnis Studios, direct with the owner instead of online as I would usually do. Whether as a result of this, or just out of kindness, they had agreed to collect me from the port even though the rooms were only a few hundred metres away. In hindsight, I was glad because the roads turned out to be very bumpy and it would have been pretty hard work wheeling my case up the hill. The accommodation was basic, but very well kept, and in a great location with a view of the main beach just down the hill. As I was staying for 3 nights, I decided to unpack properly and hang up all my clothes so they wouldn't get too creased up.
In need of some food and a drink, I got changed into my beach gear and set out to explore. I spotted a subtle path that had been trodden down the hill from the apartment in a direct line to the beach. Following this, I arrived at the corner of a taverna, O Lefteris, which seemed like a perfect spot for lunch.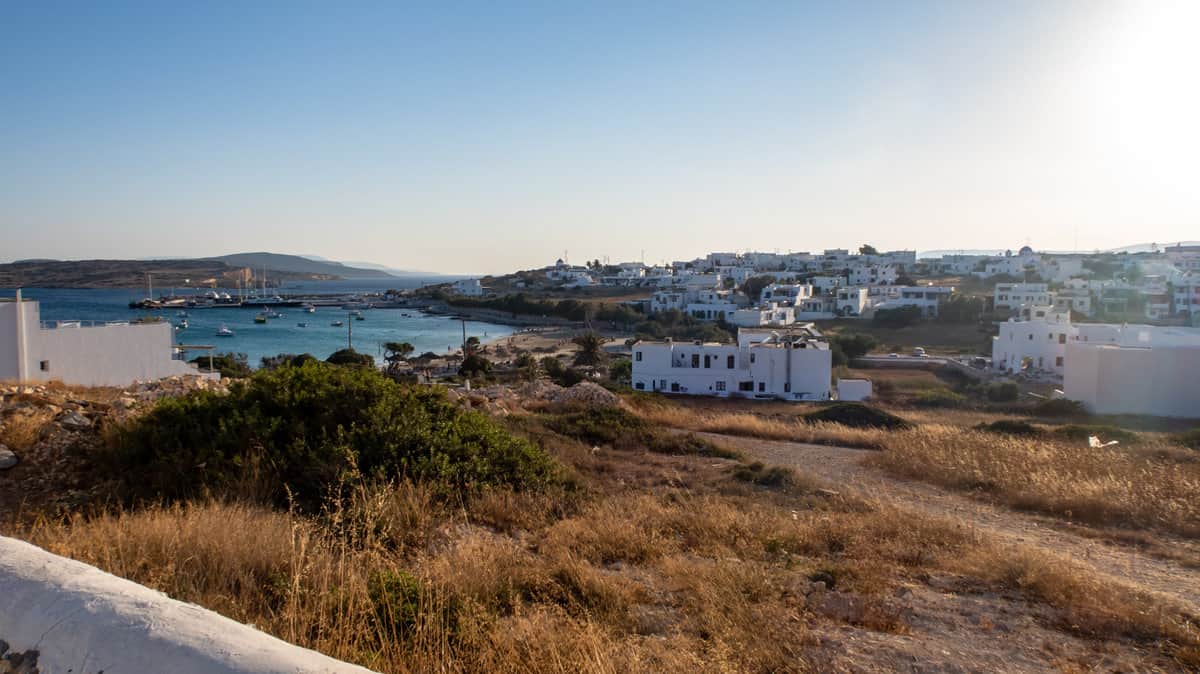 After a delicious Greek salad and cold Mythos beer (what else), I found a space on the lovely, smooth sandy beach. Throwing my towel down, I laid out and relaxed in the sun while my food digested. When the heat of the sun started to make me sweat, I grabbed my goggles and GoPro and sprinted for the sea. It felt amazing to plunge into the crystal clear water! The sea is truly awesome here: clear water and shallow for a long way out, as you can see from a drone shot I took the following day: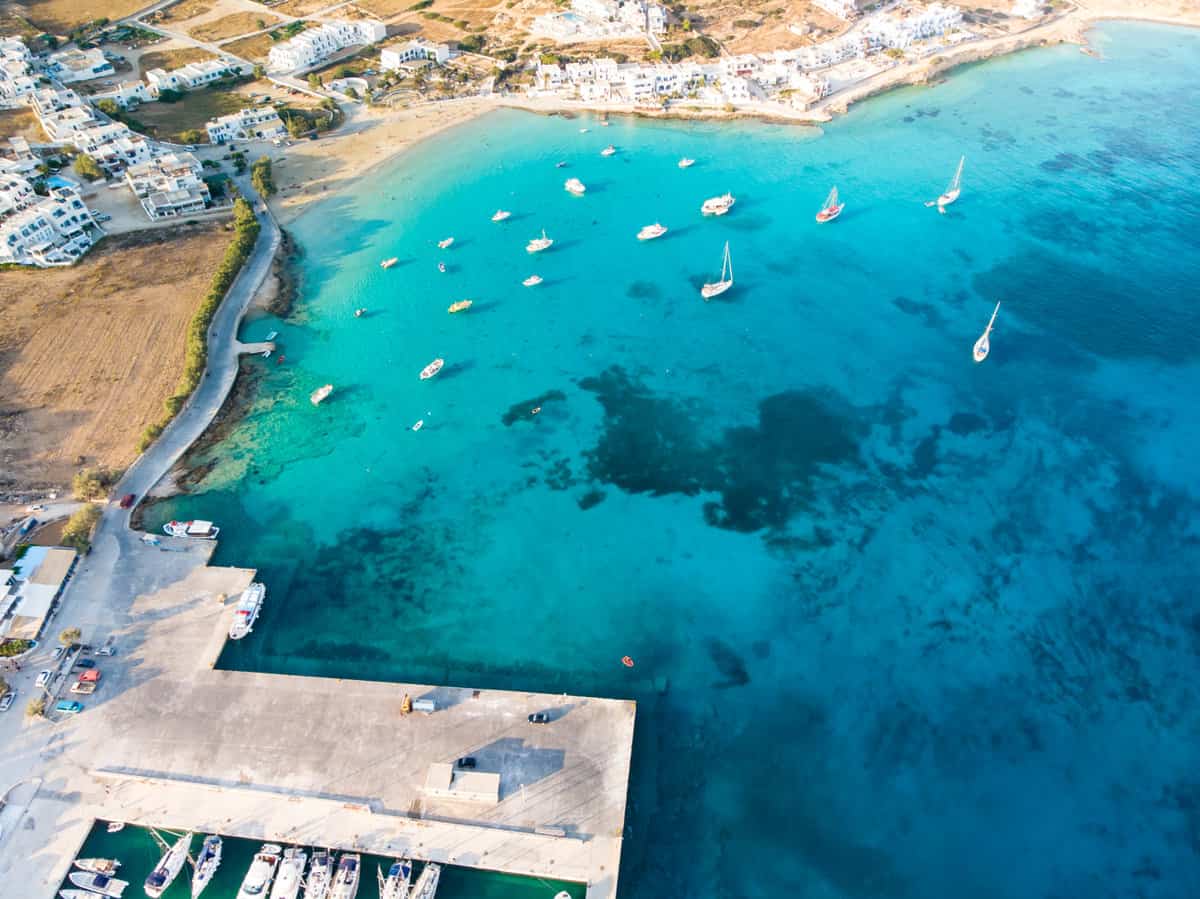 When I finally tired of swimming around the boats anchored in the bay, I went back to my spot on the beach and towelled off, then laid back down to dry out.
Feeling totally refreshed, I made the short walk back to the room to cool off, then decided to explore the south-east of the island and check out some of the beaches I had read about online. Along the coastline, there are lots of little bays with their own sand or shingle beach. The larger ones are named: Finikas, Fanos and Italida (Platia Pounta) as you head counter-clockwise from the south. They were busier than I'd expected – some almost full of tourists catching the late afternoon sun – so I didn't stop, and once I reached Italida, I turned back to head for home.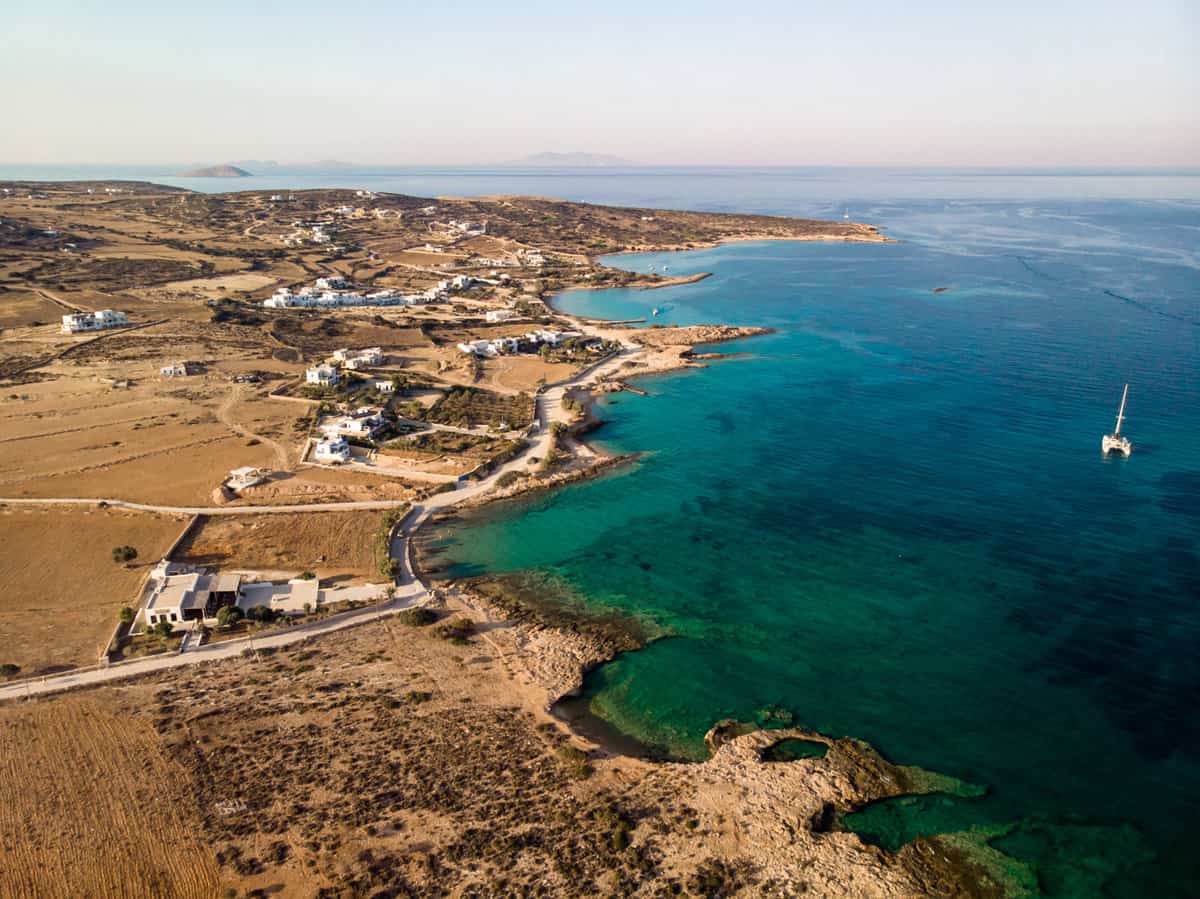 Feeling hungry after just a light lunch, I showered and changed, then checked my phone to try and locate some restaurants to choose for dinner. One, in particular, stood out: Lavanda e Rosmarino Trattoria Italiana, which, as the name suggested, was an Italian restaurant, and not far from my apartment. It turned out to be a fantastic choice, though I was so early that for most of the meal I was the only customer. The service and food were sublime: large pasta tubes with a rich carbonara sauce for main, followed by 'chocolate salami' for dessert (a delicious chocolate mousse with chunks of biscuit).
After such a rich meal (and still being quite early), I strolled around the main town – which is tiny – and circled back to my apartment via the beach path around the harbour. By the time I got back, the sun had just set on one of my best days in Greece.