Wednesday 28th July 2021
A Travel Day with a Twist
Usually, my travel days consist of lugging my case back to the ferry port, jumping on a boat and getting off on a different island. Today, however, was slightly different. The ferry to Tilos doesn't run from the main port in Rhodes Town, but instead from a small village down the western coastline called Kamiros Skala. This meant that in order to get on the ferry, I would need to use the local bus network to get me from the hotel to the right port.
A bit of Google research (and checking with the hotel reception) confirmed that most buses depart from the RODA Bus Terminal just north of the Old Town and, more importantly, 5-minute's walk from my hotel.
But First…Breakfast!
The Tilos ferry doesn't depart until 6 pm and the bus to Kamiros Skala was at 1:30 pm, so I had all morning to relax. No doubt a more adventurous person would have used this time for some last-minute sightseeing but, well, you know me – I'm all about taking it easy! I had a relaxed breakfast, then spent a few hours in my room working on my next YouTube video. On the way back from breakfast, I'd asked at reception if I could keep my room a bit longer and was told it was fine to stay as long as I needed.
Busy Bus Journey
At midday, I started packing my gear and had a nice cool shower, then checked out of the hotel at 1 pm. As it was only a short walk to the bus station, I sat out on the hotel terrace for a few minutes before heading off. There is a small ticket booth at the bus depot, so getting my ticket for Kamiros Skala was easier than expected – they were even kind enough to remind me that there's no return service from Skala the same day (just in case I was expecting to get back again).
The bus arrived on time and I managed to get a row to myself, so I put my rucksack down beside me in the hope of discouraging anyone from taking the seat. This worked for a little while, but the bus made several stops on its way south out of Rhodes Town and eventually, a lady pointed at the bag so I reluctantly put it on my lap so she could sit down. She must have sensed my disappointment as she voiced some vague apology, at which point I realised I was being selfish so I smiled and said it was fine. We ended up having a nice chat all the way to Rhodes airport where she got off the bus to catch her flight back to Geneva.
I wasn't sure how long the journey would take, so when we pulled up at the stop in Kamiros Skala just after 2:45 pm I was pleasantly surprised. Though it did mean I had over 3 hours to wait for the ferry, but much better to be sitting in a seafront taverna drinking beer than on a hot, sweaty bus!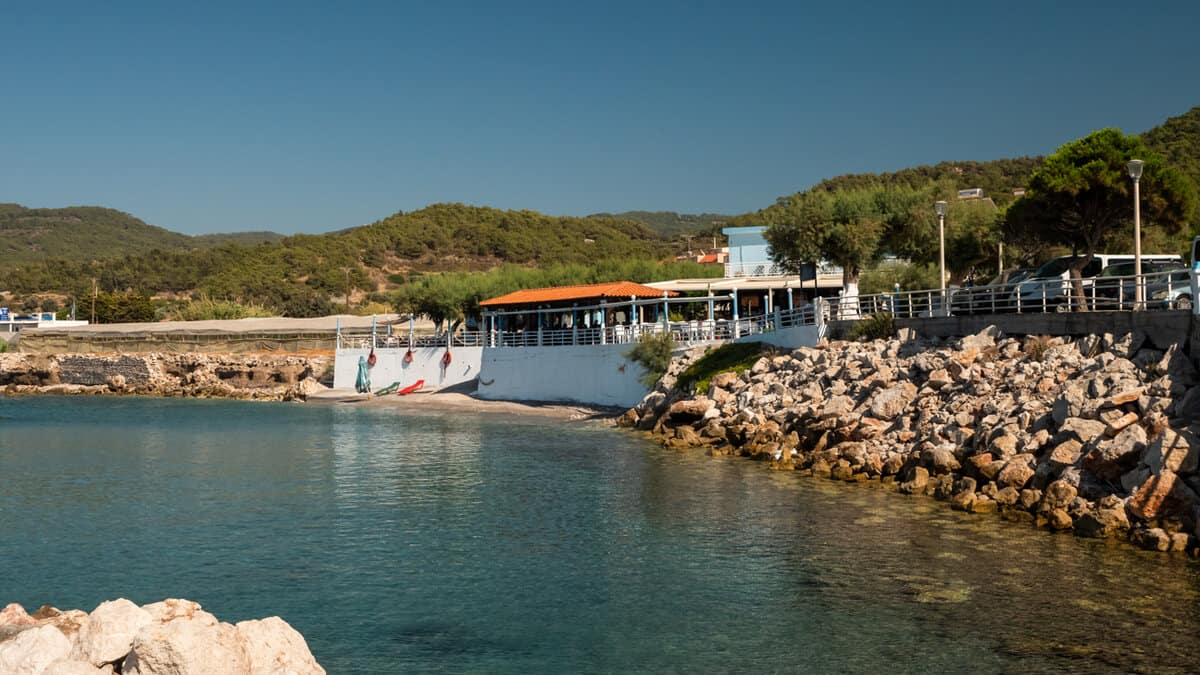 Waiting Waiting Waiting
Sadly, Kamiros Skala is a tiny little village with really nothing to do in terms of sightseeing. There are a couple of tavernas so, like the few other tourists I could see, the only thing to do was sit down and enjoy the shade with a snack and a cold drink. Even though I hadn't had much for lunch, I wanted to enjoy an evening meal on Tilos so I just ordered a plate of chips and a large beer. I sat reading my Kindle for a couple of hours, then got up and walked down to the port to stretch my legs a bit.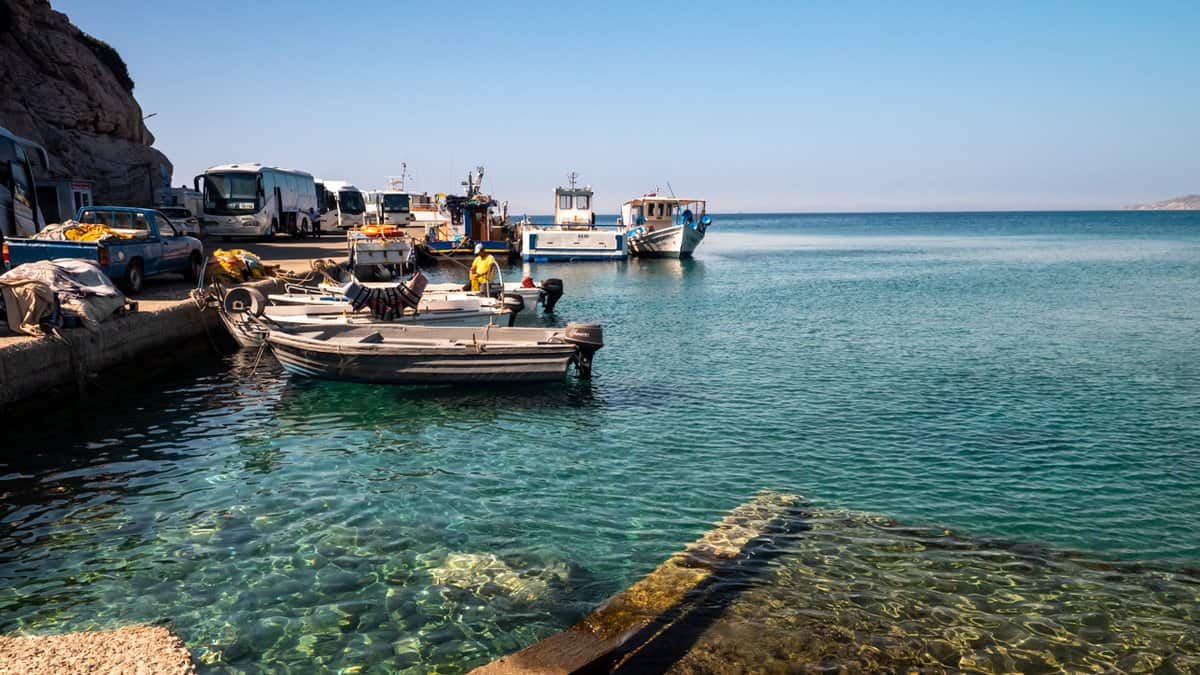 I had yet to purchase my ferry ticket, but luckily my friend Ed had done the same trip a month or so earlier and assured me that one of the small ticket booths would open about an hour before the ferry arrived. Sure enough, a girl opened the kiosk just after 5 pm and I was able to get my ticket. I asked whether I could get a Covid-19 self-certification form but was told I wouldn't need one or it would be available on the ferry. In hindsight, I should have been more sceptical but luckily things turned out okay as you'll see.
Ferry Running Late
Using the trusty MarineTraffic.com website, I could see that our ferry Joy Star had been moored up on Tilos since I arrived in Kamiros Skala. According to my itinerary, the ferry journey was supposed to take 1 hour and 50 minutes, but despite the boat leaving Tilos shortly after 4 pm, it didn't arrive in Skala until nearly 6:30 pm.
When it did finally turn up, I was alarmed to see port authority staff checking Covid paperwork. Foolishly, I hadn't completed a self-certification form assuming that they wouldn't check at such a small port (they hadn't bothered when I left Karpathos). Not wanting to be denied boarding, I was a bit naughty and managed to sneak around them and onto the boat without my documents being checked. Oh well, it added a bit of drama to the afternoon!
A lady I'd been chatting to at the port came and sat near me on the boat. I apologised for disappearing and she'd obviously realised I didn't have the right paperwork and snuck past the security check, but thought it was funny so didn't report me to the ferry staff!!
The journey to Tilos was uneventful but slow. As the sun began to set, it seemed like we were never getting any closer to our destination and my stomach was growling in need of a good meal.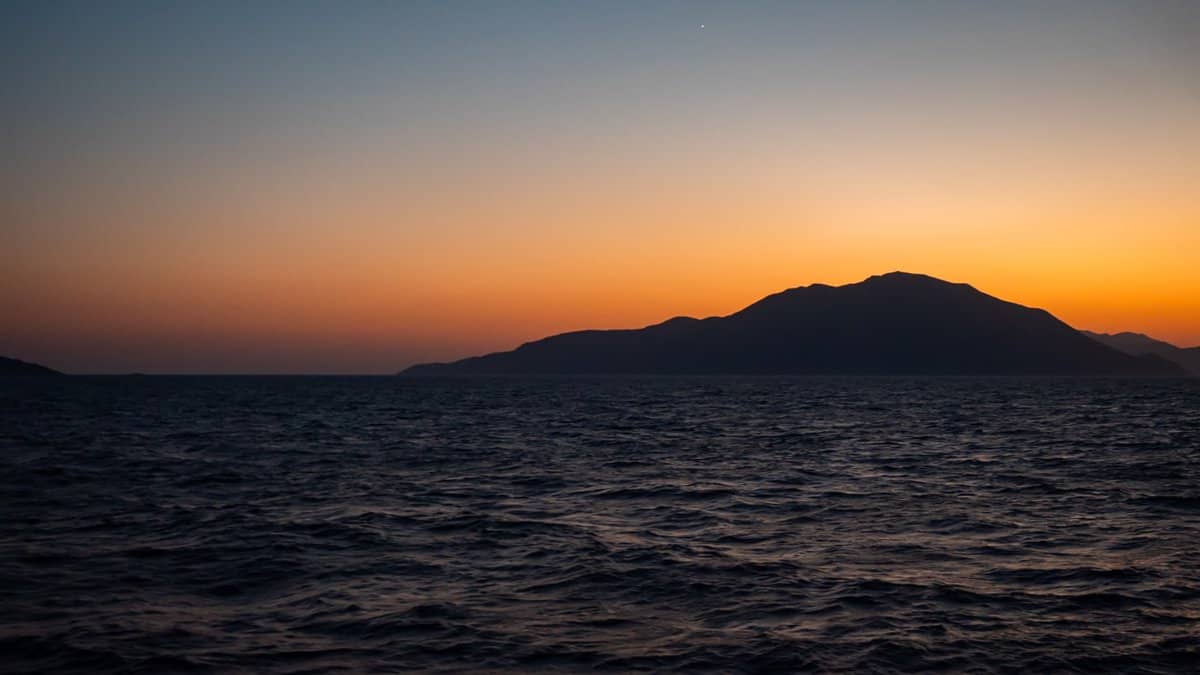 Darkness
It was close to 9:30 pm by the time we arrived in Tilos harbour, and something didn't seem quite right. It was very, very dark. At first, I assumed that on such a small island it was just poorly lit and there were no buildings in sight of the port. Then I heard talk from other passengers of a power cut on the island, and everything made a lot more sense!
Due to the power failure, staff from the Apollo Studios where I'd booked to stay for 2 nights, had come down to meet me and a few other guests so they could escort us back to the accommodation. It wasn't far away and was quite amusing dragging my case through the town square with only my mobile phone light to guide us.
Reality Sets in
When we got to Apollo Studios, the staff took us one by one to our rooms and showed us around by torchlight. They also turned some switches on so that lights would come on when the power was restored. Once I was left alone, the reality hit me that I only had limited battery left on my phone, with the phone torch my only source of illumination. I was also starving and desperate to get a meal but unsure of whether I would find any tavernas able to prepare food without electricity.
Deciding I would try to get food first, I locked my room and walked back over to the town square. There were lots of people sitting outside the few tavernas, enjoying an evening drink by candlelight. I couldn't see many people eating though. I walked up to a couple of waiters and asked about food, but was told that they weren't serving meals due to the power outage. One of them seemed to think it was a stupid question, but they could have served cold food or had a barbecue grill, how was I supposed to know?!
Back to Black
Feeling rather miserable at the lack of food, I went back to my studio rooms and tried to figure out what to do. I really wanted a shower, so I found my portable USB battery pack and plugged my phone in to get it charging, then set it up in the bathroom with the flashlight on so I could just about see to wash.
About halfway through the shower, I realised the lights had come on in the bedroom and kitchen – yes, the power was back!! I finished my shower and quickly got the air-conditioning running as it was pretty stuffy inside the studio. I also found some bottles of water the staff had provided, so I drank some and put a couple more into the fridge.
Part of me wanted to go back out in search of food, but as it was nearly 11 pm, there didn't seem any point and I had a few biscuits in my rucksack that I ate instead. It hadn't been the best start to my time on Tilos, but I went to bed hoping that tomorrow would prove to be a better day.