Review Rating: 5/5
Date of Visit: July 2019
Following a fairly underwhelming visit to Santorini in 2017, I admit I wasn't all that excited about going back. Well, it turns out location really can make all the difference!
Nestled into the cliff face of the caldera, Smaro Studios manages to feel both intimate and secluded despite being surrounded by similar properties on all sides. Perhaps it's the fact that most other accommodation is either above or below you, so it never feels cramped or overlooked.
The walk to Fira centre takes about 15-minutes, mostly downhill. Coming back, therefore, takes a bit longer, but outside the heat of the day, it's a pleasant stroll rather than gruelling exertion.
The staff are superb: check-in was friendly and fast, despite us arriving an hour ahead of time. The rooms aren't huge, but still feel spacious and are lovingly furnished to a high standard. Standard rooms on the 'ground' floor (reception level), lack a private balcony, but these rooms have breakfast served on a separate terrace at the very top of the building, offering a spectacular view: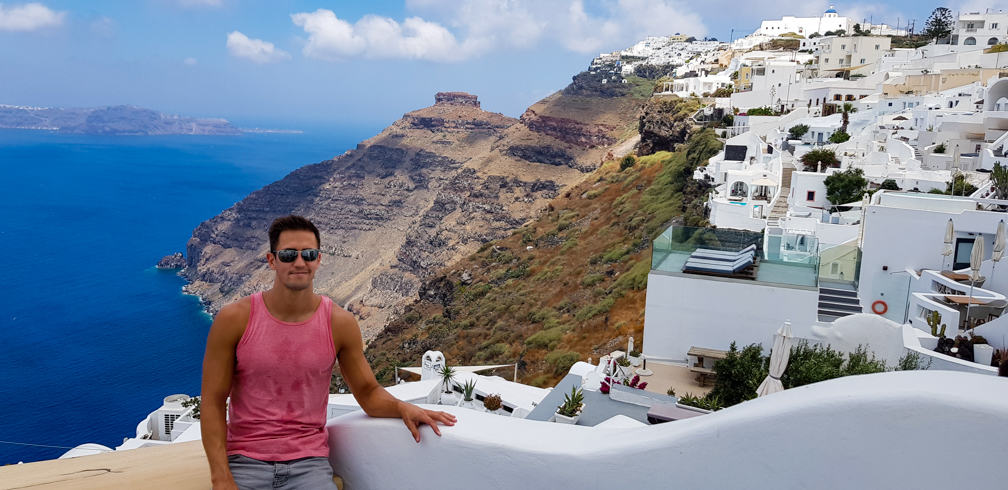 Sadly, we only spent two nights here before moving onto another island, but staying in such a wonderful location completely changed my perspective on Santorini – I'm already planning a return trip!