Review Rating: 4.5/5
Date of Visit: August 2021
If you've read any of my content on this website, you'll probably know that Naxos is one of my favourite Greek islands. In fact, it was #1 until Sifnos stole my heart (and the top spot) when I first visited in 2020. I've been to Naxos five times now (six, if you count the double visit in 2018), so I had a good idea of where I wanted to stay.
Agia Anna is probably my favourite resort, outside of Naxos Town itself, and while I love to visit the capital, I find it better to stay elsewhere and visit it instead. I had tried to find accommodation closer to the beach, but due to booking fairly last-minute, my options were limited and I'd all but given up on finding somewhere when I spotted Birbas in my search results.
I had a good idea of its location, having stayed nearby at Naxos Mare in 2018, and despite being further from the coast than I wanted, the price and appearance of the hotel/rooms convinced me to give it a try. Arriving by local bus from the ferry port, I got dropped off at the bus stop behind the small port in Agia Anna. From there, it's a good 15-minute walk to Birbas Hotel, which wasn't pleasant in the afternoon sun with my rucksack and suitcase in tow. I could've taken a taxi but wanted to save money and figured that a bit of sweat is nothing a cold shower and change of clothes can't fix!
On arrival, I did have some trouble getting checked in at first as there was nobody on reception, but I called the number provided by Booking.com and a lady soon came over to show me to my room.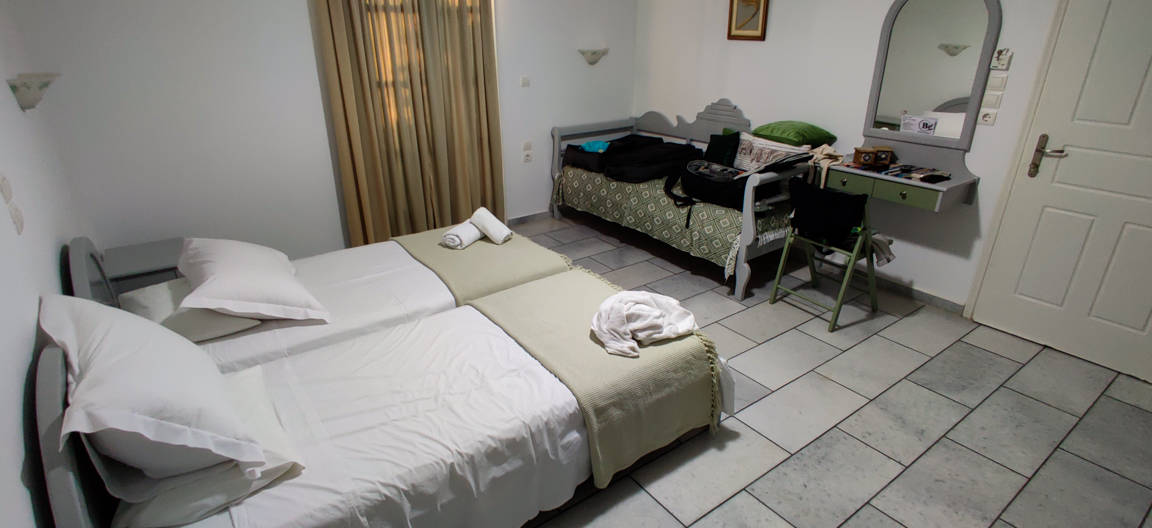 The room was lovely: clean and well-furnished in a pleasant grey/green colour scheme, spacious and with a small kitchenette with full cooking facilities. The owner had even provided some water in the fridge and a generous portion of homemade cake, which was delicious and quickly devoured!
To save money, I chose to make breakfast in my room and bought coffee, milk, yoghurt, honey and cereal from a local mini-market – there's a handy one nearby next to the petrol station on the main road towards the beach.
I didn't have much contact with the hotel staff for the rest of my 5-night stay, but that was fine for me – the rooms were kept clean and the hotel itself was very quiet and peaceful, just how I like it. I paid €54 per night for my stay which, in peak season, seemed reasonable and I felt it was good value considering the quality of the rooms.
My only gripe is the distance from the beach/centre of Agia Anna which, during the heat of the day, is just a touch too far to be pleasant. At night or early morning, it's a lovely stroll, although the main road is twisty and narrow at points and there are no pavements to walk on so care is needed.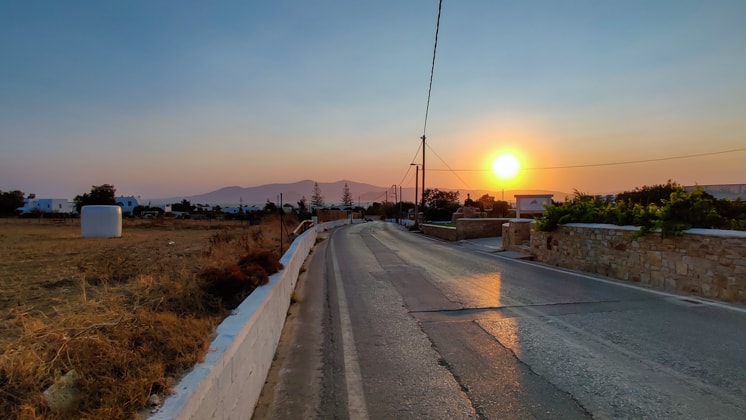 Overall, I had a great time here and would definitely recommend it. If you have transportation then it's probably perfect, but if not just be aware of the walking distance.