Tuesday 4th June 2019
So, our final day has arrived. We were due to check out of the hotel at midday, but on speaking to Georgia at breakfast she gave us some good news: not only could we keep our room until 1pm, but she would drive us down to the port as well! It turns out she was getting on the same ferry to visit a friend on Naxos.
Speaking of breakfast, it really was a shame we missed it yesterday, as for 8€ we got a fantastic meal: coffee (with refill), juice, toast, jam, yoghurt and honey, and Ed even had an omelette as well! A real bargain.
Ed decided to get one last walk in before we left, and set off around the south side of Katapola bay, making it right to the end of the peninsula. Meanwhile, you guessed it, I was relaxing at the pool (honestly it was a walking holiday!!).
By 11:30, we were both back in the room getting ready to leave. After a quick shower, I packed my bag and took a few photos of the accommodation (which you saw in yesterday's post). At 12:30 we were back at the pool bar enjoying one last drink before we left.
We arrived at the port just after 1, so had about an hour until our ferry. We hadn't bought our tickets yet, so Ed went to the ticket office and then we went back to Corner Taverna (yes, again) for another delicious gyros.
There was a bit of confusion at the port, as two identical-looking Seajets ferries arrived at the same time – the second one waiting in the bay while the first docked. We checked several times with the port staff to make sure the first ferry wasn't ours and noticed a few others doing the same. Unfortunately, just after it left an American man got pretty angry when he realised it was his ferry and had a rather heated argument with the port staff right in front of us. (Apparently, he'd been told several times it was the next ferry, but who knows. The moral of the story is to check the name of your boat on the ticket matches the one written on the ferry in front of you!)
After the slight delay waiting for the first boat to leave, we got boarded and found our seats. The crossing was pretty smooth and uneventful. Ed poked his head out the back as we stopped on Koufonissi to get a look at the beach. (It made me a bit sad remembering my visit last year and wishing I could stop there again). After another quick stop on Naxos, we made it back to Mykonos just after 4pm.
At this point we weren't quite sure what to do. There was a bus going straight to the airport, but not one for Mykonos town for quite a while. According to the printed timetable, there also wasn't a bus from Mykonos town to the airport after 4:30pm, which was way too early for our 9pm flight. In the end, we decided to get the SeaBus over to Mykonos Town and figure out how to get to the airport later.
After a stroll through the narrow, cobbled streets, we were tempted to stop for a drink in the Skandinavian Bar, only to discover it doesn't open until 8pm. We took a photo anyway just to show we'd been there: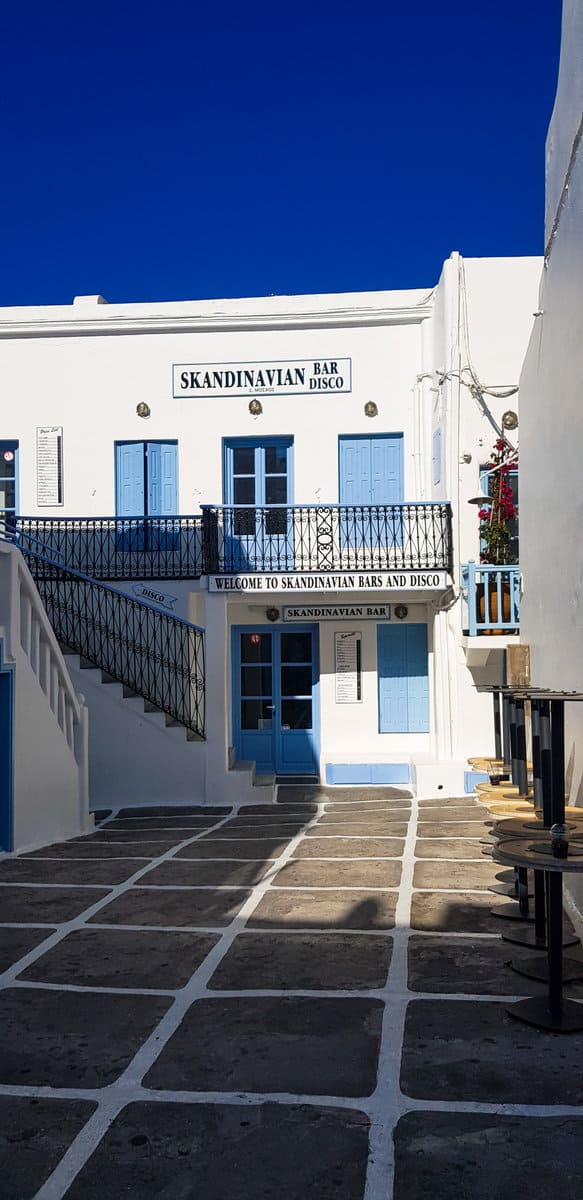 We then went to another one of our regular spots, Niko's Taverna, for an early dinner. Last year I wasn't that impressed with the food, but actually we had a good meal this time, and it's in a great spot for people watching too.
After we'd finished our meal, we decided to walk to the bus stop at Fabrika to double-check there were no airport buses – it seems crazy that they stop running so early, when there are evening flights on a pretty regular basis. Sure enough, the bus wasn't an option, but we spotted a taxi sat waiting so decided to grab it while we could – remembering the difficulty I'd had in securing a taxi a couple of years ago, we didn't want to get caught out again. (Although the airport is only a couple of kilometres away, so technically walkable, but the roads are quite hazardous due to the traffic and lack of pavements).
Getting straight into the taxi meant we arrived at the airport rather early, so we sat outside for about half an hour until we were allowed to go through security and into the departure lounge.
The rest is fairly uneventful: our flight was slightly late leaving, but arrived on time, and as we had no hold luggage, we were soon back at my car and on the way home to Norfolk.
It's been a great trip, and I can highly recommend Amorgos if you want an authentic Greek experience. It definitely is a hiker's paradise as well, with plenty of marked routes and villages to explore. The beaches aren't anything special though, so if you just want a relaxing break then there are probably more suitable islands to choose from.
I hope you've enjoyed this series. I'm heading off to Greece again in July, this time visiting Santorini (again), Folegandros and Naxos!