It's Malia, but not as you know it
When you hear the word "Malia", premium relaxing hotels probably aren't what first spring to mind. Yet the Royal Heights Resort Malia offers an up-market Cretan experience usually associated with the likes of Elounda, Agios Nikolaos or Rethymnon, but just 30 minutes' drive from the island's main airport in Heraklion.
The hotel is set back on the hillside 1.5km behind Malia's old town and 3km from the beach, a safe distance from the late-night revelry Crete's main party resort is – somewhat infamously – known for across the continent. Stunning views of the town and beachfront below are a consequence of its steep elevation, giving the hotel a secluded but not quite isolated feel.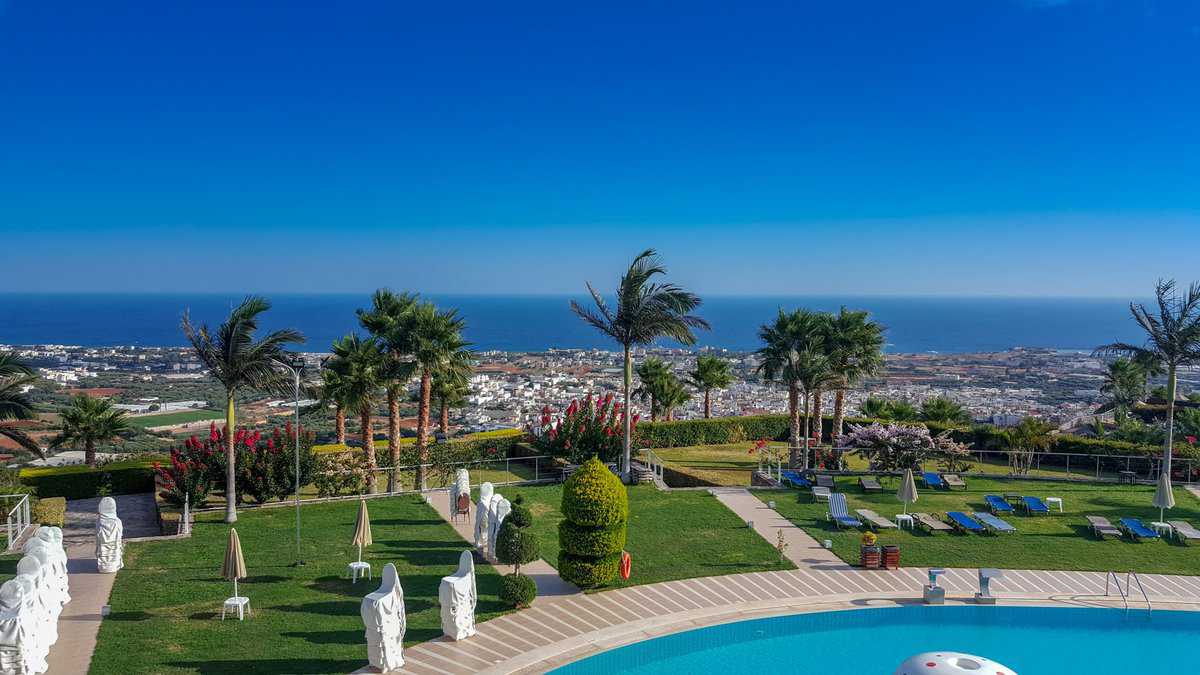 Getting here is easy, just don't walk
[Read my blog post: Day 15: Santorini to Crete to catch up on this leg of my 2017 trip.]
You'll need a sturdy set of legs to get here on foot, battling the 10% gradient of the narrow road leading from the back of Malia's old town. I made the mistake of attempting this – suitcase in tow – as the evening skies darkened over the mountainous backdrop. Glancing down at the map on my phone as I stepped off the bus, what started as an easy stroll through the pretty streets of the old town suddenly felt like a huge mistake as I left the urban roads behind me and realised that the cluster of lights glimmering high up in the distance was, in fact, my destination. Finally arriving at the reception desk some thirty minutes later, drenched in sweat and much to the amusement of the receptionist, who asked – with a slight note of disbelief in her voice – whether I had really just walked here from the town!
If, unlike me, you're sensible with your travel plans, then aim to arrive by taxi or a hire car instead. You will be in a better state to appreciate the hotel entrance and friendly staff, and far less eager to strip off and jump headlong into the pool.
Arriving at my room, I was pleased to find it clean, spacious and well equipped. Two twin beds, a sofa, table, TV and chairs occupy the majority of the space, while a full-size fridge/freezer and kitchenette allow you to be self-sufficient if you prefer to store and prepare your own food. On arrival, guests are treated to a bowl of fresh fruit, wine and bottled water. The bathroom included a decent sized sink and a shower-over-bath setup, with the bathtub offering jacuzzi-style jets to enhance the relaxation.
After throwing my case onto the bed and quickly locating my toiletries, I yanked off my damp clothes with a sense of genuine relief and enjoyed a long cool shower.
My thoughts, mostly positive
Over the 3 days that followed, I never left the hotel grounds (having visited the area many times before, I've seen a good deal of the sights already) and got a good sense of what Royal Heights Resort has to offer its guests.
Starting with the negative, the beds are on the firm side and not the most comfortable compared with other hotels I'd stayed at during my trip. Quite a disappointment considering the cost and official 5-star rating. I tried the shower and jacuzzi-bath and found the bath a touch small to be relaxing (I'm over 6'1 and fairly broad though), and the shower a bit awkward due to the shower head position requiring me to stand up against the slope of the bath in order to get my head under it, but both temperature and pressure were good, certainly by Greek standards.
Prices at the restaurant and pool bar are above average for Malia, but reasonable enough (if like me, you've just come from Santorini they'll seem positively cheap) and the food quality is good enough to justify the cost – all of my main evening meals came with a free selection of appetizers which was a nice touch.
The staff were all friendly and helpful, something you do come to expect in Greece but is occasionally lacking at larger hotels. The pool bar staff, in particular, were great when ordering drinks and snacks for lunch. Prior to my departure, I was able to arrange via reception a private transfer back to the airport, at a cost of 55€, which I suspect is comparable to a taxi fare given the distance.
One of the best things about Malia is its location: just 30 minute's drive from Heraklion airport (90 minutes by local bus, as it stops at most resorts along the coastal road), and only a short distance from some excellent local sights such as Psychro Cave (supposed birthplace of the mythical god Zeus). Plaka, to the north of Elounda, is only an hour's drive, where you can catch a boat across to Spinalonga to visit the old leper colony.
Do I book now or look elsewhere
If you're looking for somewhere that's a cut above the norm but won't blow your budget, and you don't want to travel too far from the airport then Royal Heights Resort could be the perfect place to stay and experience eastern Crete in all its glory. I don't quite agree with the 5-star rating as neither the beds or the cuisine quite live up to that expectation, but for the price, I would stay again and be happy with my decision.