Review Rating: 3/5
Date of Visit: August 2021
For my second visit to Ios, I returned to my favourite resort of Mylopotas for a 6-night stay. Having enjoyed the location of the hotel on my last visit – Holidays Inn Ios – I began searching for somewhere nearby that fitted my budget (£50 or less per night) and looked reasonably nice. I found Manthos Place soon after beginning my search.
It certainly fitted the criteria of being close to the previous hotel: it's almost next door! Along the same track off the main road down to the beach, only slightly higher up the side of the hill. I would've booked it straight away, but at €67 per night it was a touch expensive so I kept on looking for a cheaper alternative. I eventually gave up though – it was peak season after all, and nowhere else looked as good for a similar price.
I spent my first night in a small room that was separate from the main hotel block, accessed via some steps downhill. It was quite disappointing and looked nothing like the photos I'd seen on Booking.com. Speaking to the lady owner the following day, I was able to move to a nicer second-floor room in the main building. It did cost me another €80 for the remaining 5 nights which wasn't ideal, but I'd slept terribly in the first room due to the poor air-conditioning, lumpy pillow and thin mattress, so it was worth the extra.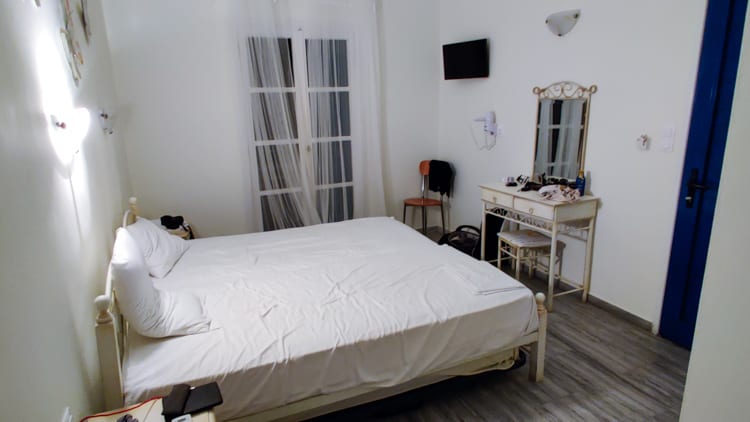 Aside from the room itself, the hotel has a lovely – albeit quite small – pool with a superb view over the resort. It was never crowded the entire time I was there and proved to be a lovely spot for some afternoon sunbathing with a cold beer or two.
Breakfast wasn't included in my room rate but was available at the pool snack bar for €12. This gets you tea or coffee, orange juice, yoghurt with honey and nuts, and bread with butter and jam. It was edible but rather underwhelming for the cost – I'd recommend Cantina del Mar down on the beachfront instead.
Overall, it's a fairly decent hotel but I did feel let down by my first room not being as advertised and having to pay extra to move to the sort of room I felt I should have been given at the start. Considering this took the average nightly cost from €67 to €80, it ended up being quite an expensive place to stay and I'm not sure I would go back without seeing what else my money could get me in the area.