Once again my friends were moving on ahead of me and were leaving for Ios this morning so I had the whole day to myself. I'd already decided that after such a busy day yesterday I wasn't going to stray too far from the hotel. (Yes this is the slightly lazy person's Greek Travel Guide…)
Food wasn't included at the Livadia, but as the hotel also has a restaurant on the ground floor, I had a nice leisurely breakfast of coffee, fresh orange juice, Greek yoghurt and honey, and bread, butter and jam, all for €7.50. It was really good and very welcome after a string of poor breakfasts and having skipped dinner the night before.
My stomach filled and caffeine levels satisfied, I packed my rucksack and walked around the bay north to Marcello beach, which is located around a small headland and almost opposite the ferry port. It's about a 25-minute walk from the Livadia, mostly along the beach and flat ground, but getting around the headland involves a slight climb up and down with some rocky terrain in places. I enjoyed the walk as it was still early enough to be fairly cool, but I knew the journey back would be hard work in the heat so made a mental note to cool off in the sea before attempting it!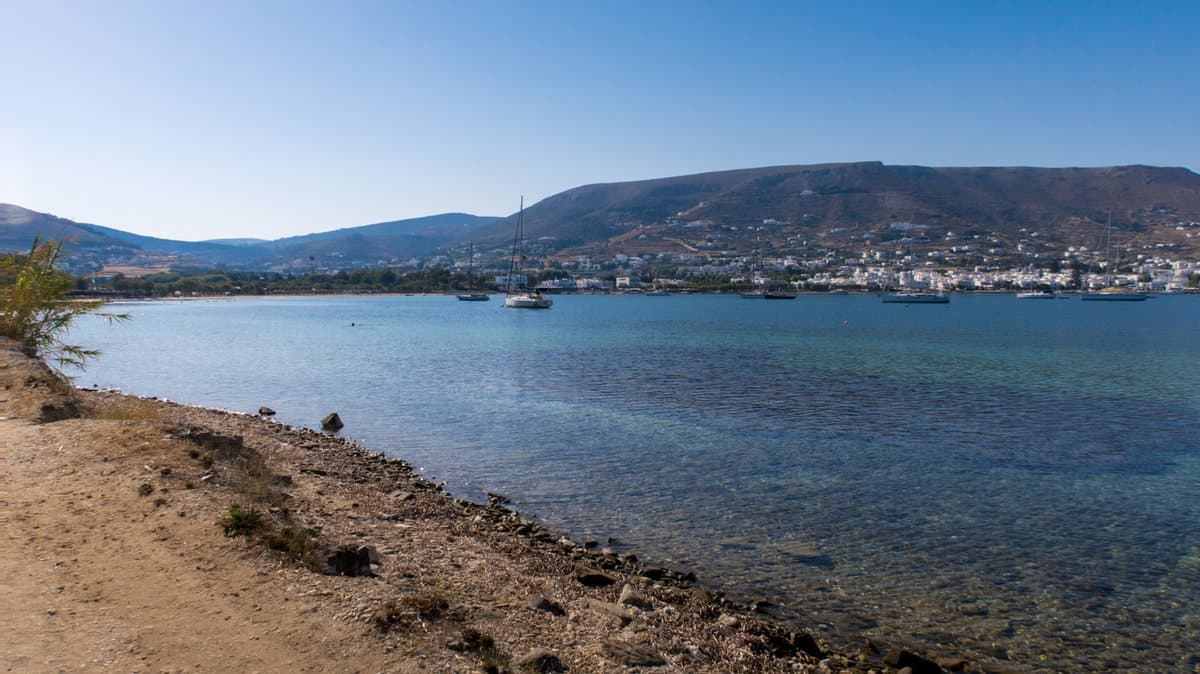 View back to Paros town from the bay opposite. Hotel Livadia is in the centre of the shot.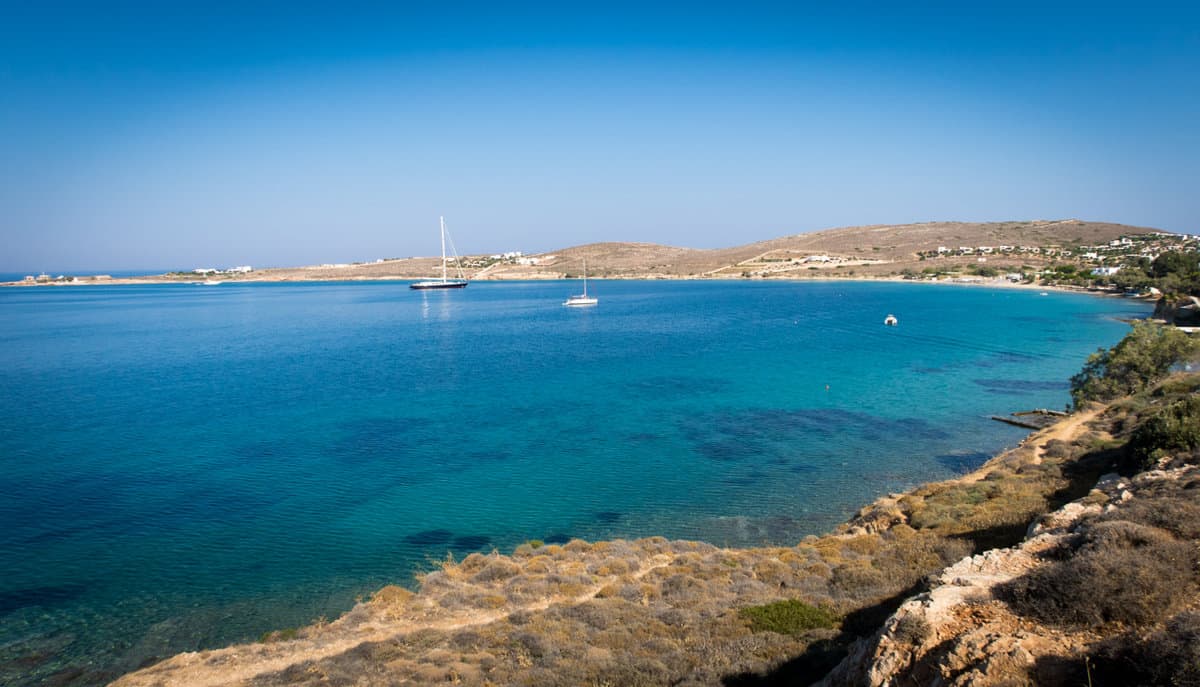 First view of Marcello beach (directly opposite) and Krios beach (far right). This bay is much quieter and well worth the walk if you are staying in Tinos town.
Marcello beach itself lies at the far end of the bay and is pretty small with not much around it. On the way to it, I had passed Krios Beach and the campsite that lies at the eastern end. It seemed fairly quiet and they offered free sunbeds as long as you had a drink from the bar, so I decided to head back there and set up on a lounger for a few hours. The sea was really nice – despite a few rocky patches near the shoreline – so it made for a relaxing few hours reading my Kindle and having a swim when it got too hot.
I decided to have a snack lunch at the beach bar, which turned out to be a huge club sandwich made with 3 layers of pita bread and the usual fillings. I couldn't eat more than half of it (although it was tasty) as I was still getting my appetite back from the past few days' not eating much.
By mid-afternoon, I'd had enough sun and decided to make the trip back around the bay to the hotel. As planned, to prepare for the hot walk, I spent a good 15 minutes cooling off in the sea first, then used my damp towel to cover my back and arms for the journey. Back at the hotel I showered and rested up, then headed down to the ferry port to buy my Ios ticket for the next day and scope out a good taverna to eat at on the way back. I decided on Cavo D'Oro which is basically next door to the Livadia (close enough for me to get their WiFi on my phone from the beach-front table!) It was a slightly strange experience as they didn't seem to know where to put a single person who wanted a beach-front table, but eventually they sat me at a table for two with a nice view of the bay. Service was pretty slow (I'm convinced being on my own I was getting ignored a lot) but I wasn't really in any hurry so didn't complain. I had moussaka again (being determined to try it on as many islands as possible) which was nice, but sadly not a patch on Tinos! However, the fresh flatbread they brought out as an appetiser was delicious so I'm cutting them a bit of slack on the moussaka!
Back at the hotel, I decided to leave packing until the morning as my ferry wasn't until 14:25 and I didn't have to check out of the room until midday, so instead I just made some notes for the blog and went to sleep.