Why Island Hop?
For many holidaymakers, the idea of a perfect getaway consists of turning up to a resort hotel and indulging in a week or two of pure relaxation. Any extra time spent travelling – with all the associated unpacking and re-packing – is time that could be spent on a beach or by the hotel pool. So what is the appeal of island hopping?
For those of us who are fascinated by Greece, its unique history and the distinctive culture of island life, but lack the means or vacation time to dedicate entire holidays to a single destination, island-hopping is the perfect solution: pick a selection of islands within a comfortable ferry distance and turn your holiday into a real Greek Odyssey!
Planning a multi-destination holiday might seem daunting, but, following our guide below should see you safely navigate the rough waters of island-hopping and ensure your trip is smooth sailing all the way.
1. Pick or Know Your Holiday Duration
The first pitfall of many would-be island-hoppers is an excess of ambition: trying to cram too many destinations into too little time. Remember, this isn't a competition to see how many islands you can set foot on, you want to spend enough time in each location to relax, explore and appreciate the unique experience it has to offer.
As a general rule, we advise no less than three nights per island for small/medium islands or 4 – 7 nights for larger ones. Staying longer is fine if you've got the time, but equally, island-hopping does imply that you won't be in one place for too long either. With this in mind, come up with a practical number of destinations and use this to move on to the next step: figuring out which islands to visit.
To summarise, here are the recommended number of islands for various holiday durations:
7 nights: two islands.
14 nights: three or four islands.
21 nights: four to six islands.
2. Which Islands To Visit
While you probably already have a wish list of Greek islands you'd like to see, it's not very practical to pick islands that are too spread out geographically. Unless you're prepared to spend many hours on long ferry journeys or fly back and forth to Athens (most internal flights go via the capital and not direct between islands), choosing islands close together is what puts the "hop" in island-hopping.
Due to the sheer number of Greek islands, they are grouped together based on proximity to their neighbours. These groups are named and include the following:
Ionian Islands
This island group lies down the western side of mainland Greece, including such well-known destinations as Corfu, Kefalonia and Zakynthos (Zante).
Sporades
The Sporades are a small cluster of islands in the north-central area and include tourist destinations such as Skiathos and Skopelos.
Cyclades
A large group of islands in central Greece, this is perhaps the most well-known as it includes famous destinations like Mykonos and Santorini. Other popular islands here are Naxos, Paros, Antiparos, Folegandros, Amorgos and Koufonissi.
Dodecanese
Located close to the Turkish coastline, the Dodecanese islands are in the far south-east of Greece. Popular destinations include Rhodes, Samos, Kos and Kalymnos.
Choosing islands within the same group is a great place to start when planning an island-hopping holiday. Most islands within a group are connected, directly or indirectly, on regular ferry routes.
It is possible to jump from one island group to another by ferry, but these crossings typically take longer and usually only link proximal islands between groups. For example the easternmost island of one group to the westernmost island of the next.
3. Ferry or Flight
Athens is the main airport for long-haul arrivals and departures, so visitors from outside Europe will need to figure out how to get from the mainland to their first island. Internal flights are generally quicker for any island destination outside of the central and western Cyclades. Prices vary, but typically cost more than a ferry, and, once time spent hanging around at the airport is factored in, can be almost as time-consuming, so it isn't always as clear-cut as you might think.
That said, most island ferries depart mainland Greece early in the morning and return late at night, so depending on your arrival time you may need to factor in an overnight stay in Athens to make your ferry connection practical. Several airlines run multiple daily flights to and from popular islands, so it is more likely you could make a same-day island connection if you fly.
Once you reach your first island, travelling by ferry should be the preferred option: inter-island ferries are generally cheap, regular and have plenty of capacity even in high season. Between popular islands you'll have a choice of ferry companies, offering several crossings per day, allowing you to choose a time and style of boat that suits your needs and budget.
Islands with airports don't always offer direct flights with other islands, as these are typically used to travel to and from the mainland.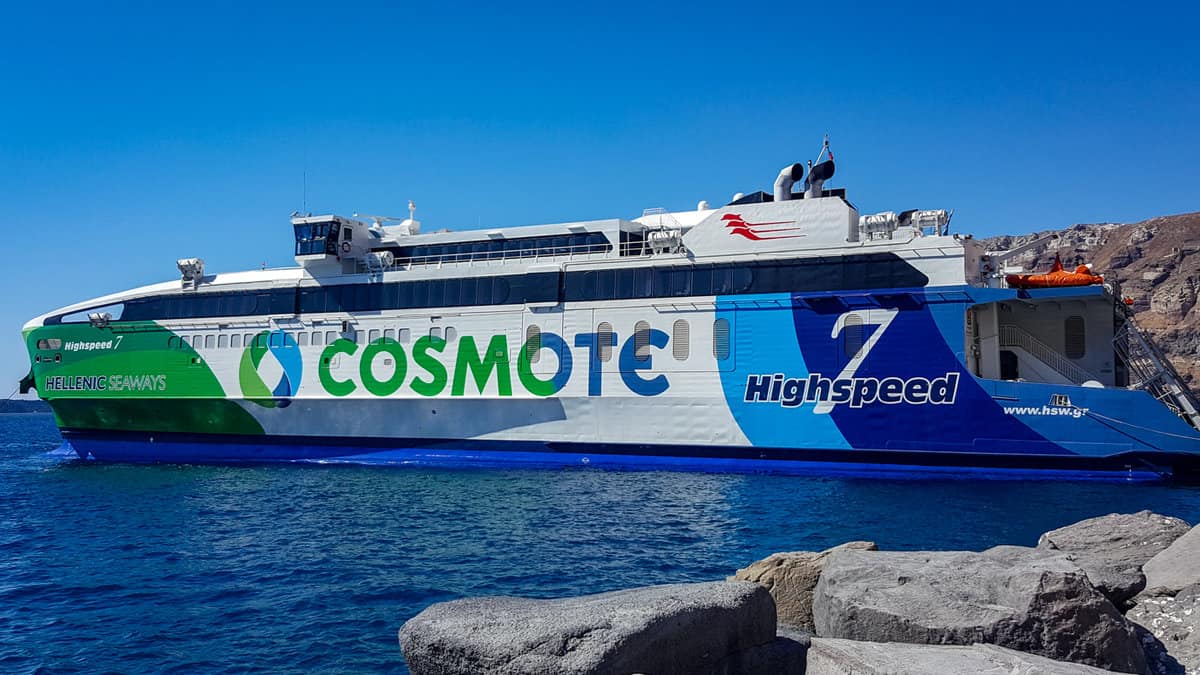 Fast vs Slow Ferries
When comparing ferry prices and journey times, as a rule of thumb, 'fast ferries' (passenger-only catamarans with limited or no outdoor seating) take half the time of regular or 'slow' ferries, but cost twice as much. Thus you have a choice between arriving at your destination sooner at a premium, or taking a more leisurely approach and saving some money to use at your destination.
We find that slow ferries are much more enjoyable as you can sit out on the deck area, enjoying the sunshine with a cool drink and the summer breeze on your face. High-speed ferries are more susceptible to cancellation in bad weather and for causing travel sickness when the sea is a bit rough, so if you aren't a fan of being at sea, a larger slow ferry is the safer option.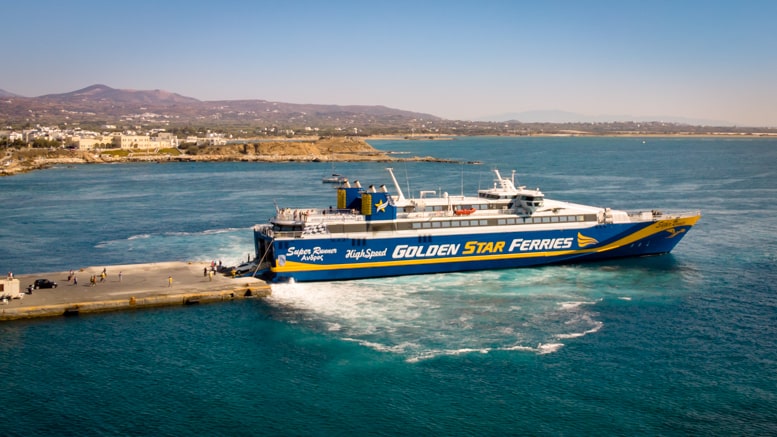 4. Getting Around
Motorbikes, Mopeds, Quads and Cars
With limited time on each island, hiring your own transportation can be a great way of seeing as much as you can in a short period. Though we wouldn't advocate motorbikes or mopeds – Greek roads aren't the best (some of the drivers aren't the most sympathetic to tourists either) and your safety should be more important than saving a few Euro – a car or quad bike is a great way of getting around. Most rental companies allow you to collect the vehicle early in the morning (8 am isn't unusual) and return it late into the evening or first thing the next day, so they can be good value if you plan your time well.
Buses and Taxis
Most, if not all, inhabited islands will have some kind of public bus service to allow locals to get around. In tourist season, timetables are padded with extra services to cater for increased demand. As a general rule, most ferry arrivals at the port will have a local bus timed to meet it, and this service should connect with some or all of the major towns and villages on the island. Depending on the island, bus routes can be circular, or run back-and-forth between the main town and smaller villages or beach locations. Buses are the cheapest form of public transport, costing between €2 and €4 on most islands.
If you don't fancy the bus, or want to get around more quickly or to an area not accessible by bus, taxis are a decent alternative. Though not as cheap as buses, they are generally affordable, especially if you are travelling in a group or family of 2 – 4 people and can share the cost. Greek taxis are typically silver in colour, often Mercedes Benz, and will have a yellow ΤΑΞΙ sign on top. Most restaurants and hotels will arrange taxis for you if you ask them, or provide you with a number to call.
Bicycles
Though we've never hired a bike in Greece ourselves, many islands have bicycle rental shops with a range of size and styles available. Don't expect them to be brand-new, but they should be serviced and fairly cheap to hire.
Most islands are, of course, on the hilly side, so don't be fooled by the short distances between locations on a map or you might get caught out climbing some steep hills! Greece is also prone to high temperatures in peak season (July – September), so being exposed to the sun on a bike should be done with care and plenty of suntan lotion!
5. Optimizing Travel Times
When travelling between islands, you may find that several ferries are available each day to get you to your next destination. Bear in mind that most hotels require you to check out between 10 am and midday, but won't let you check in before 2 pm, so it makes sense to use this time for travel where possible.
Look for ferries that depart around lunchtime (or just before), so you can go straight from your hotel to the ferry port, onto the ferry and off to your next hotel without prolonged periods sitting around with all your luggage. Depending on the journey time, these should arrive early to mid-afternoon, allowing you to go straight to your next accommodation without waiting around for the room to be ready.
6. Buying Ferry Tickets
I've written a separate post about buying ferry tickets, but to summarise, we recommend purchasing tickets once you have arrived in Greece via the local ticket offices. As you arrive at each new destination, either buy your onward ticket before you leave the ferry port or if you are staying more than two or three nights, get them a day or two before you next plan to travel. This gives you flexibility on which ferry you take and avoids the hassle of re-booking in the event your preferred ferry is cancelled.
7. Example Itineraries
Here are some example itineraries to get you started. They are all based on previous trips that we've taken, but can easily be modified or extended to suit your own needs.
Trip 1
Fly into Athens.
Rafina ferry to Andros.
Andros to Tinos.
Tinos to Mykonos.
Mykonos to Ios.
Ios to Santorini.
Santorini to Crete.
Fly home (or back to Athens for onward journey).
Trip 2
Fly into Mykonos (or Athens and onward flight/ferry to Mykonos).
Mykonos ferry to Naxos.
Naxos to Amorgos.
Amorgos to Mykonos.
Fly home (or back to Athens for onward journey).
Trip 3
Fly into Santorini (or Athens and onward flight/ferry to Santorini).
Santorini to Folegandros.
Folegandros to Naxos.
Naxos to Mykonos.
Fly home (or back to Athens for onward journey).
You are free to choose how many nights to spend on each island, of course. In our case, Trip 1 was over 18 days: read about it here; Trip 2 was 6 days: read about it here, and Trip 3 was 13 days: read about it here. Please note that ferry connections do vary from year to year, so it is possible that the above itineraries are no longer viable or would require additional stops – you should always check ferry schedules before booking accommodations or making firm plans.
General Tips
When planning an island-hopping or multi-destination trip, here are a few things you might want to bear in mind:
Staying within the same island group will make travelling easier, cheaper and faster. For example, the Cyclades are probably the best for island-hopping due to the number of destinations to choose from and their relative proximity.
If you want total flexibility, avoid booking accommodation up-front and you can plan your route as you travel. Many accommodation providers will wait at the ferry port to advertise their rooms to arriving travellers. You can probably bag a bargain here by speaking to a few of them and finding a place that suits your needs and budget.
Get the busier islands done first. This is our personal preference, but it's usually nicer to end a holiday on a more relaxed note than you started, so, by visiting places like Mykonos or Santorini early on, you can then move on to more chilled-out islands and really get into the Greek spirit of relaxation.